Any agencies, freelancers or brands involved in digital PR and outreach know how stressful it can be to spend so much time researching, ideating, creating content, pitching it and then not hearing anything back from a journalist – not even a squeak.
And there are so many things that could have contributed to its failing:
The subject line

The salutation

The opening pitch

Lack of relevant angle or hook

Wrong tone of voice

Too much copy

Bad formatting

Or just purely bad timing

(how many OOO's do you get in July/August?!)
So you end up split testing your subject lines, trialling different openers and sending all of this to as many relevant journalists and sites as possible, just hoping one will land and pave the way for more.
And then, one day you work on a campaign topic that the whole nation is talking about and the little lightbulb goes off in your head, flickering with excitement and you think…
"Yes, this is my chance to write a really funny outreach email, the ultimate outreach email – one that will make journalists chuckle."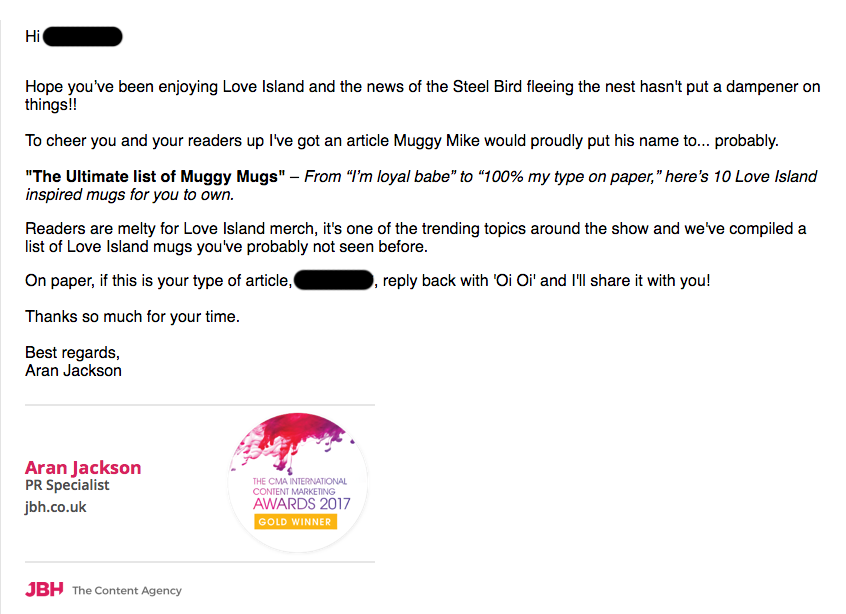 And it does the trick…

And another…

Obviously, their head wasn't turned – but we'll take the praise…

Not a bit of them ?

So while we wait and see whether we get pied off, we have learnt something. We've learnt that in a world where we receive so many emails (we receive our fair share of bad pitches too – mostly for guest blogging), if you can write an email – especially a humorous one that creates an instant connection with top-tier journalists, then that's half the battle won.
And even if the content isn't right for them, we still got their attention in a positive way and each future email can be followed up with "Oi, oi…"
Let's hope we're 100% their type on paper email in the future! ???
If this sharing of a small moment in our world has got you thinking, then spend a bit more time with us and read our definitive guide to digital PR
Post published on Friday July 20, 2018