Turning Objections into Options: 7 tried and tested ways to flip a negative pitch response round.  
Appraisal, constructive criticism or review – however you want to sugarcoat it – no one really likes getting negative feedback on their work, however, it's not unusual for this to happen during a digital PR campaign.   
With feedback ranging from a single word email saying 'NO' to a full-on campaign analysis (we've had them all believe me), there are a number of tried-and-tested ways to flip those negative responses into brilliant and long-lasting relationships.
One Foot in their Inbox
Picture the scene. You've had a response from someone you pitched your carefully crafted digital PR campaign to. You've got a name, you've got an email address and you might even be lucky enough to have a direct dial phone number to add to your little black book.
Your heart skips a beat, as you read down the email. The response really wasn't what you hoped for. You've received a negative reply from the one person you were hoping to impress the most.
Remember this: No matter how long you have spent creating your content or how well you have sold-in your campaign there will ALWAYS be objections.
Take a step back. Take a deep breath. Resist the urge to start tapping out an 'off the cuff' response. Think about how you can use this to your advantage. Use your words and media relations skills to turn their frown upside down.
7 Tried-and-Tested Techniques to Help Reverse a Negative Pitch
Objection
Response

"The wording you used here really turned me off your campaign"

Unless you have used an offensive phrase in your content, this is usually down to personal preference and can be tricky to avoid unless you have a relationship already.

In a non-combative way, explain your reasoning for using that wording and ask for more information about why that phrase, in particular, was a 'turn off'. Thank them for their feedback and explain why it's useful and offer an alternative way of wording to see if that may be of interest.

"We don't publish branded content on our site"

Offer to switch up the content to include less brand related mentions. For a data-led campaign, you could offer some unique statistics that could be weaved into a feature article, for example.  

"We only work from raw datasets"

If you are confident that this will secure coverage, then it may be worth offering them any raw data accompanied by quotes and case studies so that they can embellish anything they are planning to write.

"My editor spiked the idea"

Aim to find out why the idea was spiked and how you could have changed your campaign or pitch to make it more agreeable to the commissioning editor.

It can sometimes be as simple as having amazing case studies, imagery or quotes ready to go.

Even if you don't secure coverage for this campaign, at least you know what to aim for next time when selling into that publication next time.

"How is this relevant to our target audience?"

You will have a good reason for contacting them in the first place. Be confident and reiterate those reasons, providing examples based on what other publications with a similar audience profile have featured.

Top tip: Use Facebook audience insights to add some real clout to your response on this one.    

"We only post content that is exclusive to us"

It may be that you have missed the mark on this occasion, but make a note for the next round of outreach and offer your campaigns up to them in the first instance.
Putting the Theory into Practise
Below you'll see an exchange between myself and a freelance journalist, pitching an angle from the Missy Empire 'Girl Boss Entrepreneurs' data led campaign.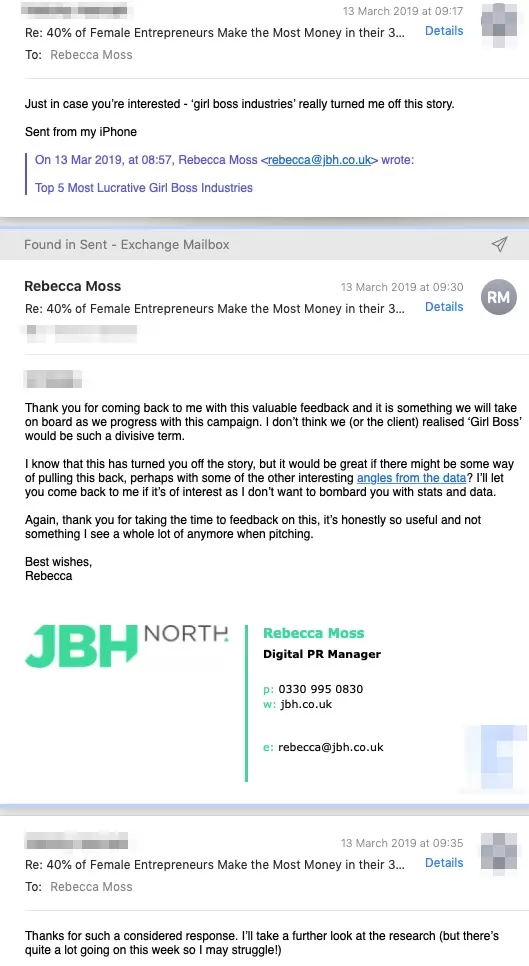 As you can see, the initial negative response was quite short so I wanted to see if I could find out a bit more about why they felt this way and attempt to turn this around. I resisted the urge to shrug my shoulders and move onto the next email in my inbox.
Whilst they might not feature the 'Girl Boss' campaign, but I will have (at the very least) preserved the relationship in preparation for future relevant campaigns.
Review, Revise and Regroup
Not every digital PR campaign goes the way you would expect. If you're receiving a large amount of negative feedback in response to your outreach efforts, then it can be easy to feel like this is a personal attack on you.
You don't have to feel like it's all down to you to fix the issue. Speak to your colleagues, chat to as many people as possible about your campaign. Ask for their insight and opinion, it may open up an angle or avenue that you hadn't even considered previously.
Persistence and flexibility are key traits for any content marketer. Approaching negative responses in a diplomatic way could really help you turn those objections into options.