There's no getting away from it, resource-heavy hero campaigns will always have a place in digital PR and newsjacking can elevate them above and beyond what you set out to achieve originally.
What is newsjacking?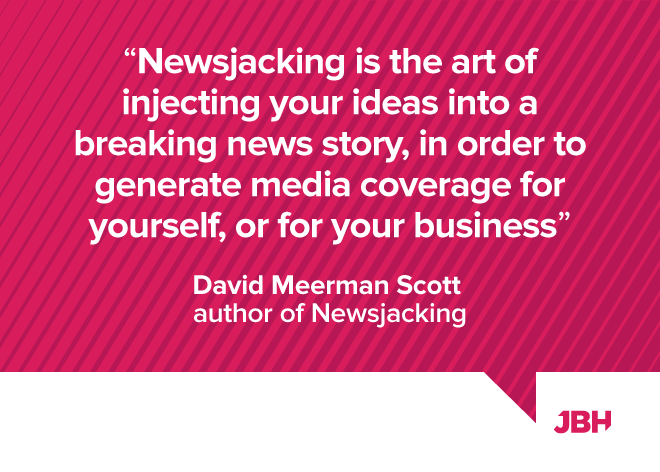 Bestselling author David Meerman Scott explains newsjacking as a technique that allows you to introduce ideas and opinions (from yourself or from your client) into a breaking news story.
He describes the lifecycle of a breaking story as a 'bell curve' and in order for newsjacking to be effective, you have to hit the bell at the right point, just as the story has broken.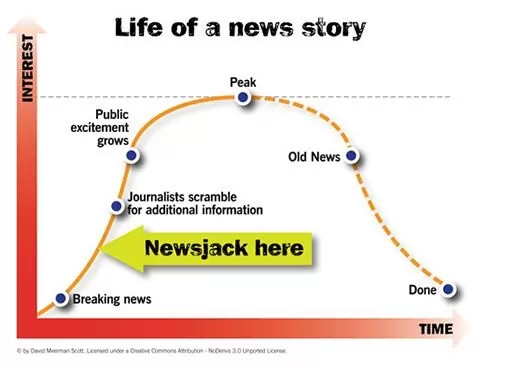 In the traditional sense, newsjacking would always be run as a separate PR specialism, rather than in conjunction with a larger campaign. But we've quickly realised that blending newsjacking techniques into our larger campaigns yields better results, in terms of quality AND quantity of links generated.
And as such, we don't define it as an extra service, it comes part and parcel with every campaign we run for every client on the roster – it's just part of what we do.
How to use newsjacking as part of your digital PR campaign
If you are running a digital PR campaign, there will be a reason for that. And it is usually due to the topical nature of the idea. Without even realising it, you're basically ready to incorporate newsjacking into your outreach process.
Live and breathe the topic of your campaign
At the very least, you have to have an interest in the topic you are trying to newsjack. From following subject experts on Twitter and LinkedIn, to subscribing to newsletters related to the subject. You'll be really surprised at how much this passive action can help frame your thinking.
Keyword research for digital PR can be different to keyword research for SEO
For each campaign you are running, uncover the keywords that would show you similar content related to your campaign. This is a bit different to keyword research for SEO.
You're looking for keywords that will trigger Google Alerts to show you news stories that you can hijack for coverage.
So what does this look like in practice?
For example, we ran a campaign called Ministerial Mansions which discovered the world leaders with the most expensive homes for online estate agent Emoov.
Buckingham Palace topped the list and we knew we wanted to squeeze more coverage for this campaign, beyond property and lifestyle publications (which we'd already achieved coverage and links through our usual media outreach). So we decided to put the palace up for sale.
The Royal Family isn't something I pay much attention to, but I needed to know it inside out to get the most out of this campaign. So rather than spend hours reading up or watching 'The Crown', I set up Google Alerts/Talkwalker Alerts for the following keywords: 
Royal finances
Buckingham Palace renovations
Royal cutbacks
Royal family cost to the taxpayer
Royal family salaries
'The Crown Netflix'
When the Royal Household published its annual financial statement for 2019-20, we were able to push our 'Buckingham Palace Valuation' story out as soon as we started seeing those stories come through. And we did it again when series 4 of The Crown aired on Netflix.
Trends are your friend and embrace the push notification
Google Trends and Twitter Trends – I have these pinned to my browser tabs and check them periodically throughout the day.
Push notifications on your browser and your phone can also be really useful – set them up for news publications so you can see exactly what is happening, as it happens.
Fun fact: The trends you see on Twitter are directly related to the people you follow, so make sure you are following the right people related to your campaigns to see the most relevant trends.
Newsjacking can be evergreen
When you newsjack a digital PR campaign, you get more than one shot at success. In October, we launched the OnlyFans Rich List for SlotsUp following the Bella Thorne controversy. We set up Google Alerts for all of the celebrities included on the OnlyFans rich list, and continually re-issued the campaign as and when we needed to:
Lewis Capaldi's birthday
Jordyn Woods set up her account
Megan Barton-Hanson tweeted about OnlyFans earnings
Cardi B joined OnlyFans
Chloe Khan joined OnlyFans
And we can continue to do this each and every time a newsworthy name joins OnlyFans.
Prepare expert comments in advance (if you can)
If you can prepare and get approval on comments in advance of a big event, then do. But be prepared to tweak them as you go. However, some of the best newsjacking we've done has been off the back of a larger campaign, and hasn't necessarily needed any additional commentary.
Use newsjacking to elevate a 'slow burn' digital PR campaign 
I am a realist, and I accept that not every single campaign will smash it out of the park. Some will be a slower burn than others. Why not try some newsjacking techniques to see if you can light a fire underneath a slow burn campaign?
Looking for newsjacking opportunities? Here are 20 sources of inspiration to help newsjack your digital PR campaigns
Make newsjacking your digital PR campaigns easier by having a few extra things in place before you begin:

IFTTT & #journorequest
If you're anything like me, then you might sometimes forget to check #journorequest, but thanks to a handy TikTok tutorial from Mark Rofe you can set up IFTTT (IfThisThenThat) to send you an email every time a relevant request comes up. Here a trigger I set up for any property related #journorequest: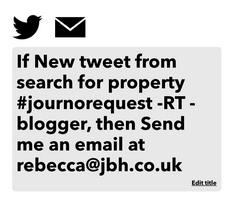 You can even connect this to Slack so that opportunities drop straight into a channel for the whole team to see and action. 
Spotify daily drive playlist
Even if you don't drive, take a look at your Spotify account to see if you have the Daily Drive Playlist. It combines music with timely world updates from reputable sources. Mine always has The Times Daily News Briefing.
#tomorrowspaperstoday
A voluntary service bringing you the front pages of the papers before they hit the newsstands – give them a follow here. The BBC also have a dedicated page which is updated every evening.
Google Alerts
Not just for monitoring brand mentions, pop your campaign-related keywords into Google Alerts and see if you can react to any of the results that come back.
Push notifications
Those annoying little notifications popping up on your screen can actually be helpful when it comes to newsjacking opportunities. Outside the usual big news outlets, sector specific publications have begun to do this too.
Newsletters
Subscribe to the newsletters of publications you want coverage on. A few of my favourites include:
Metro Lifestyle | BBC News Daily | Sheerluxe Daily News | Stylist | Reuters Morning Digest| Daily Mail Travel Newsletter + loads more
Days of the year calendars
I'm still on the hunt for an amazing 'Days of the Year' calendar integration for my Google calendar. This PDF version from 10Yetis is great, though.
24-hour news channels
These are usually the first to break any news story, so another good source of inspiration that you can have on in the background.
Alexa; read me the headlines from X
Rather than waiting for the hourly news bulletin on the radio, if you have a voice assistant ask for the headlines from whatever publication you'd like to hear them.
Ask Chrome to open a specific set of pages
In Chrome settings, you can ask it to open up a specific set of pages each time you start up. For me, it's Google News Top Stories | Twitter Trends | Google Trends
Independent news outlets
If you're tasked with securing local coverage and links, then looking towards independent news outlets could give you the edge.
News wire services
Many of the big news publications get stories from The Associated Press, Reuters and Bloomberg News. You can also subscribe to their newsletters and follow them on social media to give you an up-to-the-minute overview of what's happening.
Feedspot content reader
It can feel a bit overwhelming having to check all these different news sources every day, so this is where Feedspot can help. It's a content reader that brings together all these news sources, so you can see at a glance, what's trending/breaking and you can explore more, if you want. Here's my Feedspot
Reddit – https://www.reddit.com/r/uknews/
Reddit is the front page of the internet so keeping an eye on subreddits related to your campaign keywords is a great idea.
Facebook groups
Another great source of newsjacking inspiration here, especially if you're looking for local or very niche coverage. Journalists scour these groups for story inspiration, so why not do the same too?
Daily news briefings & podcasts
Most major news outlets have a daily news briefing on Spotify plus podcasts can be an untapped source of inspiration too.
Tweetdeck / Hootsuite
Use a twitter monitoring tool to flag up relevant key phrases as and when they appear on Twitter. 
Buzzsumo
Buzzsumo automatically orders by engagement, which means older articles come up first. Use the filter to order by date, which means you see new popular/trending stories first in the list.
Twitter lists
There are a couple of ways you can use Twitter lists for newsjacking. You can either set up a list following a hashtag or topic eg #GBBO or follow pre-curated lists like this. 
Website change monitoring
If you're waiting for a data set to be released from a site such as the ONS, it's worth setting up an alert via a website change monitoring tool to alert you as soon as that page is updated, rather than having to remember to go and check the page. Visualping.io and Sken.io are just a couple of free options.
Newsjacking your digital PR campaign – 3 key takeaways 
Use tools and alerts to your advantage – get newsjacking topics delivered right to your inbox.
Don't worry about planning ahead too much – it's more important to be quick and accurate when the time is right.
You don't have to be 'always on' – but it is helpful if you're frequently watching and listening out for opportunities.