As digital PR's, we are constantly keeping one eye on news outlets and social platforms in order to react to any breaking stories that directly impact or relate to our roster of clients via our newsroom service.
However, last week we identified an opportunity to create the narrative ourselves using PR outreach skills, as well as some expert insight and speedy reactions from one of our online retailer clients.
While browsing social media, one of our team spotted a concerning post on a local community Facebook page that caught her eye. It came from a mother explaining that her 16 year old daughter was made to pay full price for her Tesco meal deal instead of being allowed to reduce the cost with her Clubcard: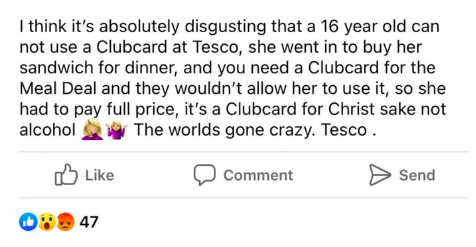 Thanks to our experience of monitoring consumer and retail news, we knew instantly just how much this kind of post would spark a reaction in audiences, especially taking into consideration the current cost of living crisis and continued media speculation regarding the hike in everyday grocery products across UK supermarkets.
So, we decided to shine a light on the loophole surrounding under 18's being refused the use of Clubcards in certain Tesco stores around the UK, and compile an accompanying PR pitch with additional expert commentary from our spokesperson.
Speed is of the essence with opportunities like this. The entire process of identifying the news hook, drafting the pitch and accompanying comment, securing client sign off and outreaching to the UK media took less than an hour in total.
And it paid off…
As well as building more than 50 links and brand mentions for our client across national, regional, and parenting sites – including Netmums, The Sun, The Mirror, GB News, The Daily Record and Wales Online – we have also been able to monitor in real time via Google Analytics the impact that a simple but effective digital PR tactic like this can have on the organic traffic to specific product pages for our client.
By ensuring that journalists included a link back to our clients relevant product page that related back to the story, we were able to double the number of unique visitors heading to the Tesco page on our clients website compared with the previous week. This story has also helped us to begin driving referral traffic to a page that wasn't previously driving anything.