New Year's Eve is one of the biggest global celebrations — a chance for people all around the world to shake off the past year and usher in a new beginning. Equally, it's a night defined by drama — whether that's romantic entanglements, realisations, or revelations — understandably making it a plot point utilised by writers and directors alike.
So, as 2021 becomes 2022, what are the best New Year's Eve movies to watch? The pop culture enthusiasts here at JBH have analysed films featuring New Year's Eve scenes to reveal the best ones to watch — and when to hit play to sync up your countdown into the New Year.
For this study, we analysed data from YouTube, IMDB, and Google Keyword Planner — allowing us to rank films by reviews, searches, and many other additional factors. 

Sync up your New Years countdown with these iconic movie moments
Taking 20 of the top-rated films that feature NYE celebrations, here's when to hit play: 
A quick glance at the list above tells you the most iconic New Year's Eve moments on-screen all took place before 2000 — Francis Ford Coppola's The Godfather Part II, Robert Zemeckis' Forrest Gump, and Billy Wilder's Sunset Boulevard. These vintage results aren't without their irony when you consider December 31st's midnight gong is meant to signal new beginnings! At least there's a solid balance between one of Hollywood's biggest villains — Michael Corleone, and treasured sweethearts — Forrest Gump. Number five finally brings us into the 21st century with Richard Curtis' About Time — because isn't New Year's Eve one of the most romantic dates in the calendar?
Every country's favourite New Year's Eve moments on film
Whether you swear by the "New Year, New Me" mentality, or your 31st December is about securing that stroke-of-midnight smooch, everyone welcomes the New Year with open arms. In the same way, we all love a good old New Year's Eve movie moment — but what's every country's favourite?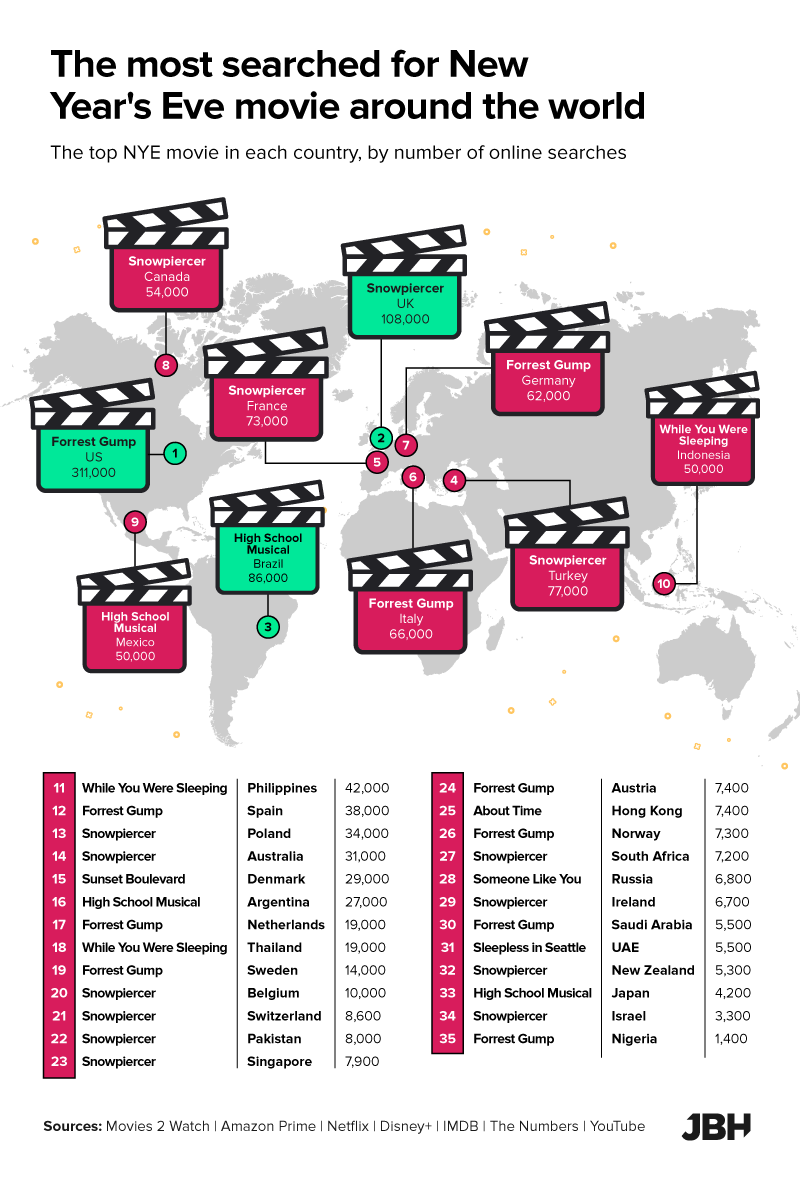 In the US, Tom Hanks takes the crown as the nation's most loved outsider in Forrest Gump. The UK, Turkey, and France are fans of the slightly less heartwarming, apocalyptic Snowpiercer — brutal, post-climate disaster train battle, anyone?
Thankfully, Brazil brings it back with a highly apt musical number — Troy and Gabriella's 'Start of Something New' in High School Musical.

What NYE Scenes Are the Most Watched?
1. The Godfather Part II
Views: 2,270,933
There are a lot of lists that The Godfather, Part II sits at the top of — but the most watched New Year's Eve scenes is nonetheless a surprising one. A crime classic continuing the saga of Italian mob family, the Corelones, this is by no means a heartwarming depiction of new beginnings — much the opposite, in fact. But you can't argue with cold, hard facts — in thisThe Godfather Part II - 2.2m views case, 2.2 million views on YouTube. Press play at 22:16:28 PM to watch family Don, Michael Corleone, reveal his own brother as a rat.
2. Iron Man 3 - 1.1m views
Views: 1,109,547
A self-made hero and relatable family favourite, Iron Man is the star of the second most popular New Year's Eve film scene. With 1.1 million views, the scene depicts Tony Stark's flashback to a New Year's Eve party back in 1999 — when he met Professor Ho Yinsen for the very first time. The meeting is brief, with Stark keen to speed through the introduction to take care of more important matters in the bedroom. To hear the year's final gong at the same time as Iron Man himself, press play at 23:55:50 PM.
3. Ghostbusters II - 967,000 views

Views: 967,863
In sci-fi circles, Ghostbusters II is actually defined as a New Year's Eve movie — and with more than 1.1 million views in total, it comes as no surprise. Unlike the first two in the list, this is a film in which the entire plot leads up to a New Year's Eve battle for the soul of the universe. In typical Ghostbusters fashion, this scene sees New York's supernatural crime fighters ring in the New Year with a stream of slime. If you'd like the clock to strike 12 just as Venkman quips "Happy New Year!", press play at 22:27:52 PM.
4. The Holiday - 509,998
Views: 509,998
A festive favourite among females, The Holiday is the film every boyfriend lives in fear of being subjected to come December 1st — and with its characters coming together for a New Year's Eve party in the quaint English countryside at the film's close, it makes for perfect watching on December 31st, too. More than 500,000 people — that's approximately 250,000 boyfriends — have bore witness to this depiction of new beginnings and new relationships. To join in with the romantic festivities, press play at 21:49:49 PM.
5. When Harry Met Sally -  159,154
Views: 159,154
Beloved rom-com, When Harry Met Sally, shows leading man — and King of Layering — Harry Burns, racing to confess his love for high-maintenance heroine, Sally Albright. The clock strikes midnight as Sally's storming away from him, but Harry gets his happy ending — ultimately wooing his true love with the line, "When you realise you want to spend the rest of your life with somebody, you want the rest of your life to start as soon as possible". For this heart-racing-then-melting strike of the clock, press play at 22:30:27 PM.

Sources and Methodology
Taking 29 films with New Years Eve scenes, we have determined the time to click play so the clocks hit midnight in the film and real life at the same time. 
Please note: Streaming service or channel may cause a differing timestamp
Sources: Movies 2 Watch | Amazon Prime | Netflix | Disney+ | IMDB | The Numbers | YouTube