Today we heard from 4 leading national travel journalists and editors discussing how the global pandemic is impacting national travel PR and how brands can work with them.
When the impact of the virus was really hitting home (as we all worked from home) last week, JBH as an agency had to very quickly assess the impact of the virus on all of our clients and our current and future campaigns (travel related or not), to see how much we needed to pivot and reframe our activity.
And we're pretty sure, this is going on in PR departments up and down the country. Some brands will continue, reframing their angles and tone, whilst other brands will be very nervous, tempted to hit 'pause' on all their PR activity for fear of offending.
But as we all know from previous hard times, those brands that continue to be vocal and create useful content for consumers, will benefit from having a presence during this time. And, journalists are crying out for content.
So the BIG question is… 
How can PRs generate positive PR coverage at this time?
To get some insight into the impact of the virus on travel journalists and editors, Roxhill discussed the situation with four journalists and editors from the top travel publications:
 Claire Irvin, Head of Travel at The Telegraph
 Chris Haslam, Chief Travel Writer at The Times & Sunday Times
 Jane Dunford, Travel Editor at The Guardian
 Tom Robbins, Travel Editor at The Financial Times
I'm going to share the main points from the webinar including…what travel journalists need right now from travel PRs and how you can deliver it…
One of the points was crucial – don't feel guilty promoting your brand as this will help your brand survive and journalists need all the content they can get presenting LOTS of opportunities.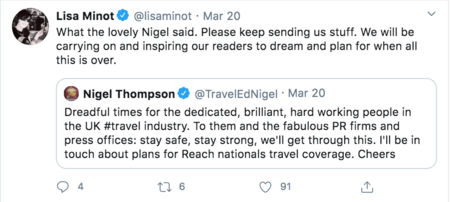 What content do travel journalists want right now?
Humour – Amongst all the journalists, they all agreed that they and the nation would benefit from more humour, more light hearted content for some light relief
Positive pieces – there's a 'huge appetite for positive pieces' to lighten the mood of doom and gloom e.g. the swan and dolphin stories from venice (even if they were fake news
Trends – Consumers spend 48 weeks of the year dreaming about travel and only 4 weeks travelling, so how can you tap into that for 2021. What are the predictions or trends for next year once the travel ban has been lifted? We all have plenty of time now to research and plan, so what content can we offer aids this?
Virtual travel – So with travel restrictions in place a lockdown fast approaching, even UK staycations are out the window, enter virtual travel! How can you inspire consumers with virtual content, get them inspired for when bans are lifted and the nation is itching to get away! We're already seeing the first waves of this with The Times and The Sun both doing features, but there are plenty more travel topics to cover.

Quirky content – more than ever, journalists want PRs to think outside the box. What interesting or weird things are your brand or the public doing in response to the crisis? Personal stories are always well received especially if you can show a different side to a topic.
What can you do differently?
This advice doesn't just apply to travel PRs, this is relevant to every brand and agency out there, no matter what sector you work in.
Think like a journalist – how are brands responding to the crisis? Journalists want to hear the real impact on travel brands and how they are adapting. For example some resorts and spas are now offering Coronavirus anxiety-relief packages
Think about the philosophy of travel – what does travel mean to us and why? How does it affect us when we can't go away? Does researching dream holidays help somewhat?
Consider timing – when pitching any story / angle, consider how the landscape might change very rapidly e.g. don't pitch staycation content when the Government is suggestion people don't travel in the UK or is about to announce a national lockdown
Pitch other sectors – in times like this brands need to be more creative and diverse with who they pitch. So if you're a hotel, pitch interiors magazines or environmental publications if you have an eco-friendly USP
What not to pitch?
Journalist pet hates haven't changed – some still don't like any travel pitches that involve Instagram!
Don't try and change the subject – think laterally rather than hide from the situation
Be cautious about sending anyone anywhere right now – everything should be a virtual online experience
Be careful about representing the travel industry as a 'charity' that needs supporting
No 'happy monday' emails please. Don't promote hotels doing things when they aren't even open.
Opportunities?
You may not think this is the best time for PR opportunities but journalists disagree believing there are more than ever, if you can think outside the box.
UK consumers have way more time to consume news and travel now and are therefore a hungry audience that need to see inspiring travel pieces for escapism and planning for 2021!
Luxury resorts are being asked by guests if they can be the first ones to visit when the travel sector reopens, building a buzz and an appetite for their experiences.
Virtual travel is a big opportunity if done well e.g. not just a Google map!
Sustainable travel will be a hot topic once again when travel bans are lifted so it could be the perfect time to educate and inspire
Key takeaway?
Most importantly, journalists NEED your ideas, updates, your energy and press releases! Think laterally! Report on situations across the world, help journalists fill their publications and keep morale high in the UK! So keep sending them your pitches…
Still unsure how to proceed?
If you're still feeling very nervous and unsure IF and HOW to continue PR activity then give us a call on 0330 995 0830 or email hello@jbh.co.uk and we'd be happy to help – even if it's just for a chat or to discuss any ideas. Our door is always open….