https://jbh.co.uk/wp-content/uploads/2018/09/shutterstock_1057897370.jpg
1000
667
Kerri Rogers
Kerri Rogers
https://secure.gravatar.com/avatar/491d294176c92321b61757fef1b2157e?s=96&d=mm&r=g
[Twitter News] Chronological timelines are making a come back
Last week, in a series of Tweets, Twitter announced it's going to make some changes to its timeline.
There have been no major changes to the timeline since 2016 – so what are these new changes and how are they going to impact content marketing?
Why the change?
Back in 2016 Twitter changed from having a reverse chronological timeline to using a new algorithm which was meant to show you the 'most relevant' tweets from users you followed.
This new algorithm saw mixed reactions from personal Twitter users and brand.
Many people found they were missing out on important tweets they wanted to see or not see them until days later.
Brands and media publications saw a decline in engagement and found many of their followers were no longer seeing their tweets in their timelines.
For these reasons a lot of Twitter users have been requesting that Twitter change their timeline back to reverse chronological and it seems they have finally listened – well, sort of.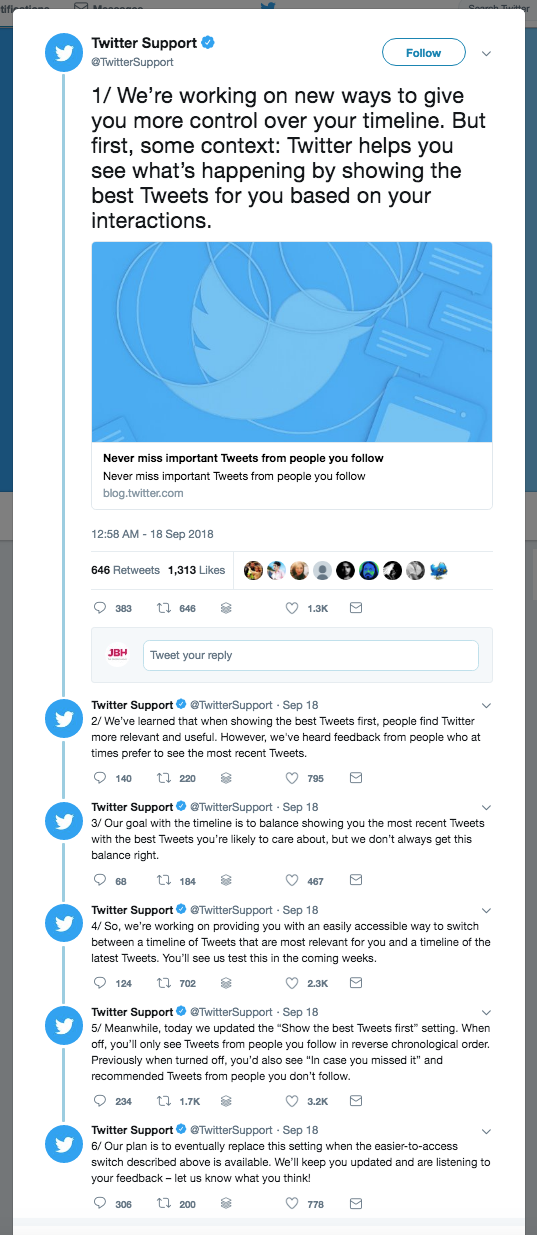 How do I change my Twitter timeline to reverse chronological?
From the Tweets, Twitter sent out we can ascertain that the new feature will be rolled out in the next couple of week.
In the meantime to get an idea of how the feature will feel you can go to Settings and privacy > Content preferences and un-check the box the says 'Show the best content first'.
Previously when you un-checked this option, an "In case you missed it" section would appear on your timeline as well as recommended tweets from people you didn't follow.
This setting will eventually be replaced with a new easier-to-access switch that will allow you to toggle between 2 timelines. 1 will be of the most relevant tweets from accounts you follow, and the other will be a reverse chronological timeline of the latest Tweets.
What does this mean for content marketing?
User experience
In the digital world, user experience is one of the most important parts of creating content or a platform to view content on. If it's flawed, you might see your user base decline – so by giving users what they want, Twitter is helping to ensure they keep returning to the platform.
This is good news for marketers – although Twitter hasn't seen a drop in users since its inception by taking this step to give users the option of a chronological timeline they are providing better user experience, hopefully keeping users around for a long time.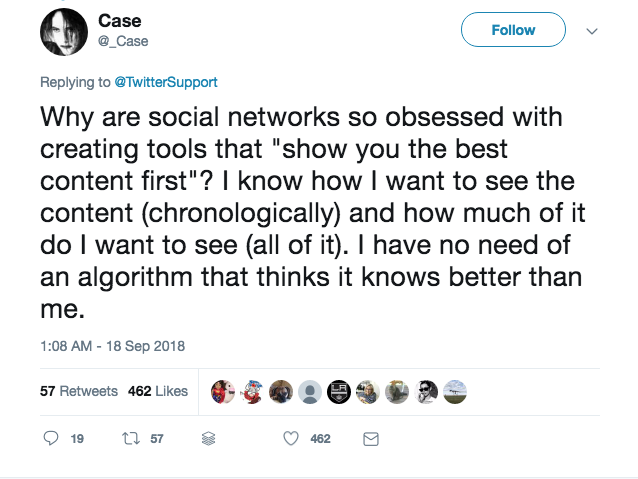 Missing updates
Users will now be able to organise their timelines in a way that works for them. The algorithm-driven feed was often causing tweets to appear in a disjointed order.
The disjointed timeline could mean users were missing your tweets or for time-sensitive content (events, sales, breaking news) only seeing them once they were no longer relevant.
Viral content
Although Twitters algorithmic timeline is a nuisance for some, it does have its benefits. Viral content is a key example of this.
Tweets go viral faster since its algorithm was introduced because it is able to boost viral tweets through the platform faster and with a greater reach while also keeping older tweets relevant and bringing them up in new ways on different users timelines.
Both types of timelines have their benefits, while we all love a good viral video, liking a tweet and finding out its a day old or getting breaking news 12 hrs after its publish can be incredibly annoying.
Having both timelines available for users and allowing them to switch between the two is going to provide a better user experience and a welcome change for most of us.