DTC SEO (direct-to-consumer) is often an afterthought. And many brands don't invest early enough, or indeed know what SEO strategy to use. But in this SEO cookbook, we'll reveal 12 SEO recipes used by DTC brands to achieve success. You'll see how they are using each approach and we'll show you why each recipe works.
Let's get cooking.
Recipe 1 – How Chewy Grew Its Mental Availability
Recipe 2 – How The Daily Harvest Leverages the Messy Middle
Recipe 3 – How Casper Utilises Category Entry Points to Fuel Growth
Recipe 4 – The Riverford Guide to Keeping Content Simple
Recipe 5 – How Huel Wrote the DTC SEO Roadmap
Recipe 6 – Calling a Spade a Spade (when it's flowers)
Recipe 7 – The How-to Supply Chain Leveraged by Wool and the Gang
Recipe 8 – How Warby Parker Reaches People Not in the Market
Recipe 9 – How Tempo Undertook a Content Workout
Recipe 10 – How Nori Target Problem Aware/ Solution Unaware
Recipe 11 – Tonal Teaches People to Tone Up
Recipe 12 – How Ice Barrel Warm Up Frosty Clients
Time to Gather the Ingredients of DTC SEO Success
Before we start, we need to gather the ingredients of SEO success.
SEO works on 3 important levels.
It reaches more people looking to buy today.
It reaches people researching an industry or product type (known as a category).
It reaches those who are product, brand, problem and solution unaware.
Now, here's why this matters.
SEO reaches vastly more potential consumers than PPC does (estimated at around 70% more).
You don't pay for every click to your website.
Ranking online organically is a competitive advantage.
SEO is a rationally optimistic marketing method that does not require incremental media spend to reach more people.
As such, SEO is a great way for your DTC brand to reach more consumers and achieve growth.
So, let's dive into the cookbook, to show you the recipe for DTC SEO success.
---
Recipe 1: How Chewy Grew Its Mental Availability.


Pet food and goods retailer Chewy was acquired by PetSmart for $3.35 billion just 6 years after its launch.
And they quickly grew their traffic.


However, when we look at the breakdown of their traffic, we see that 70% of the content is informational, not sales content.
Why?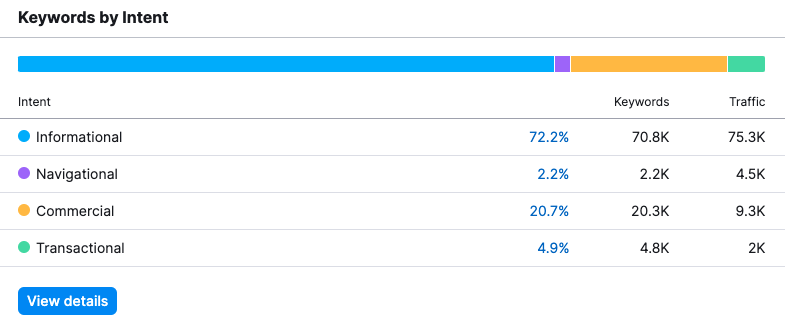 Thanks to work by the Ehrenburg-bass Institute for marketing science, we know that for brands to grow, they need to increase their new sales.
But to do that, first, they must increase their mental and physical availability.
Mental availability: the likelihood that a brand will be considered in a buying situation.
Physical availability: the ease and convenience with a brand can be purchased.
PPC simply increases the physical availability of a brand and tends to do so with an offer of sorts that impacts profitability.
As such, this increases your CPA.
And while brands should spend on PPC, you must never rely on it.
Chewy were clever.
Over the years, they've grown their content to do both.
Their sales pages rank for core terms such as this dog collar page.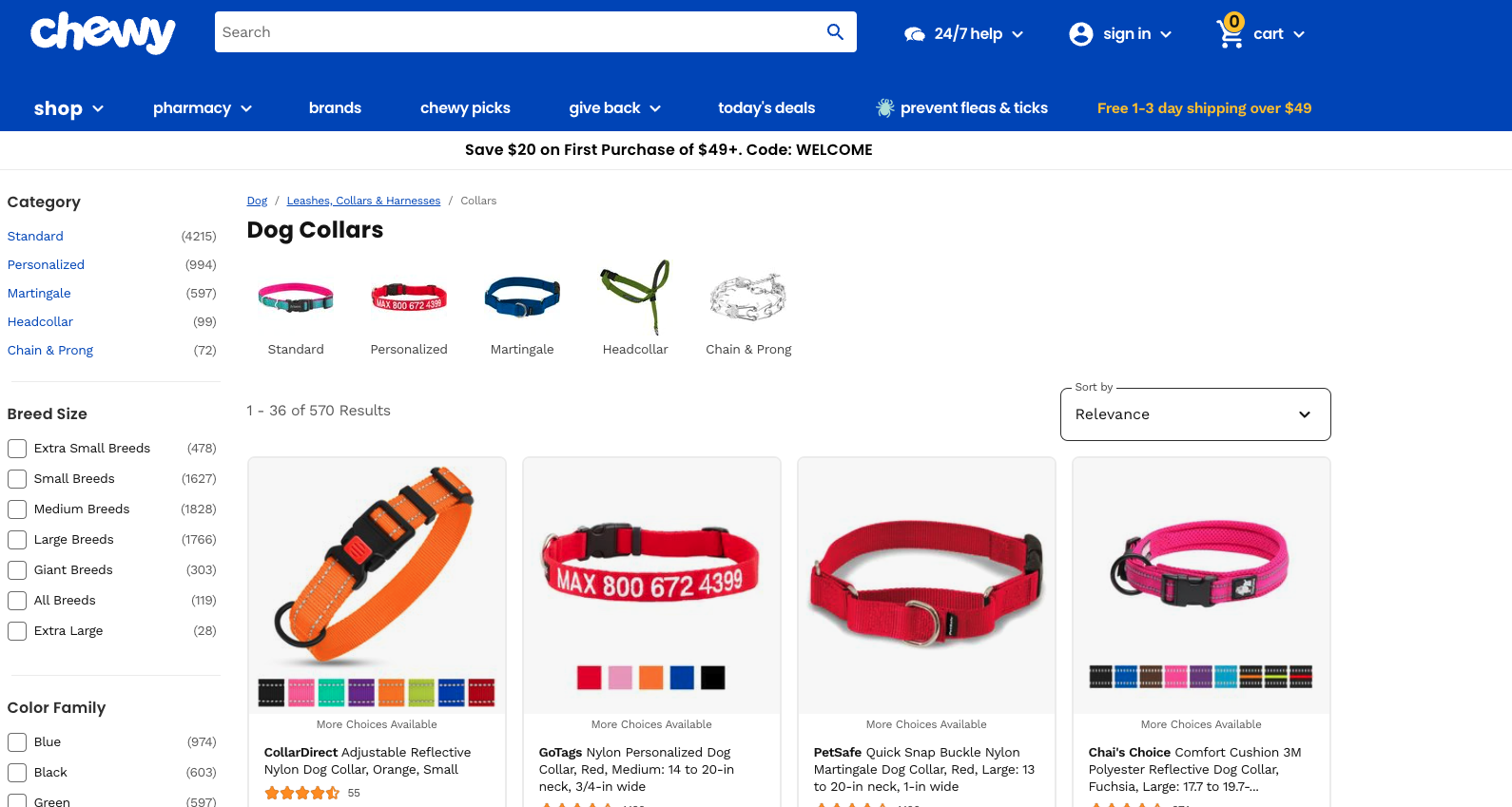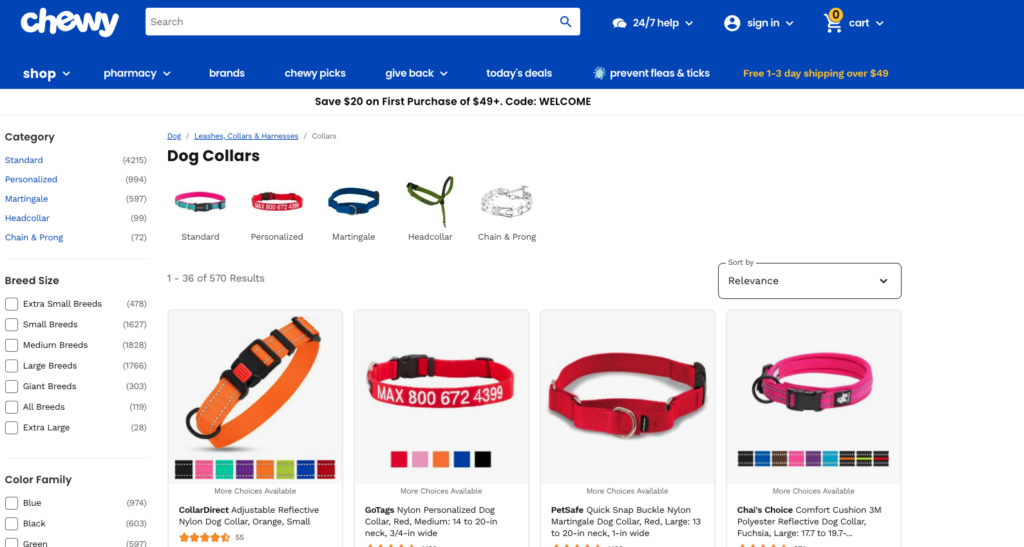 This increases their physical availability.
But they've mopped up online by ranking for the informational top-of-funnel search terms.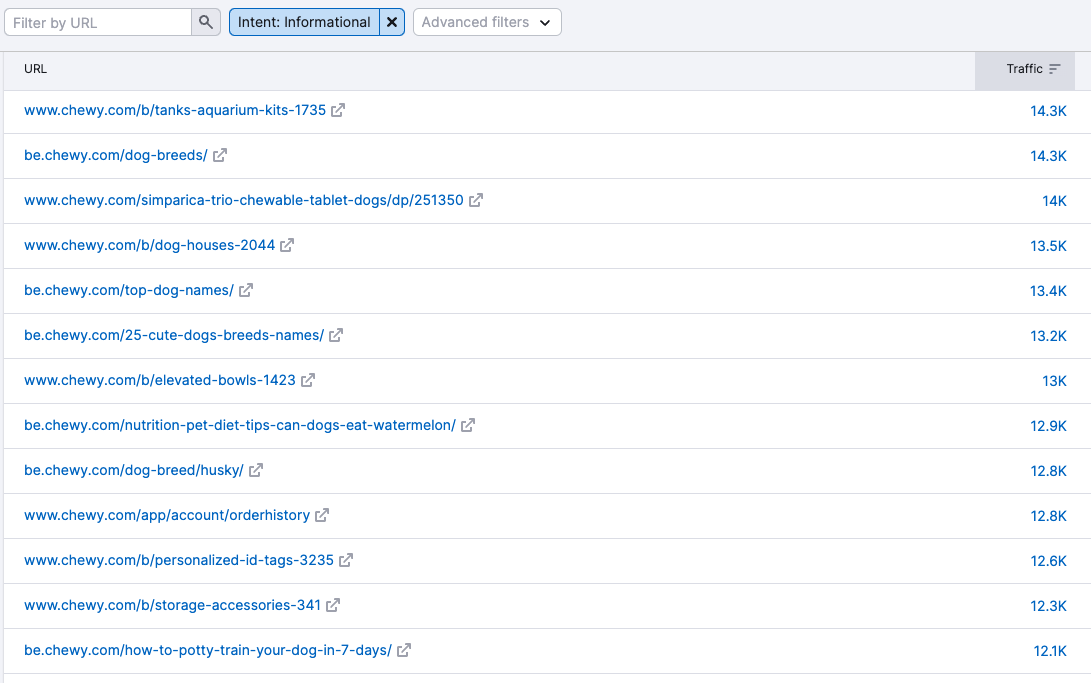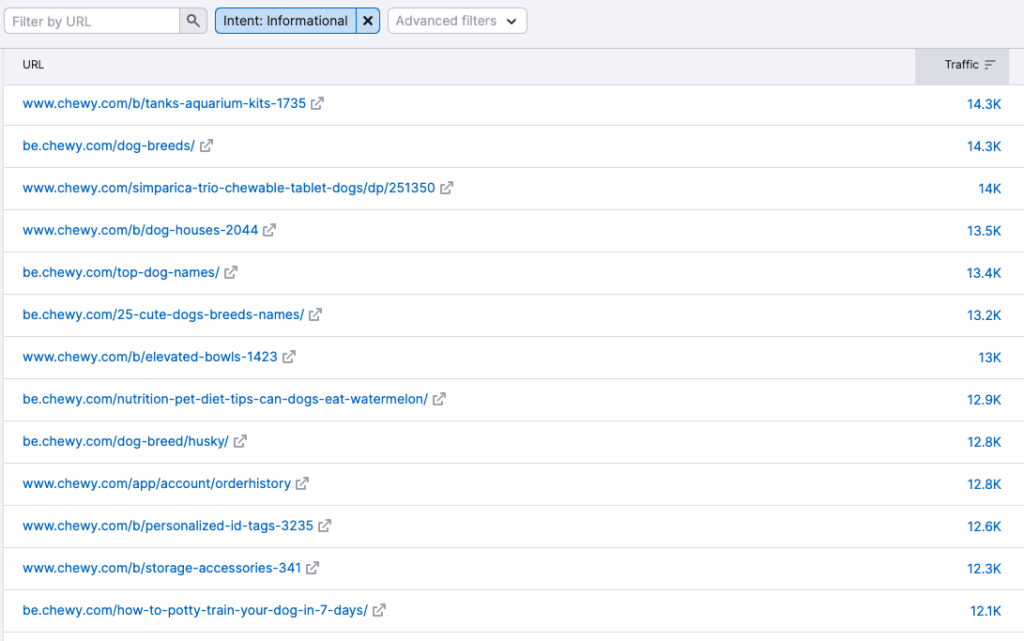 It generates thousands of searches that are top of the funnel and information based.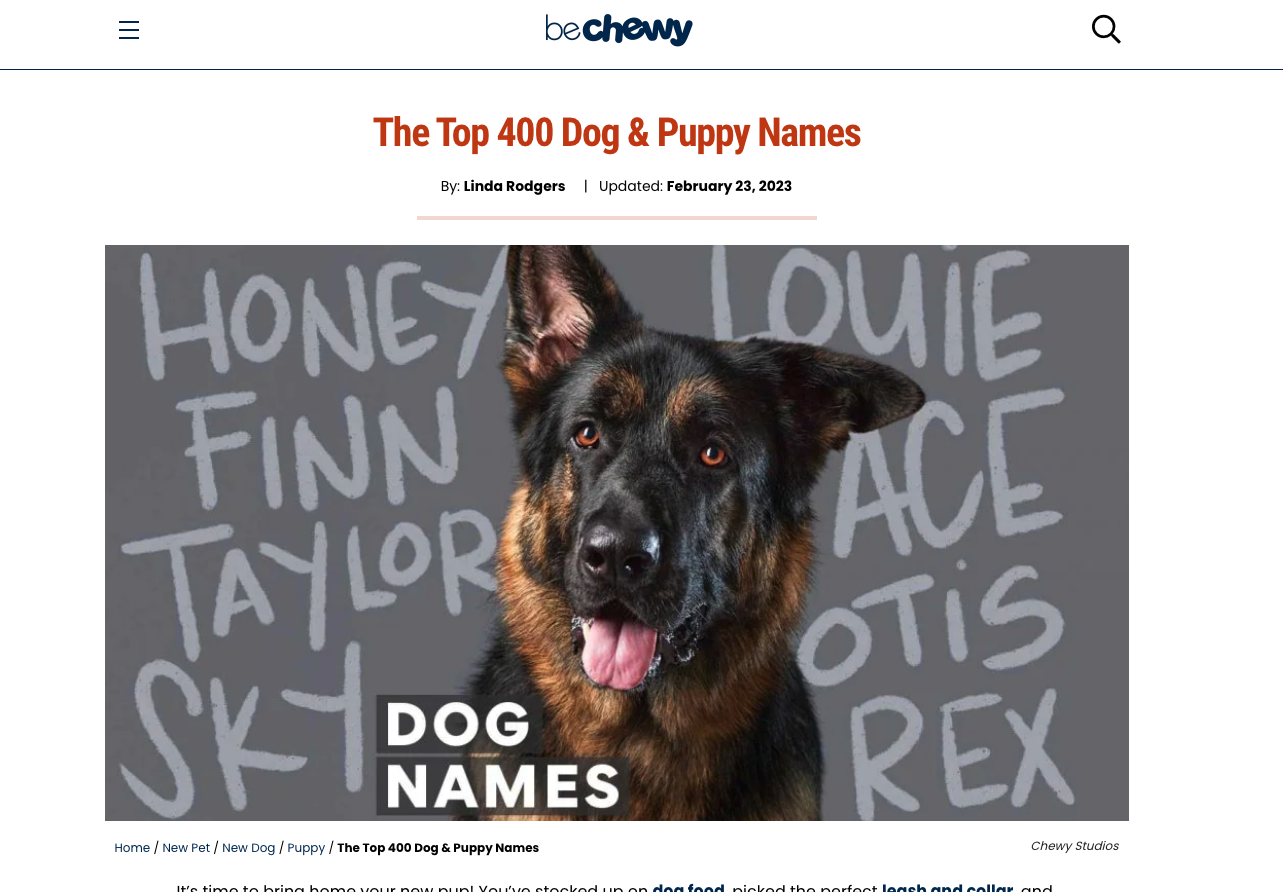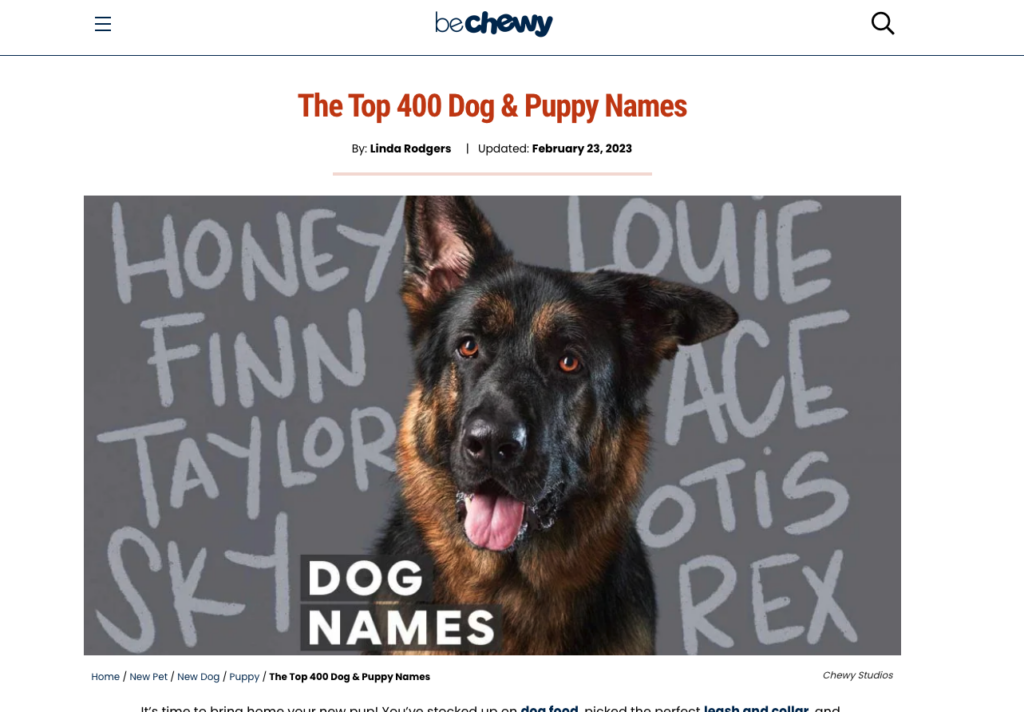 It's this commitment to informational content that keeps them in the minds of the consumers.
Brands win when they are easy to mind and easy to find.
But they aren't the only ones doing this.
---
Recipe 2: How The Daily Harvest Leverages the Messy Middle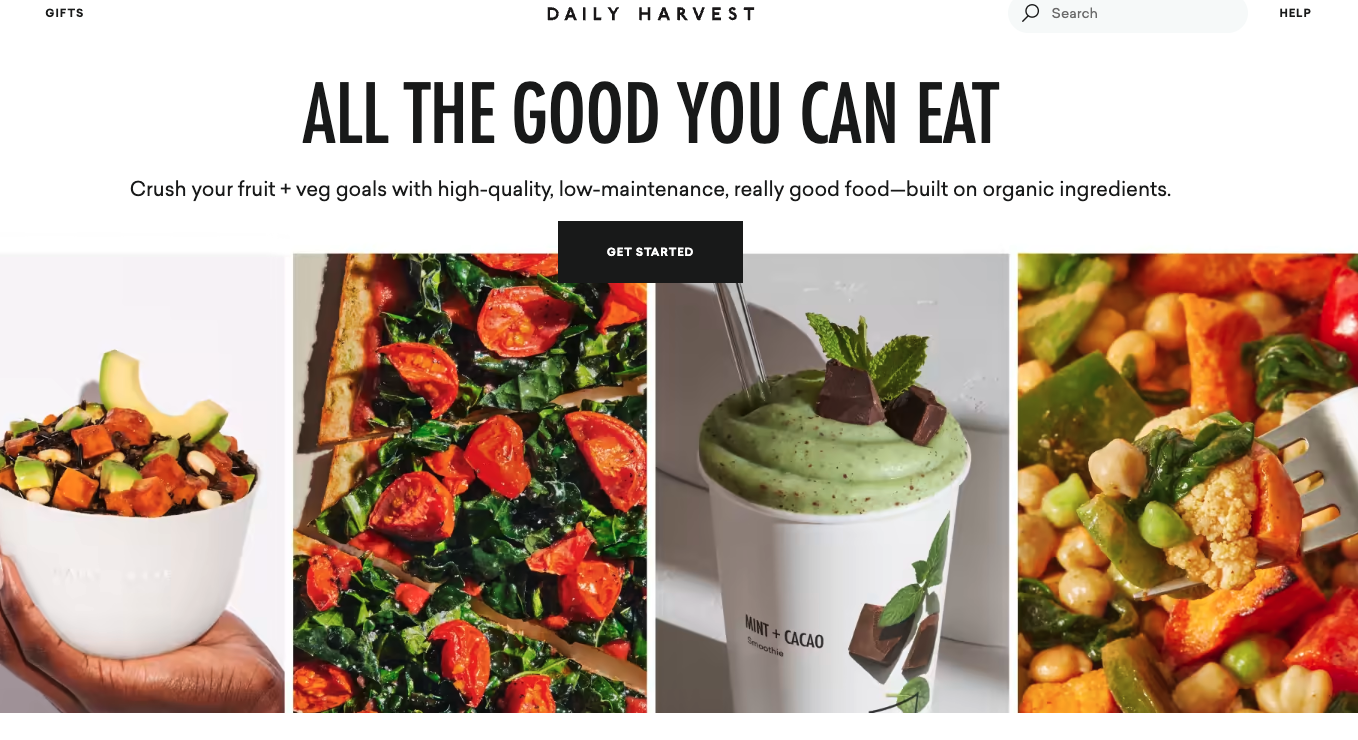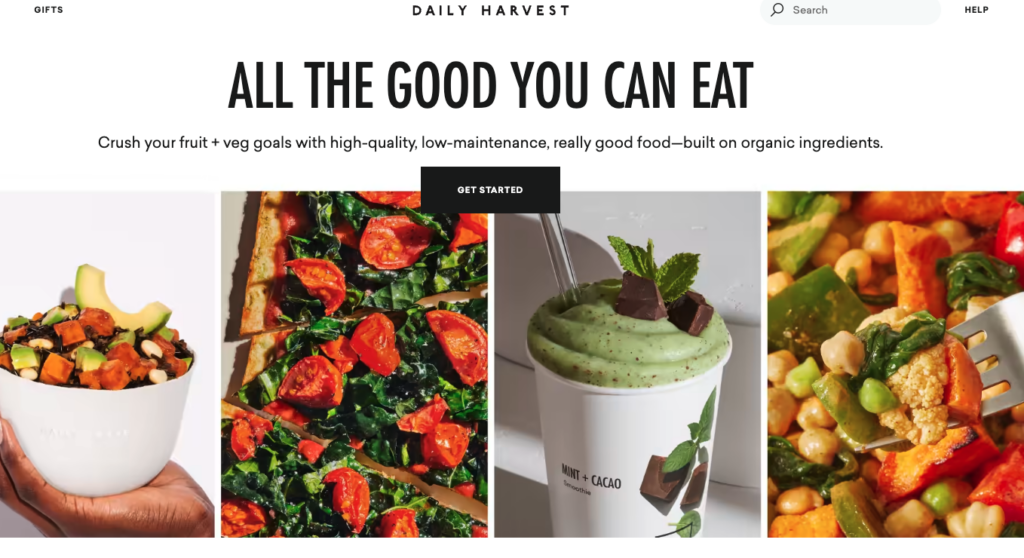 DTC smoothie and food company Daily Harvest are a huge brand with big celeb names who buy from them.
But they have also gone big with the messy middle of content.

Ranking for informational terms, they show up in the PAA (people also ask) search sections and grab many featured snippets.


The messy middle is something that Google has promoted for a few years now. It's their model for search.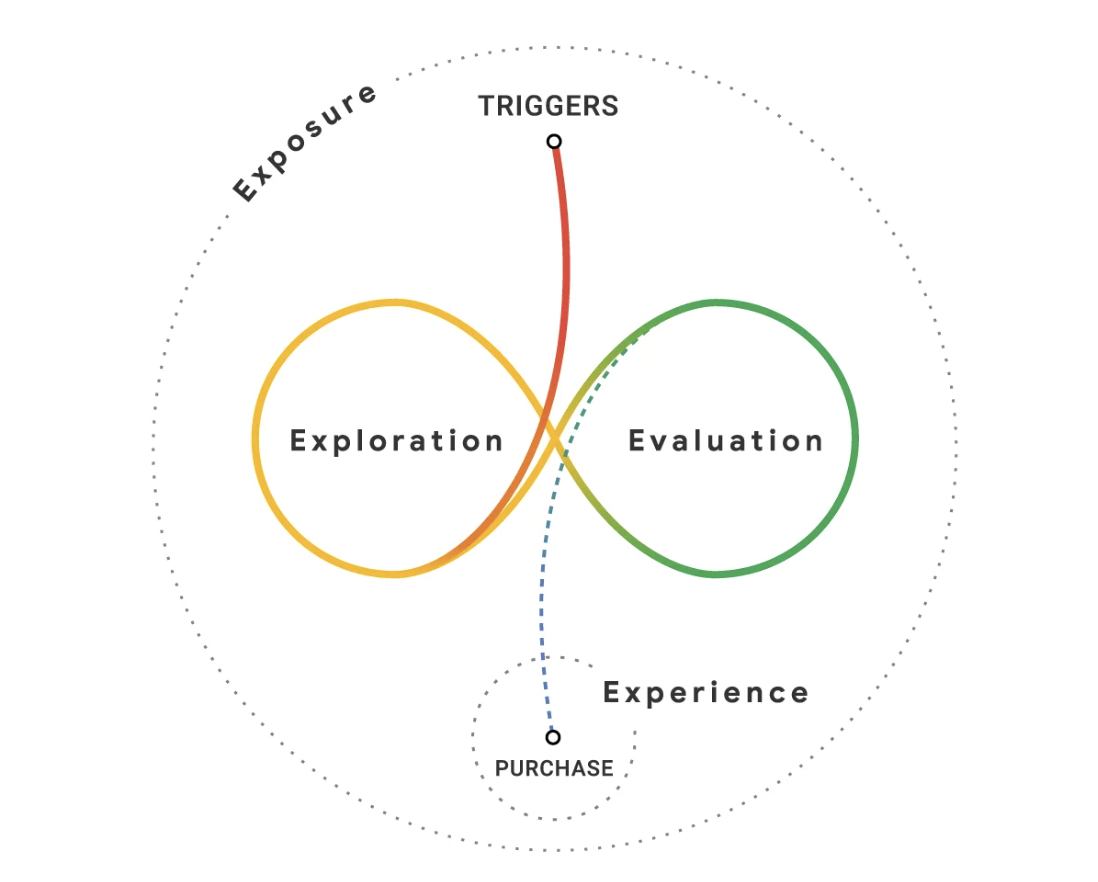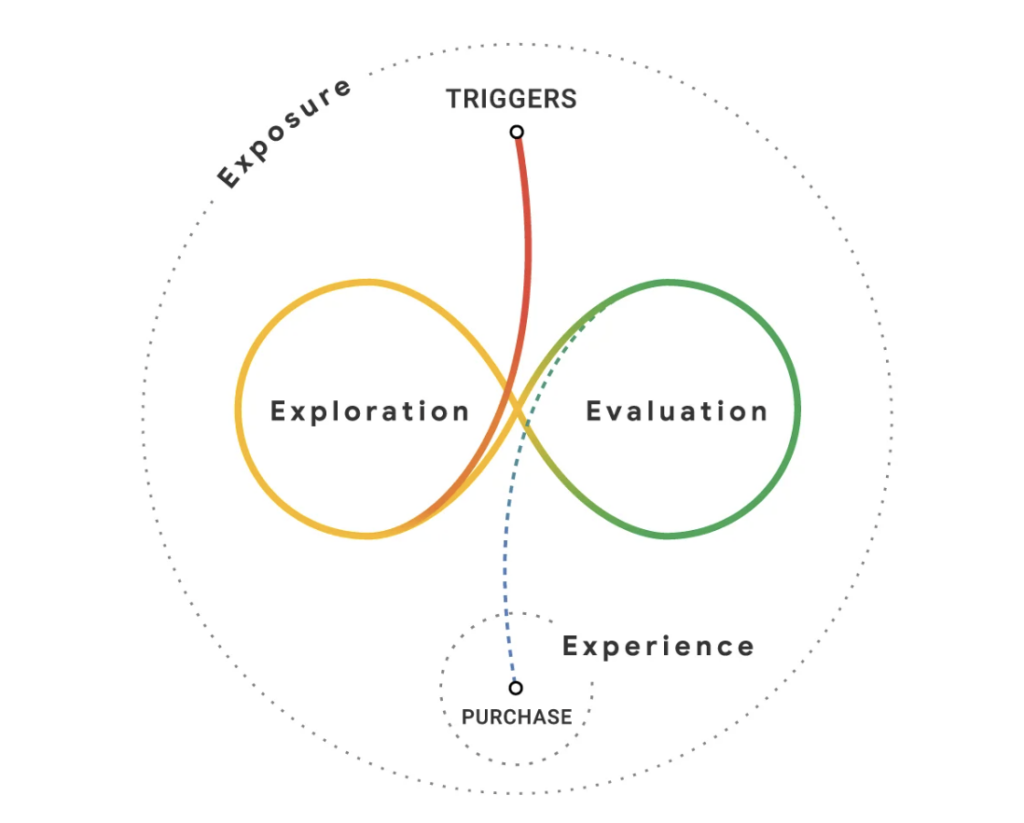 The idea is that search happens in phases, and after exposure to a stimulus, we enter an exploration phase where we explore.
Following this, we evaluate our information and purchase choices.
The Daily Harvest can reach new potential customers and build mental availability by answering questions.
That's fine for food-based businesses, you might be thinking.
But what about large household products?
Don't worry. We've got you covered.
---
Recipe 3: How Casper Utilises Category Entry Points
to Fuel Growth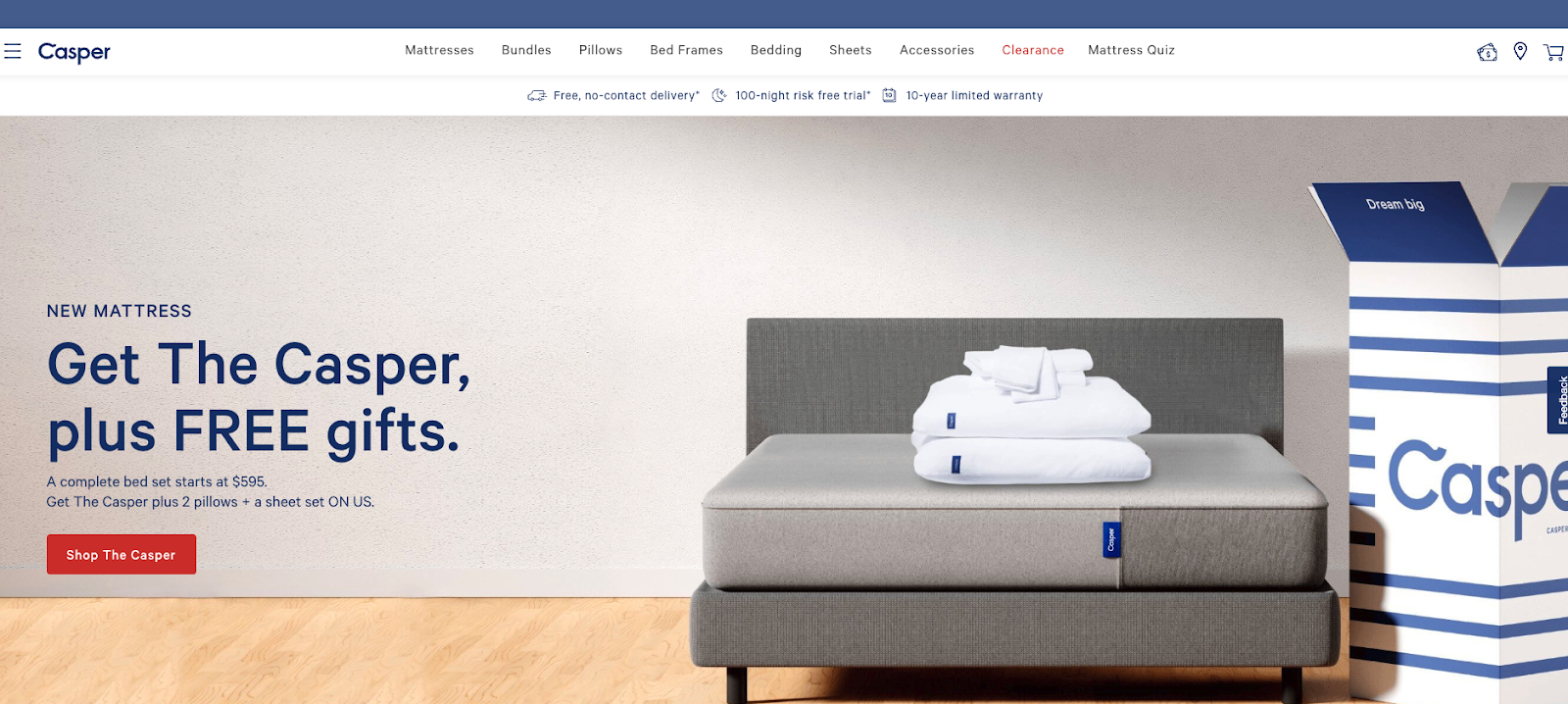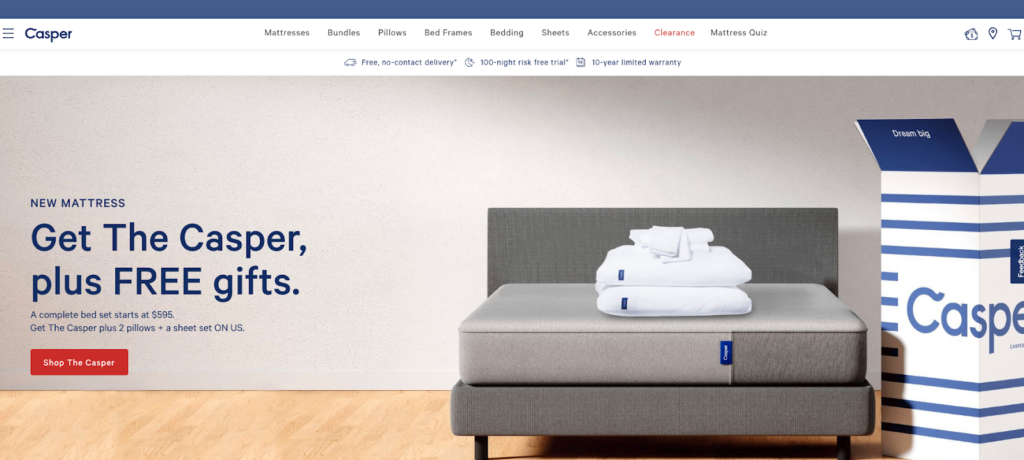 You might not like to think about this. But your prospects aren't as obsessed with your brand as you are.
People lead busy lives and tend not to think, "We need a Dyson".
Instead, they think in terms of life. For example, when our vacuum didn't work well, and it kept getting hair stuck inside it, we needed to know how to stop it.
This led to a range of discussions and talks about how we needed a new vacuum cleaner, and every time the vacuum had issues my wife and I did some searches on the internet.
The product created what is known as a category entry point. A situation where we were considering buying a new product.
The example above showed how the Daily Harvest answered questions to build mental availability.
Bed in a Box brand Casper have also focused on the messy middle of informational content.
And while they have a range of tactics, one focuses on category entry points.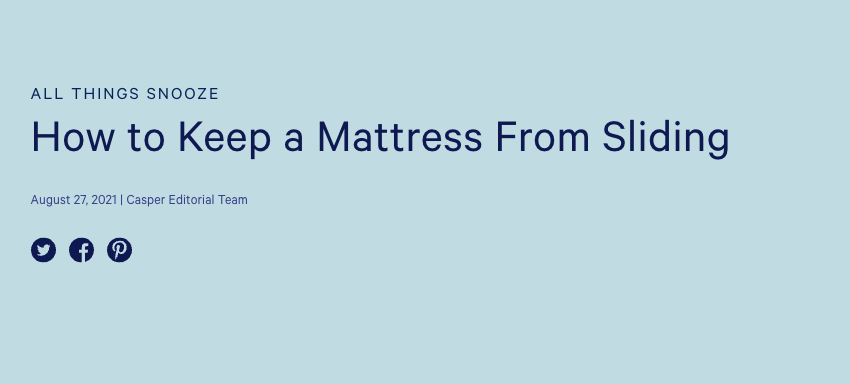 They have created content that deals with problems that customers face.
From sleeping issues to tips on how to stay cool at night, they've addressed problems that trigger people to want new mattresses.
They do target people further along the customer journey also.
But you need to think about what goes on in a person's life for them to think about buying into your category.
This will open up a lot of content ideas you never considered and help you to address the problems your products solve.
---
Recipe 4: The Riverford Guide to Keeping Content Simple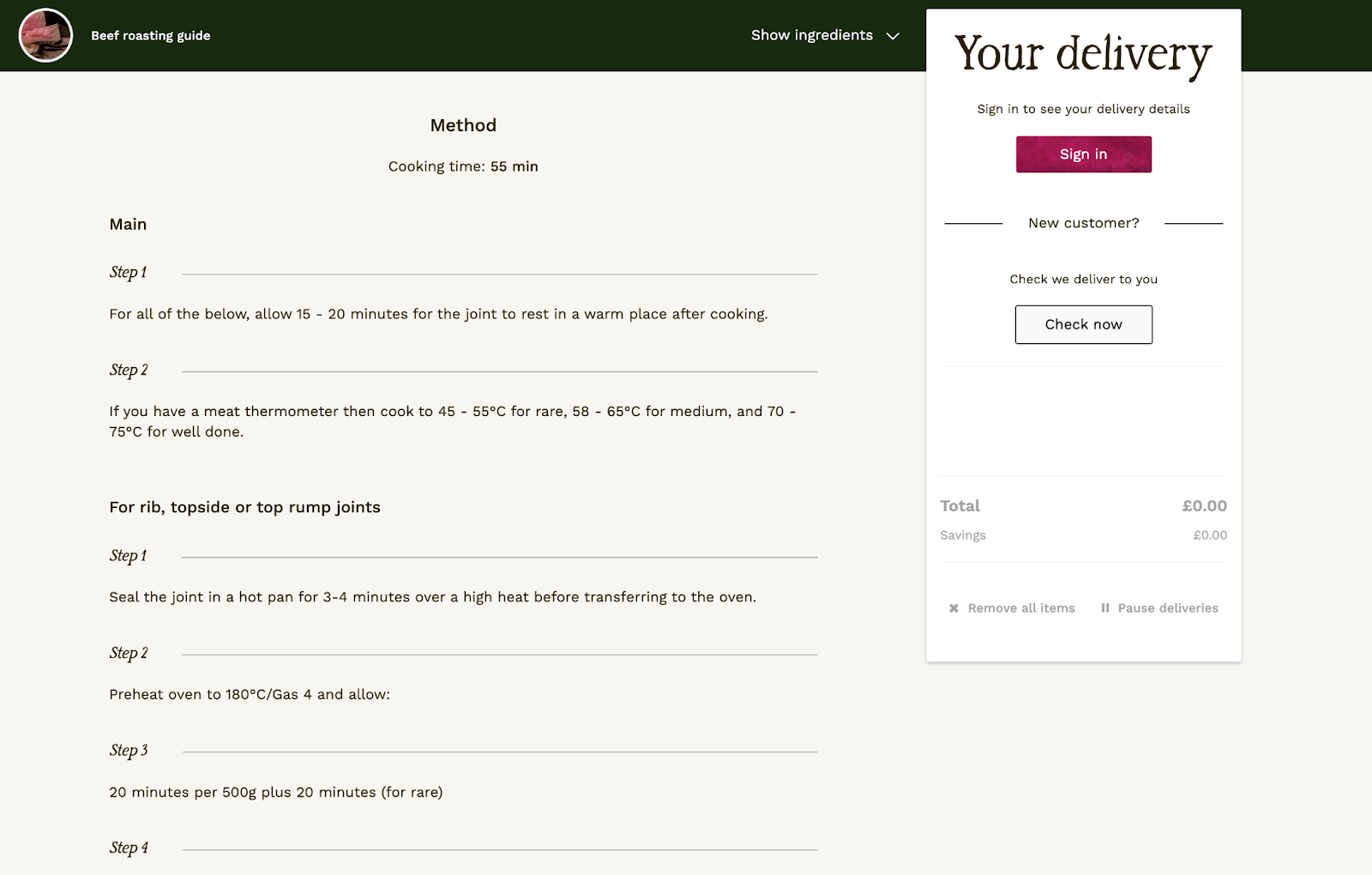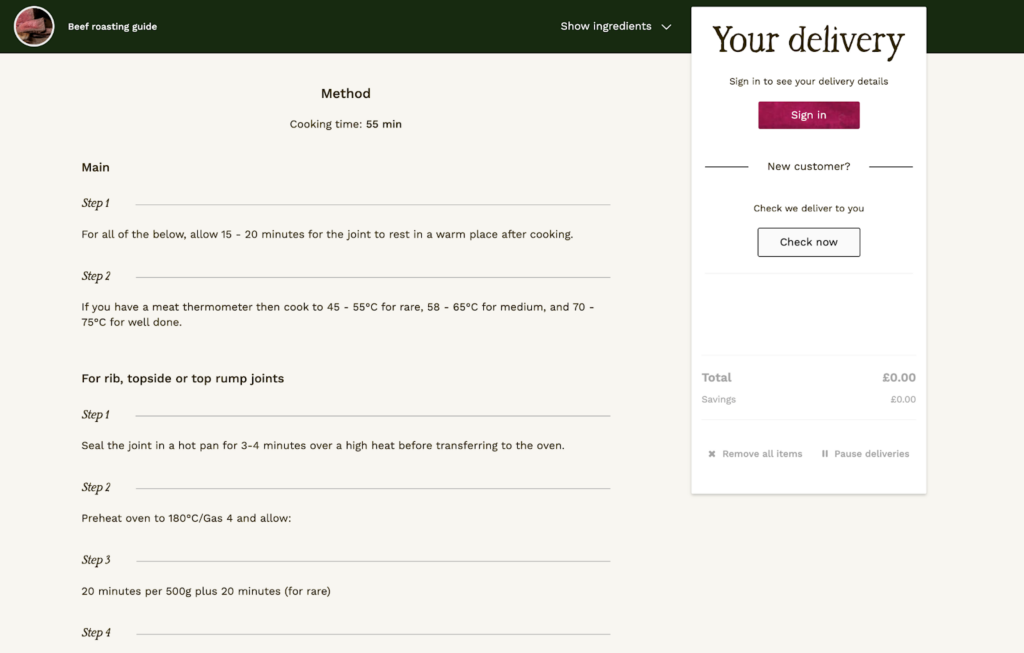 Riverford is a DTC organic veg company that ships great quality vegetables to customers' homes.
But as we can see in the image above, they're reaching customers through simple organic content.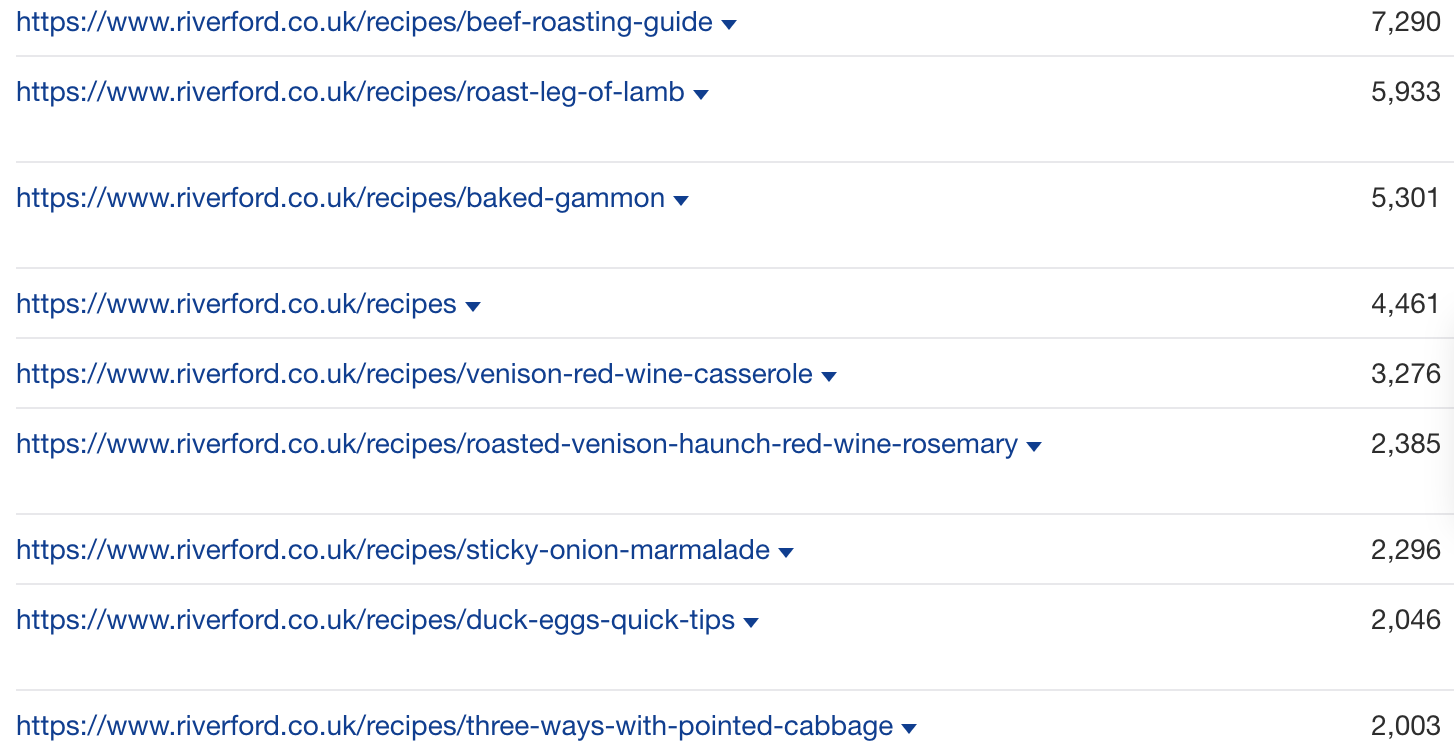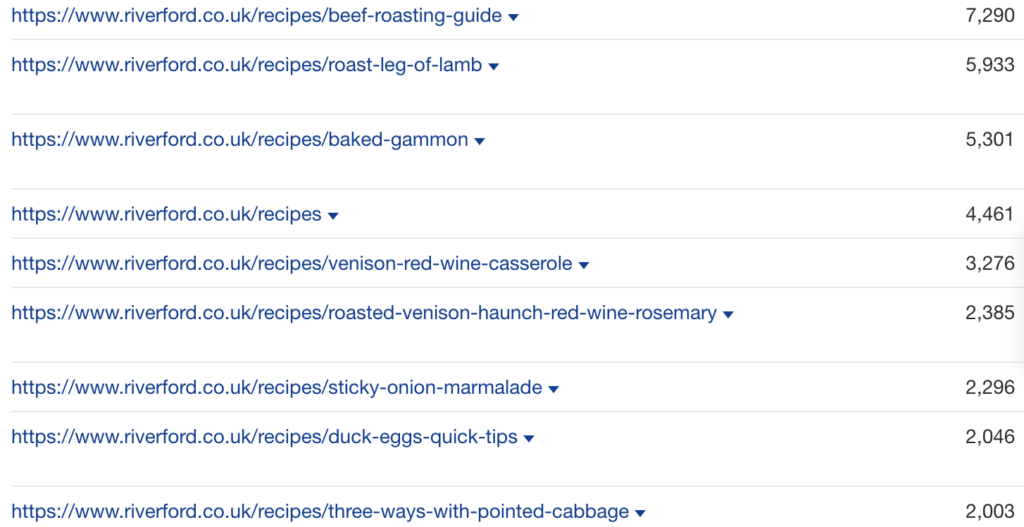 As a DTC brand, they solve the customer pain point of needing fresh vegetables, and their content tactic is to rank for recipe or cooking guides for meals that need veg.
This is clever.
If you're looking for a recipe for later in the week, land on the Riverford article and see you can have fresh veg delivered to your home.
There's a good chance you'll order.
But what about the content?
The recipes are quite simple, which might be part of how they rank.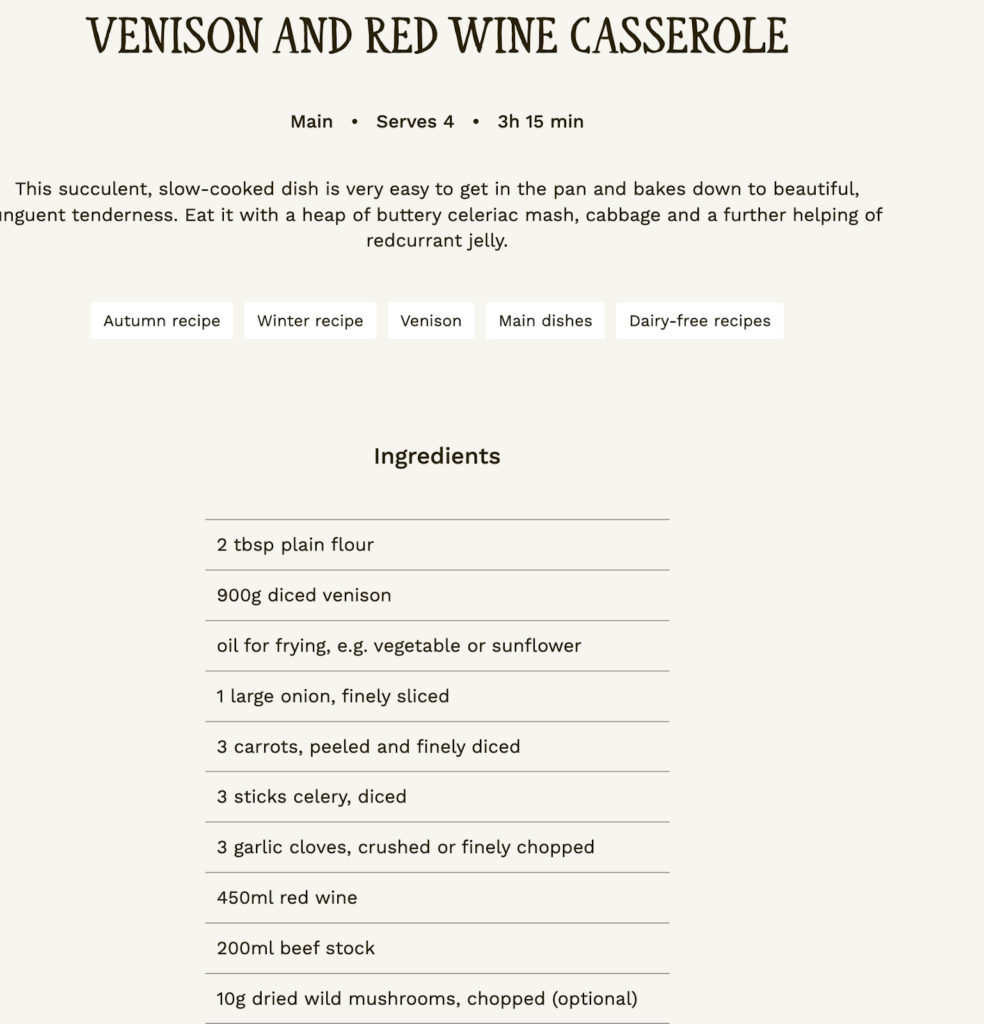 Recipes like this tend to stay open, be searched for and clicked repeatedly and will have high dwell time.
It's a reminder that not all content needs to be long-form. Sometimes, the UX of the content increases its impact.
But they are also focused on E-E-A-T.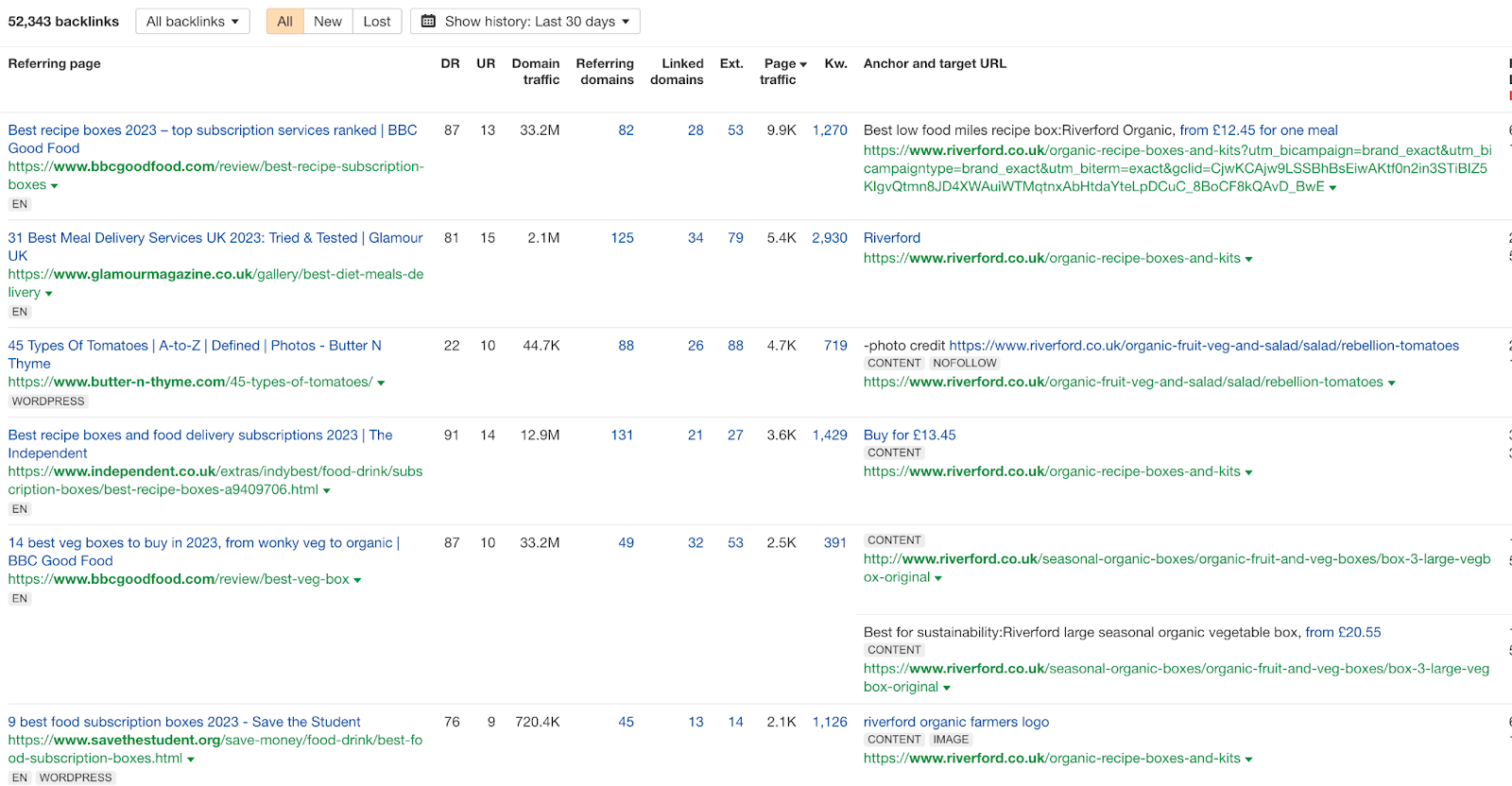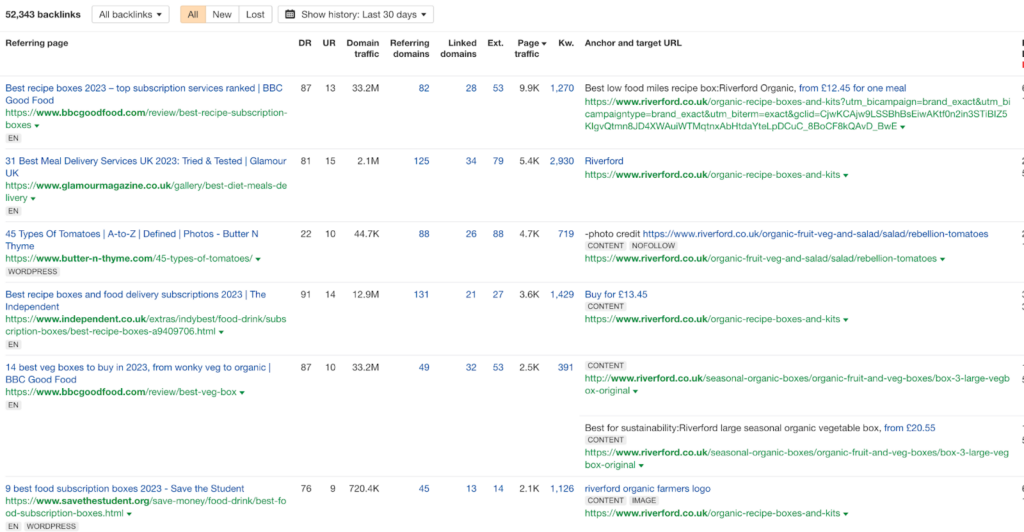 You can see that they've focused on building publicity which has turned into backlinks.
Being featured in the media is hugely important in today's landscape.
---
Recipe 5: How Huel Wrote the DTC SEO Roadmap


What do you do if no one knows what you are?
That's the conundrum faced by many DTC brands face, but Huel laid the SEO foundation.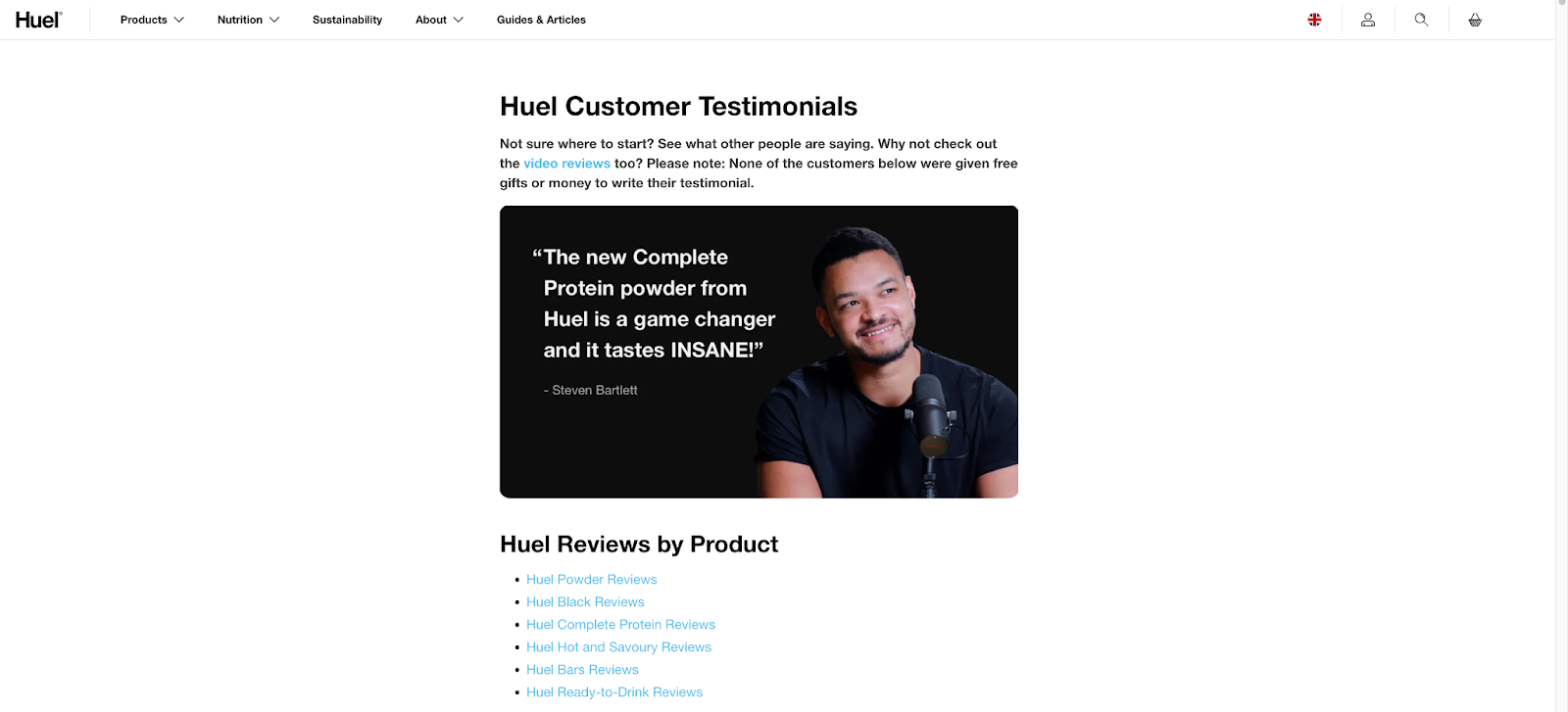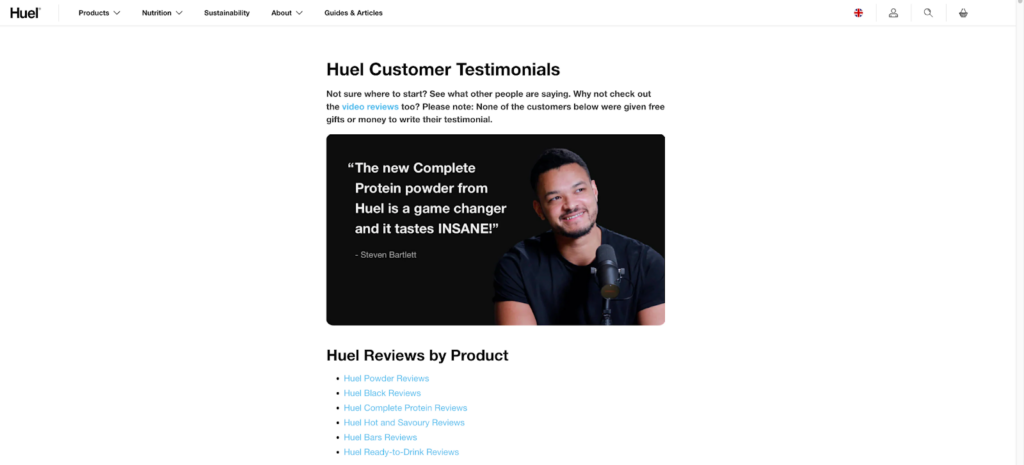 When a brand invests in top-of-funnel marketing, people will inevitably go 'Googling' about the brand.
Huel captures this with a massive 8900-word customer review page.
As you can imagine, this ranks for Huel reviews.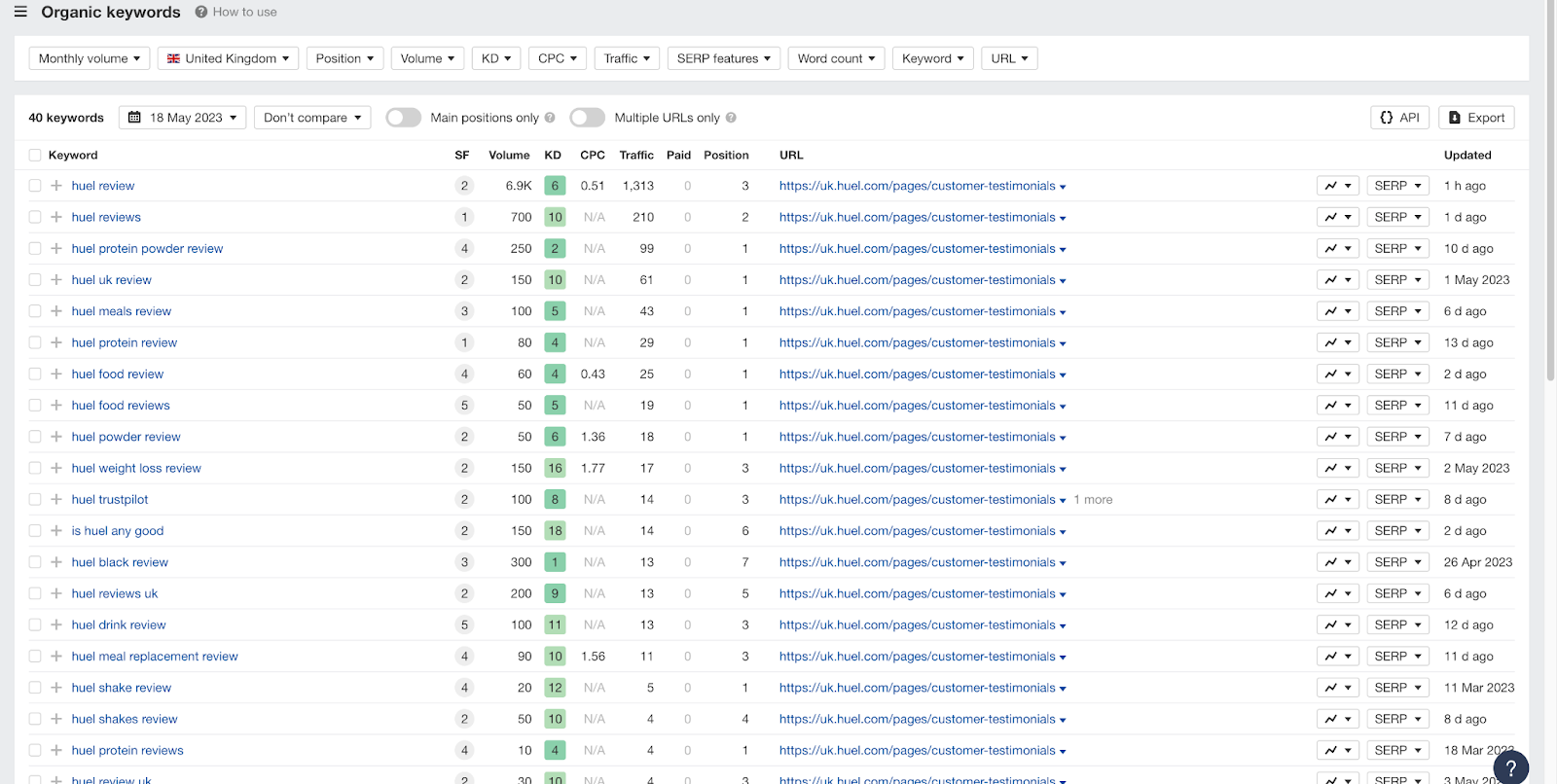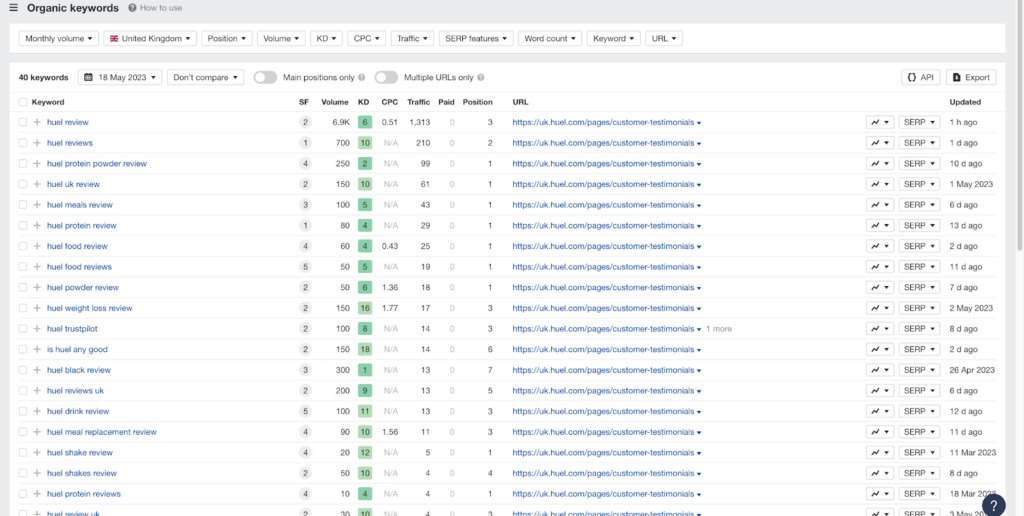 But they, too, have gone after the messy middle of search, to attract those customers who are researching the category.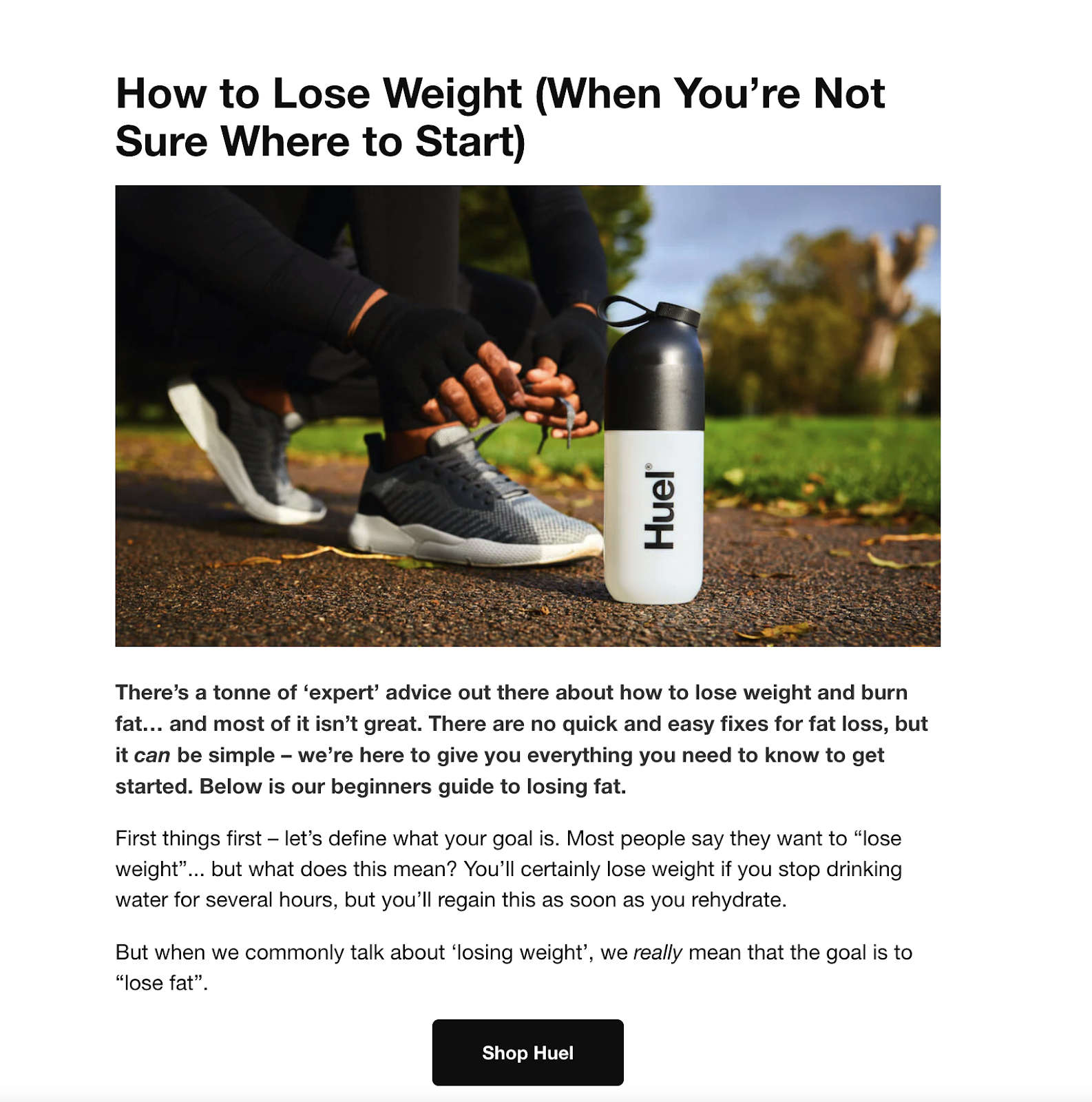 From 'Is Huel Good for Weight Loss' to 'Huel recipes'.
They are capturing consumers in the messy middle of search.
And this is massively important to fan the flames of the brand's superfans and those looking to buy into Huel as a solution for their needs.
If you're a DTC brand, it's worth looking at Huels's SEO methods (or ask us for advice), because they've created a bottom-of-funnel search net to capture interest created by their top-of-funnel brand marketing.
---
Recipe 6: Calling a Spade a Spade (when it's flowers)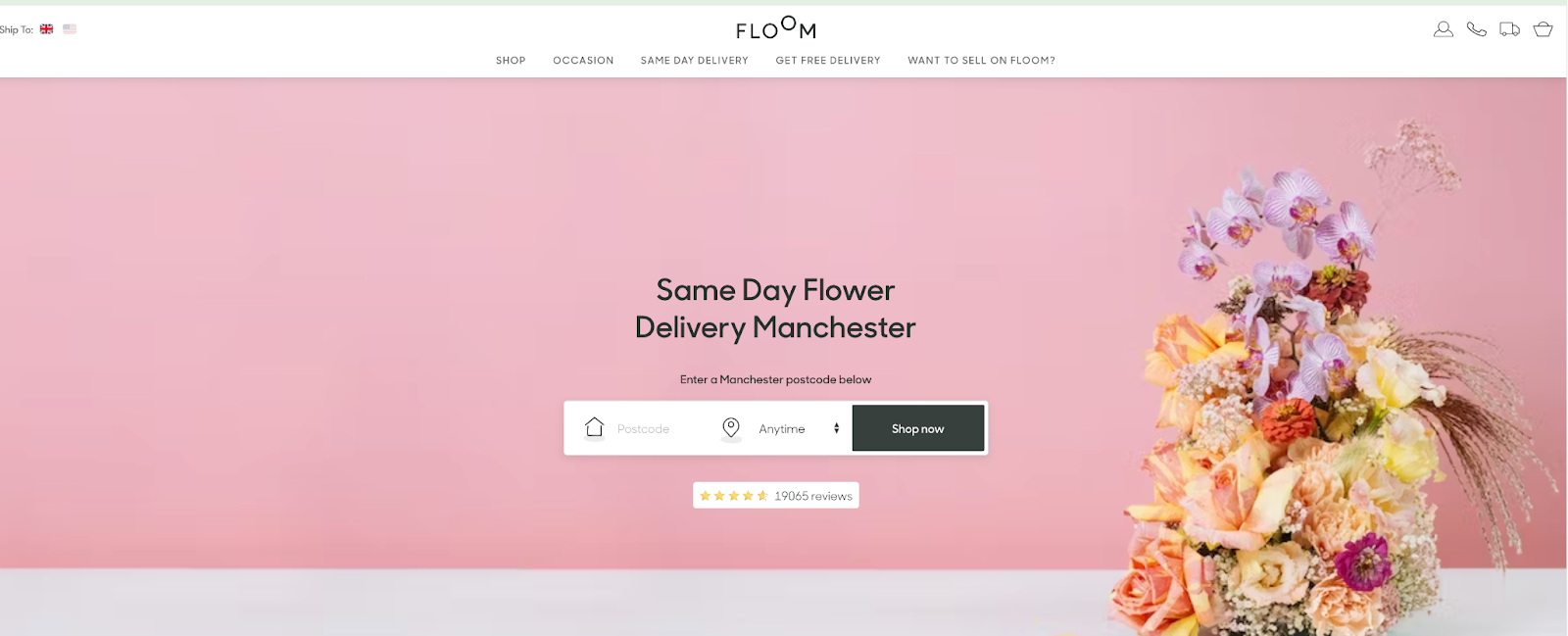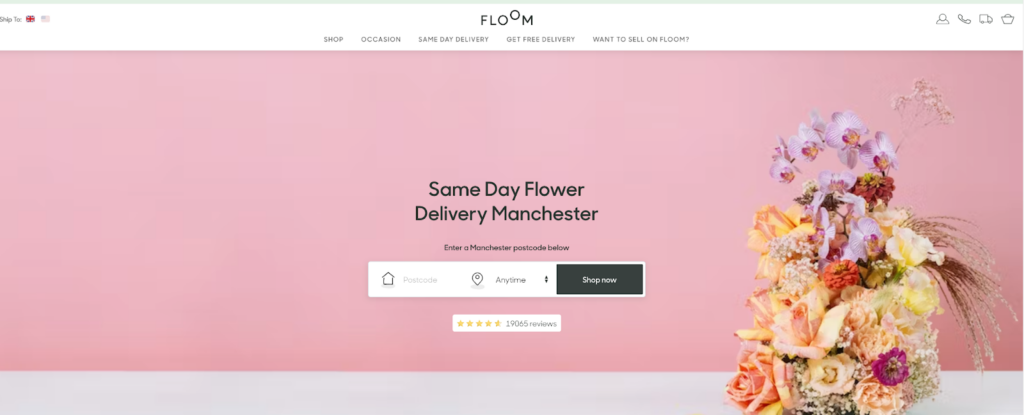 Online florist, Floom does something that few understand.
They call their pages exactly what they want to target.
In an age of fluffy brand copy, this is actually quite powerful.
Every page tells you exactly what it's about in their H1.
Same day flower delivery Manchester.
Same day Birmingham flower delivery.
Same day flower delivery Houston Texas.
You might think that this wouldn't work.


But it does.
Sure, there's more going on here.
However, don't lose sight of the fact that in SEO, simplicity often matters.
---
Recipe 7: The How-to Supply Chain Leveraged by Wool
and the Gang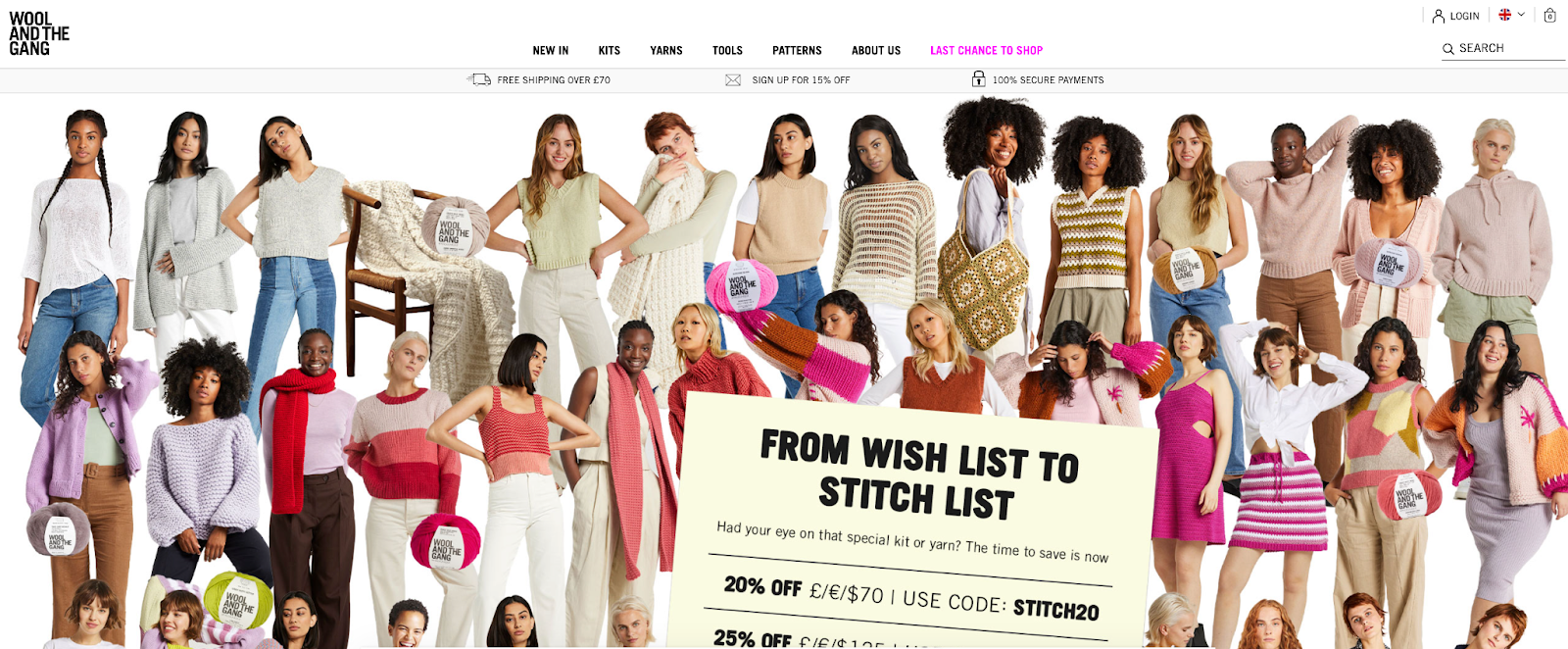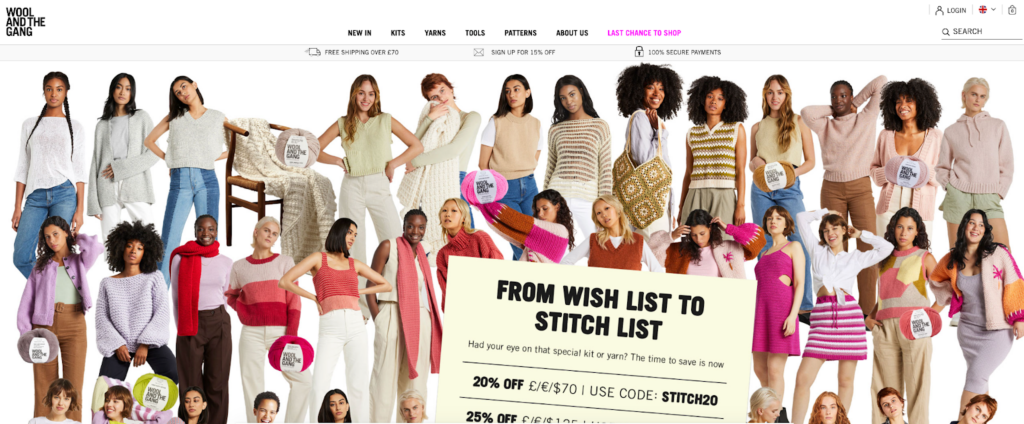 A lot of DTC brands start because of an unmet need.
That need might be a learning or product gap.
Wool and the Gang tackle both with their web traffic.
They supply knitting and crochet sets to consumers but on their site, they also generate traffic by selling kits like these.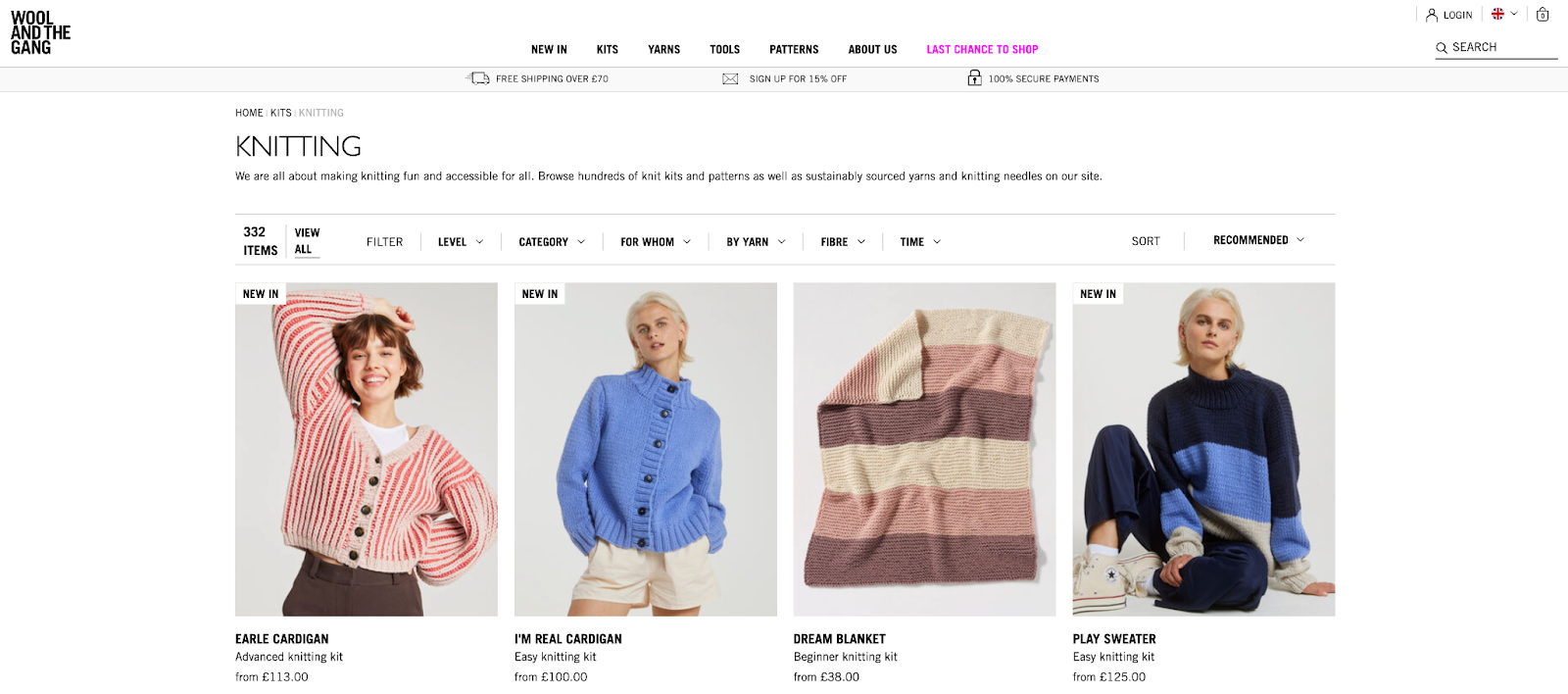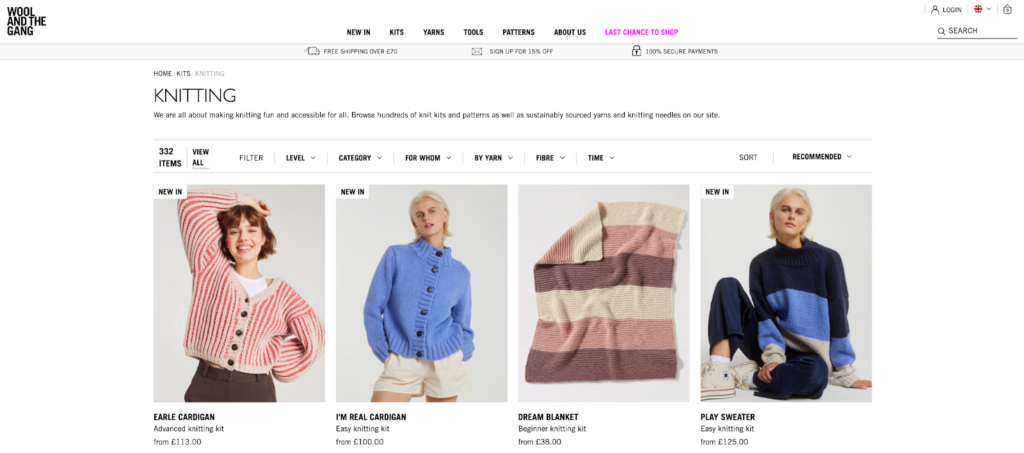 Pages like this reach people looking to buy today.
However, they also rank for 'how to' content like this.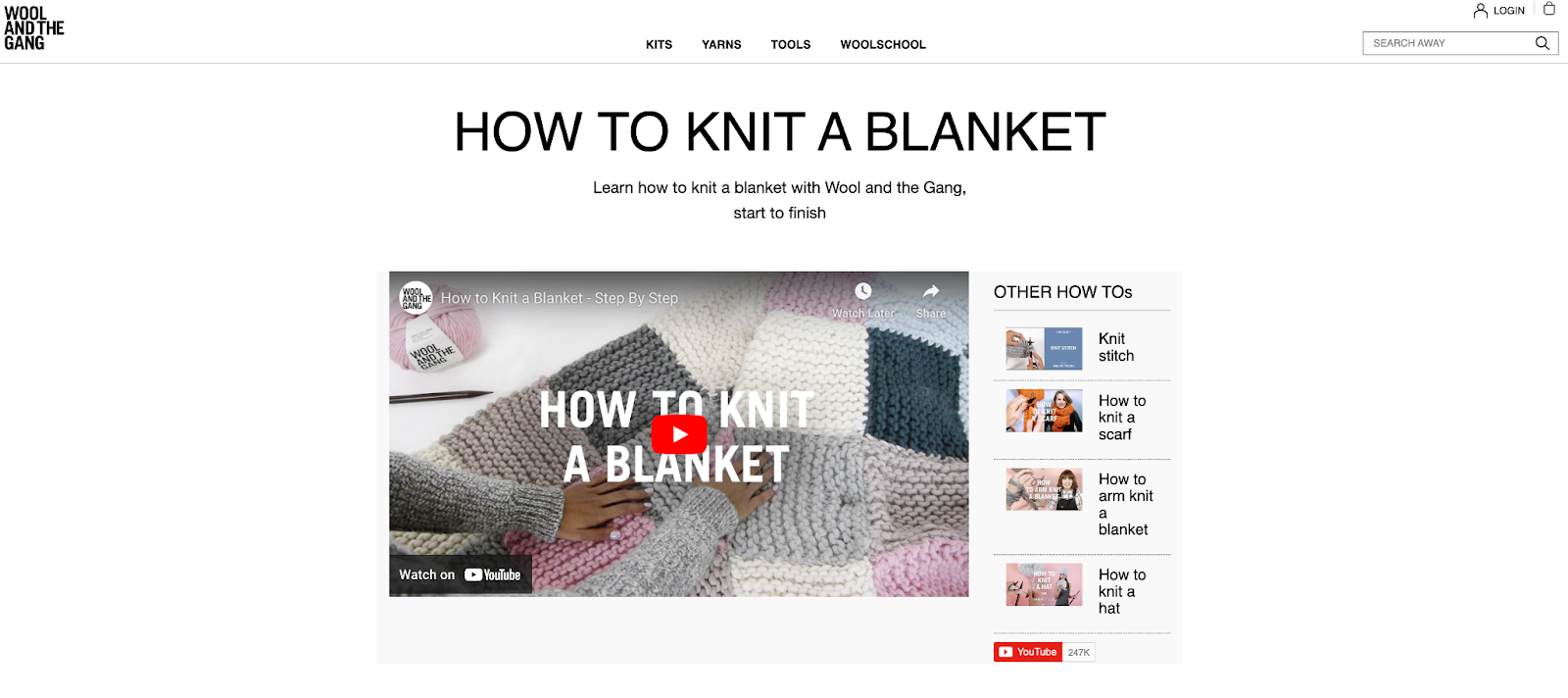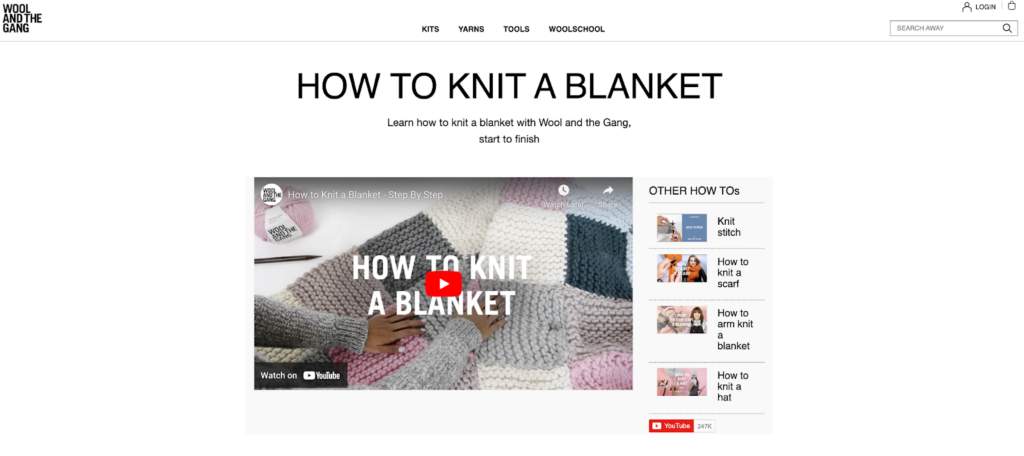 What is clever is that they've ranked web pages by providing content that includes their YouTube video and text.
This grows their brand on 2 levels.
Firstly, they have an organic search ranking.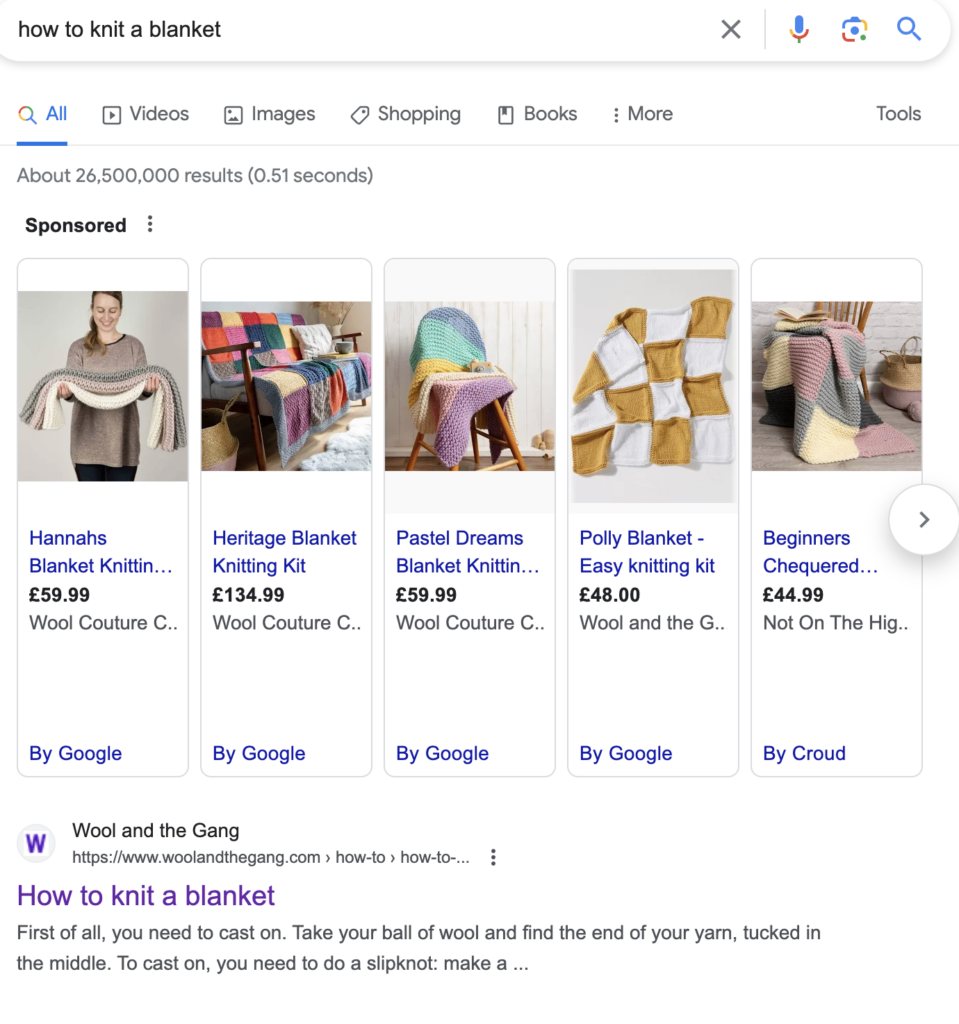 But they also grow their YouTube content.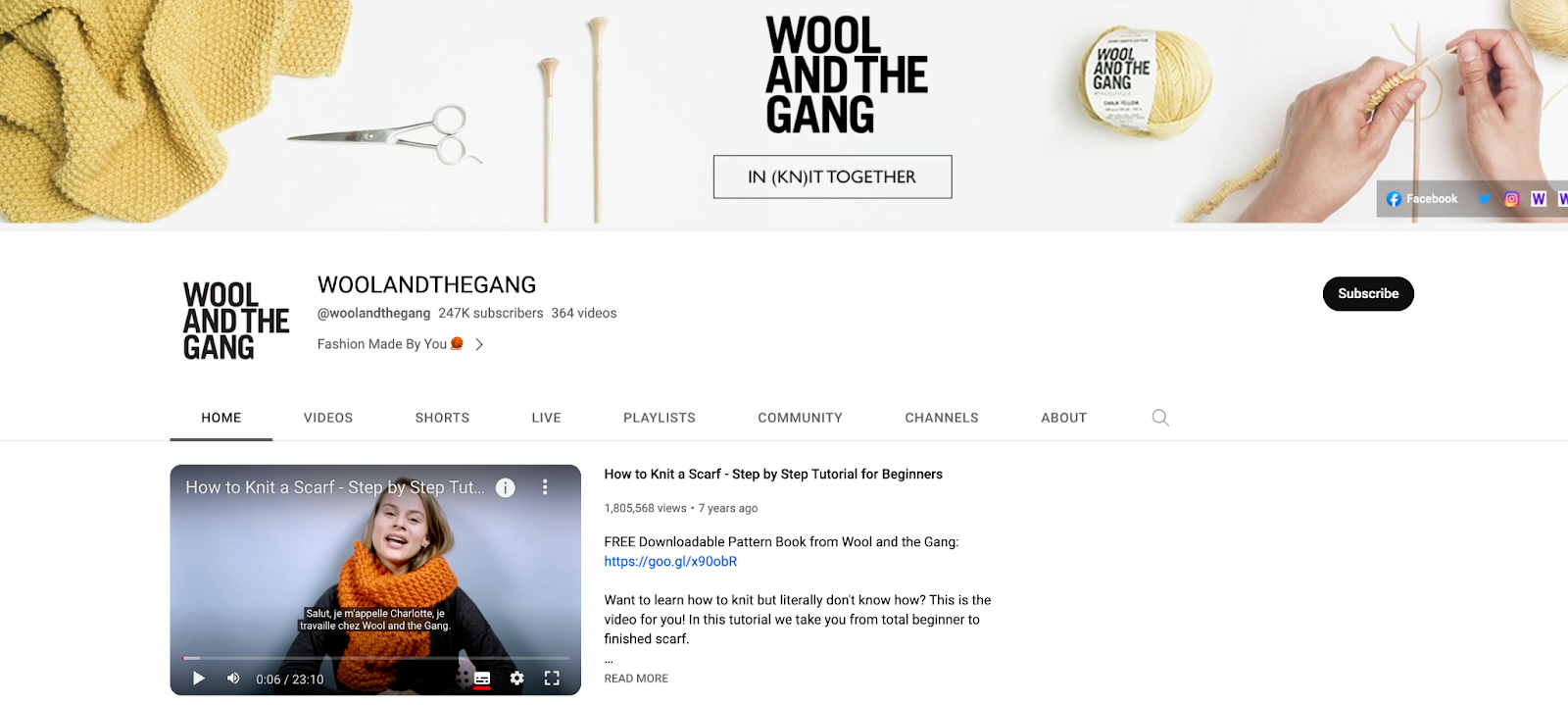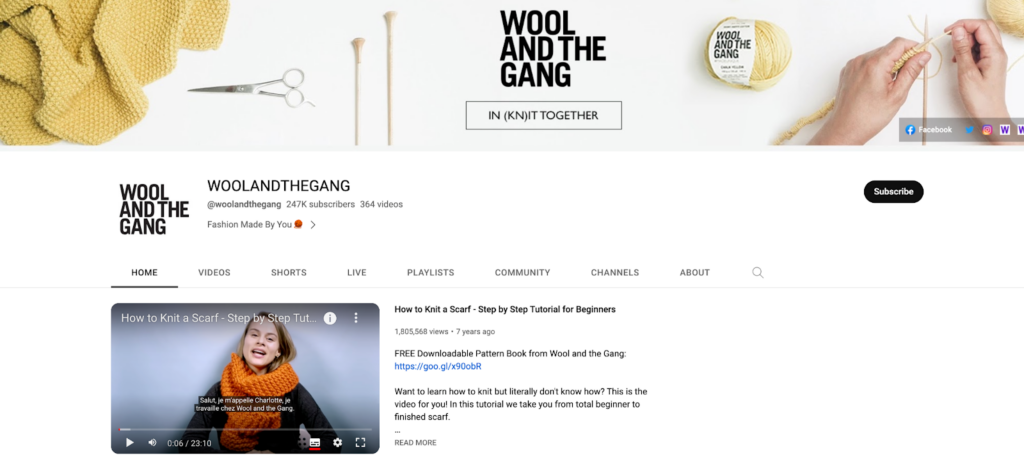 And with 247,000 subscribers, this recipe is working.
---
Recipe 8: How Warby Parker Reaches People Not in the Market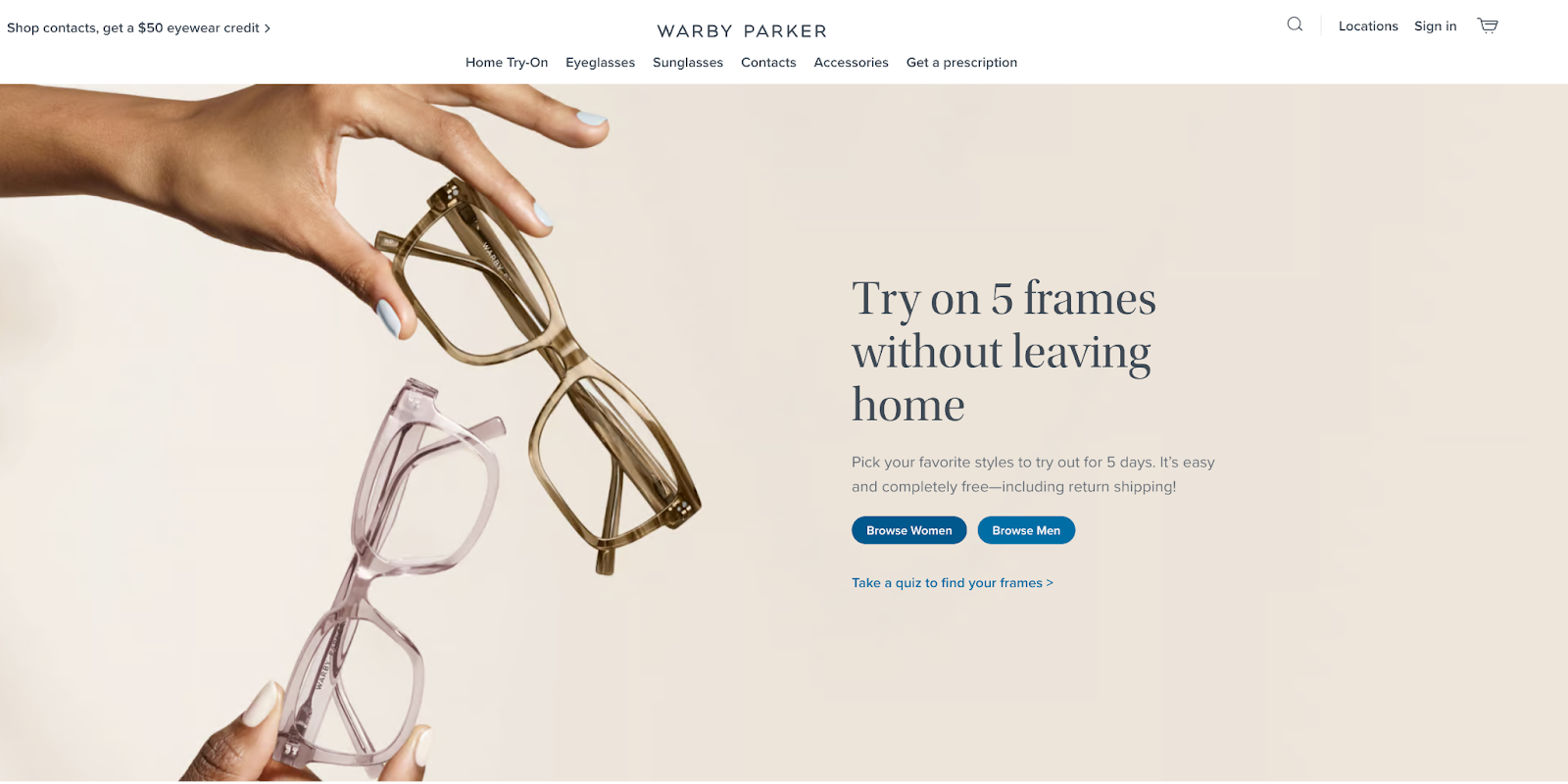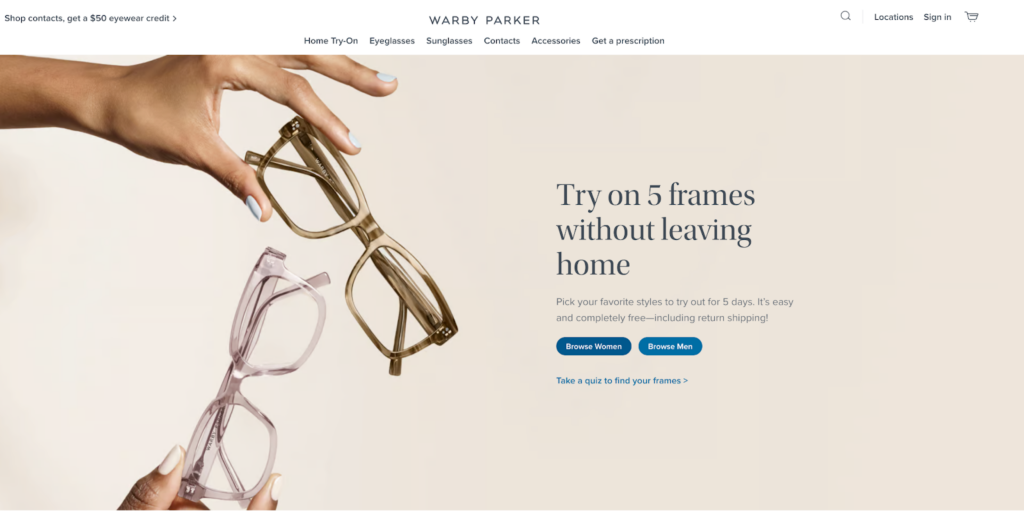 Warby Parker is a US Glasses brand that has become a household name.
But when it comes to organic search, they're a bit of a monster.


Their website generates 1.5 million visitors a month and this gives them the PPC equivalent spend of just under $2 million for FREE.
But how do they do it?
Well, they've made it their mission to create content that answers just about every question on eyesight you could imagine.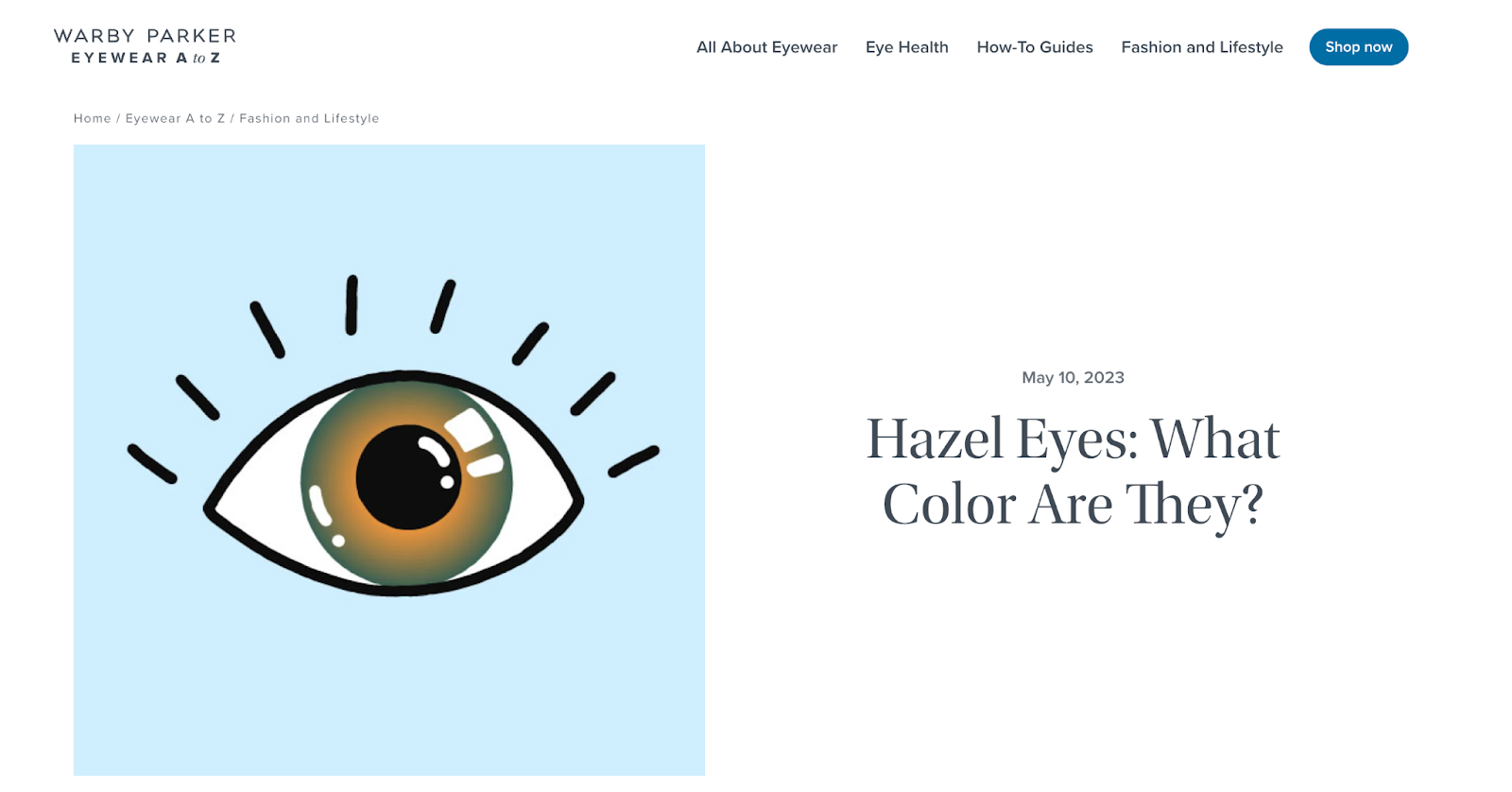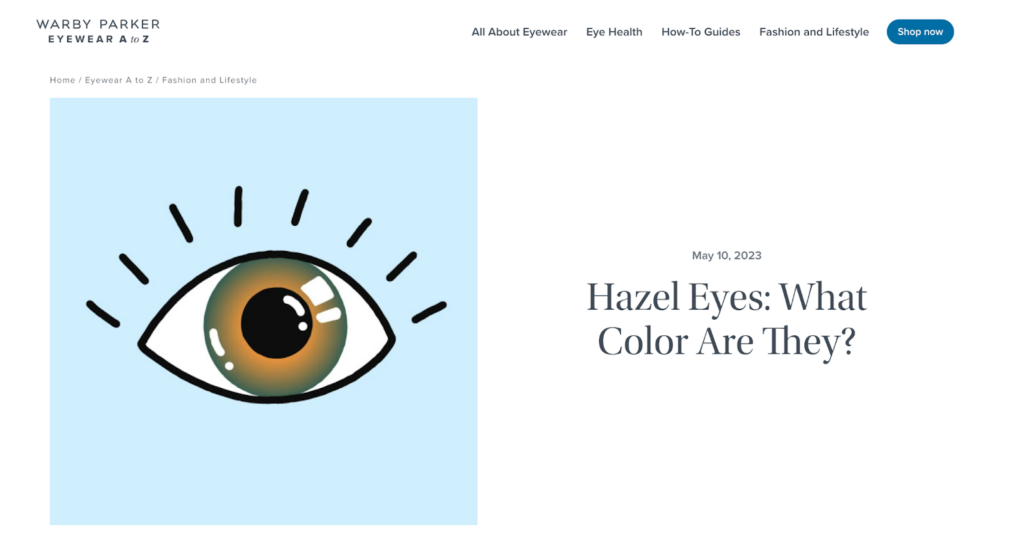 They have 2714 pages of content, which has grown at about the same rate as their traffic.


The great thing about their content is they make sure they have plenty of ads in the content and never miss a chance to sell.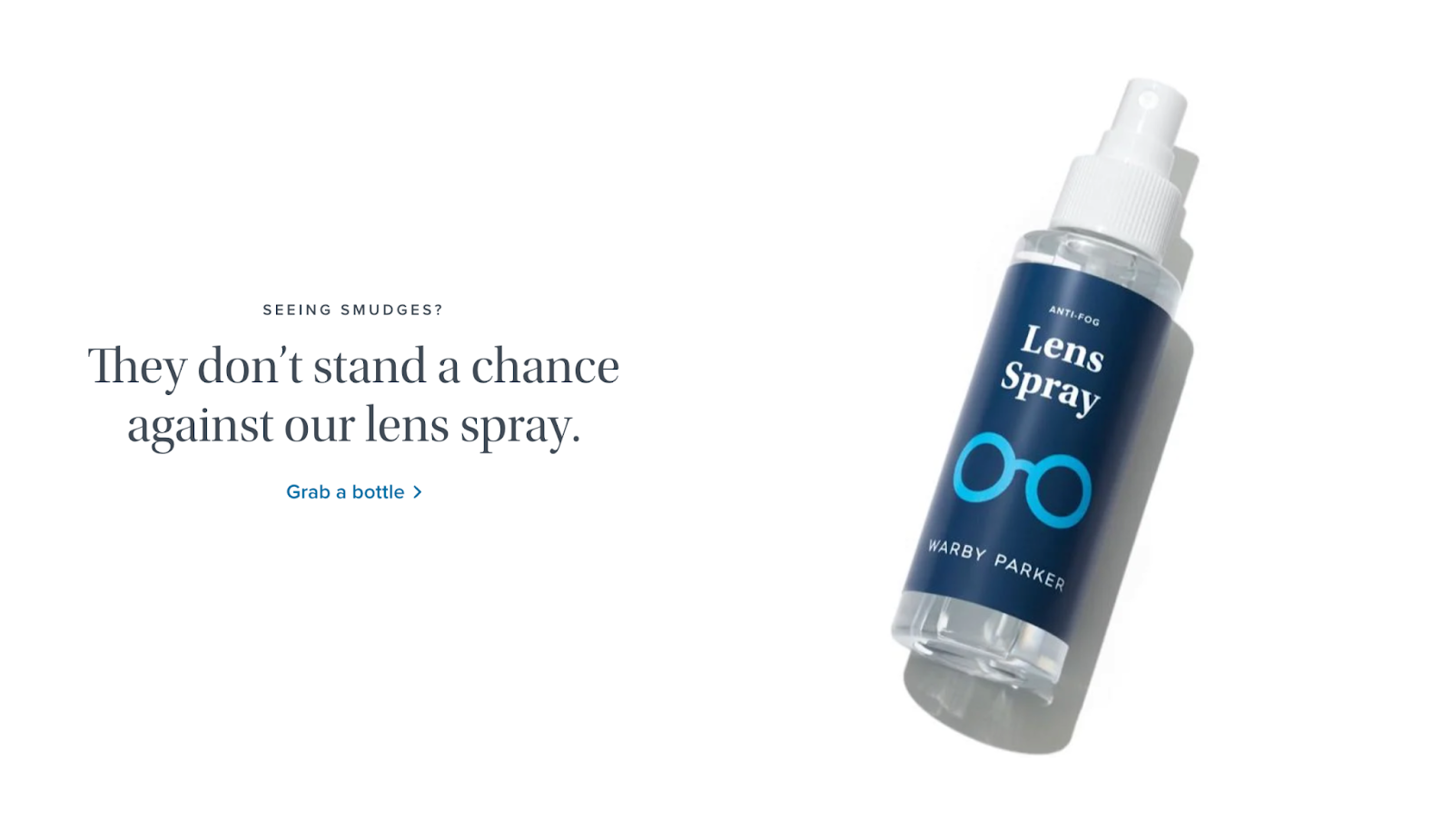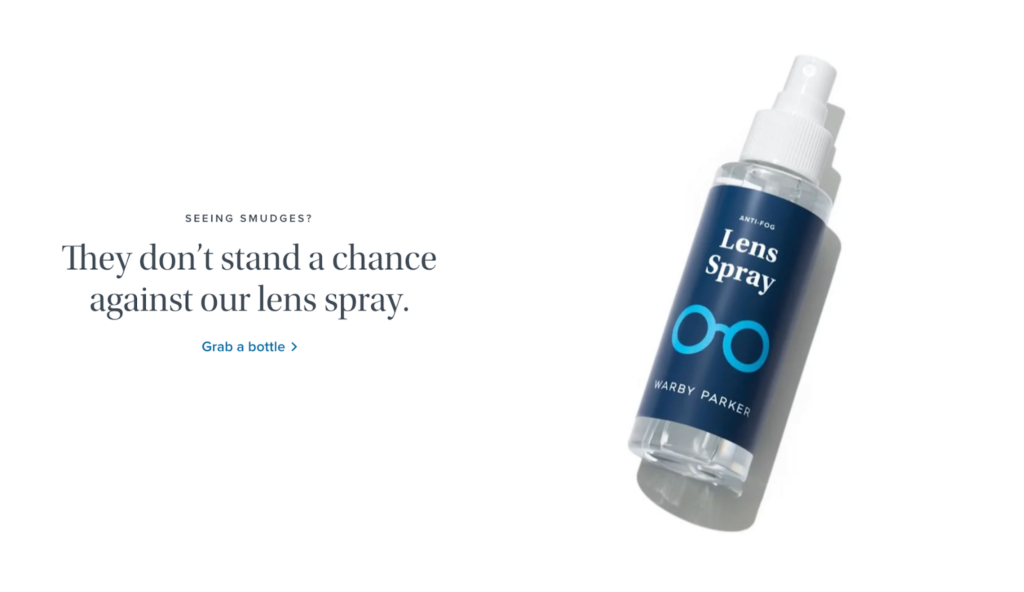 The scale of the content is really impressive.
They've gone all in on content, and the traffic is impressive.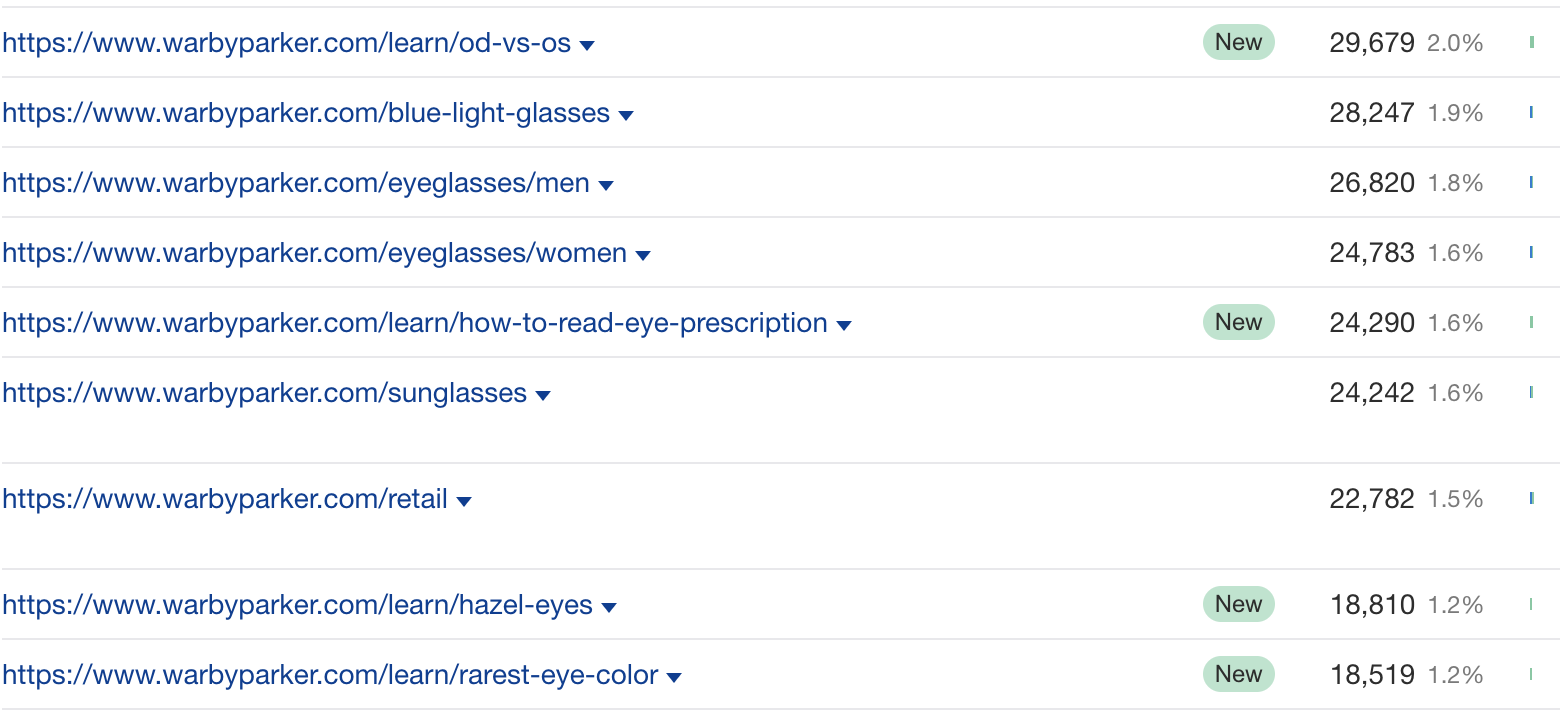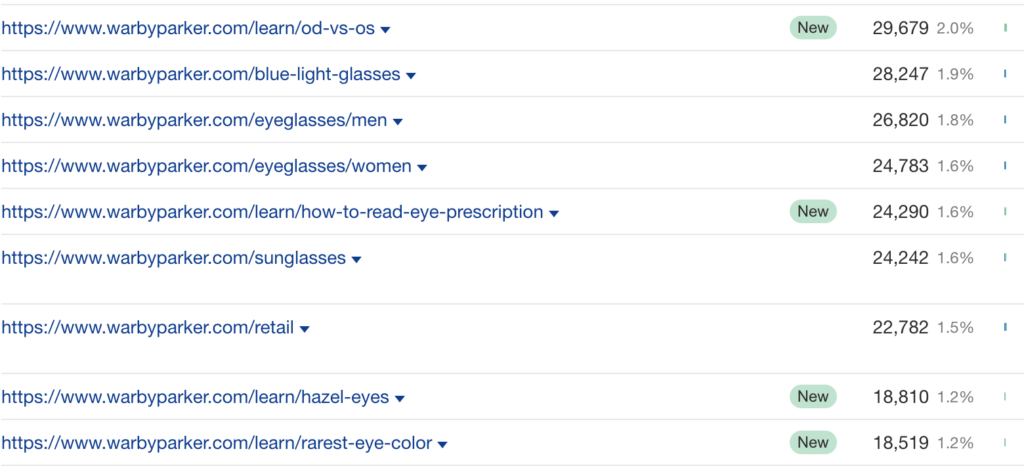 ---
Recipe 9: How Tempo Undertook a Content Workout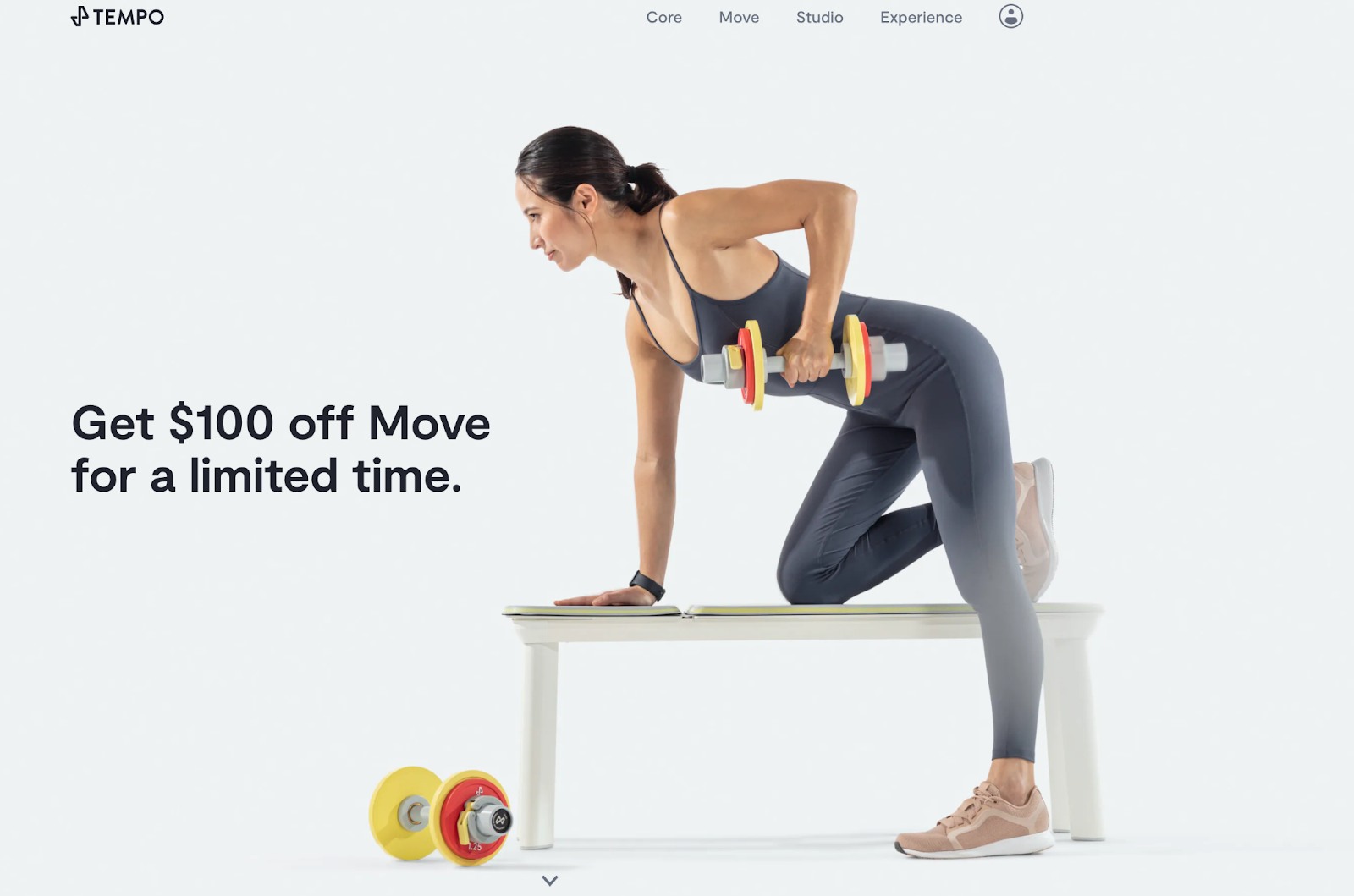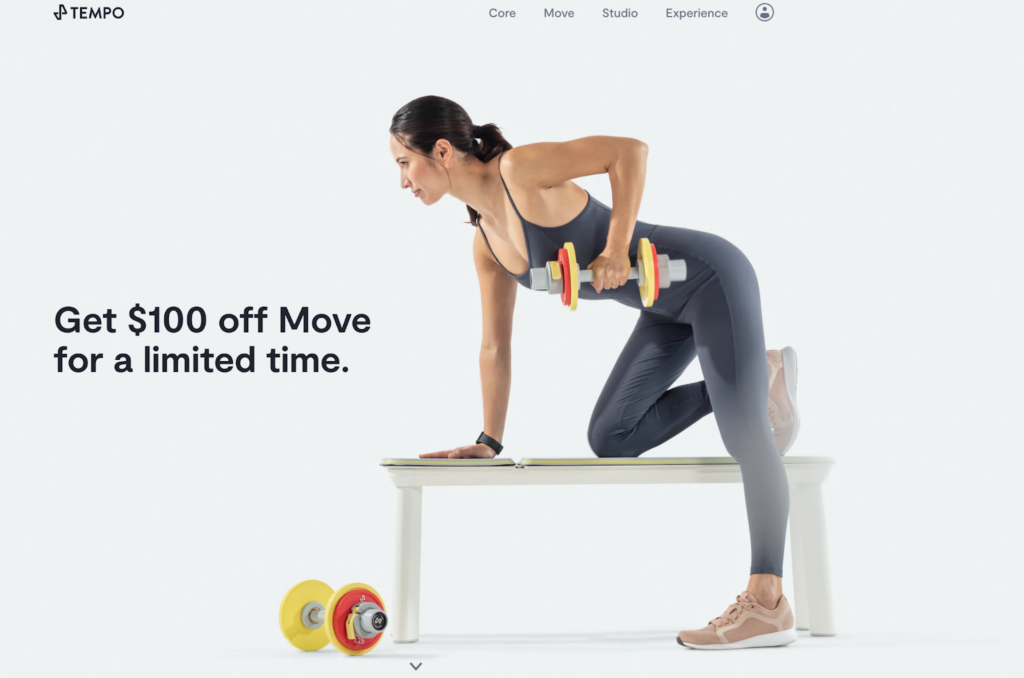 Tempo is a range of fitness products that monitors your form and offers workouts to follow.
But it's their SEO approach that we're truly interested in.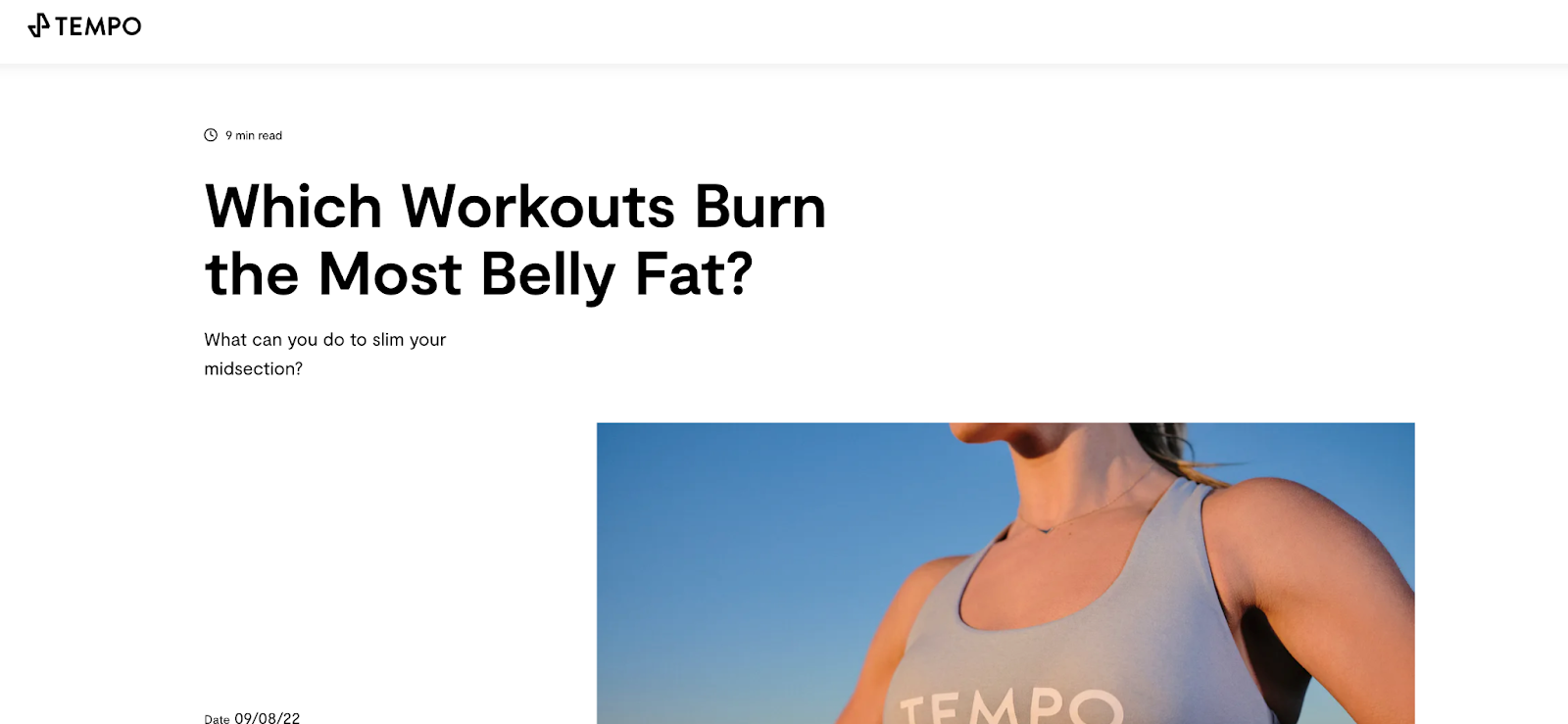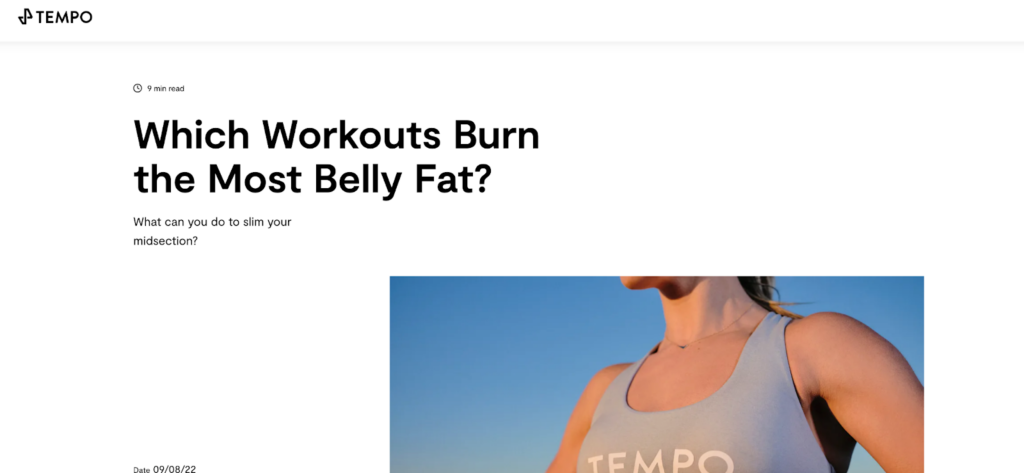 They're fully embracing SEO, generating content, and gaining traffic around the fitness world.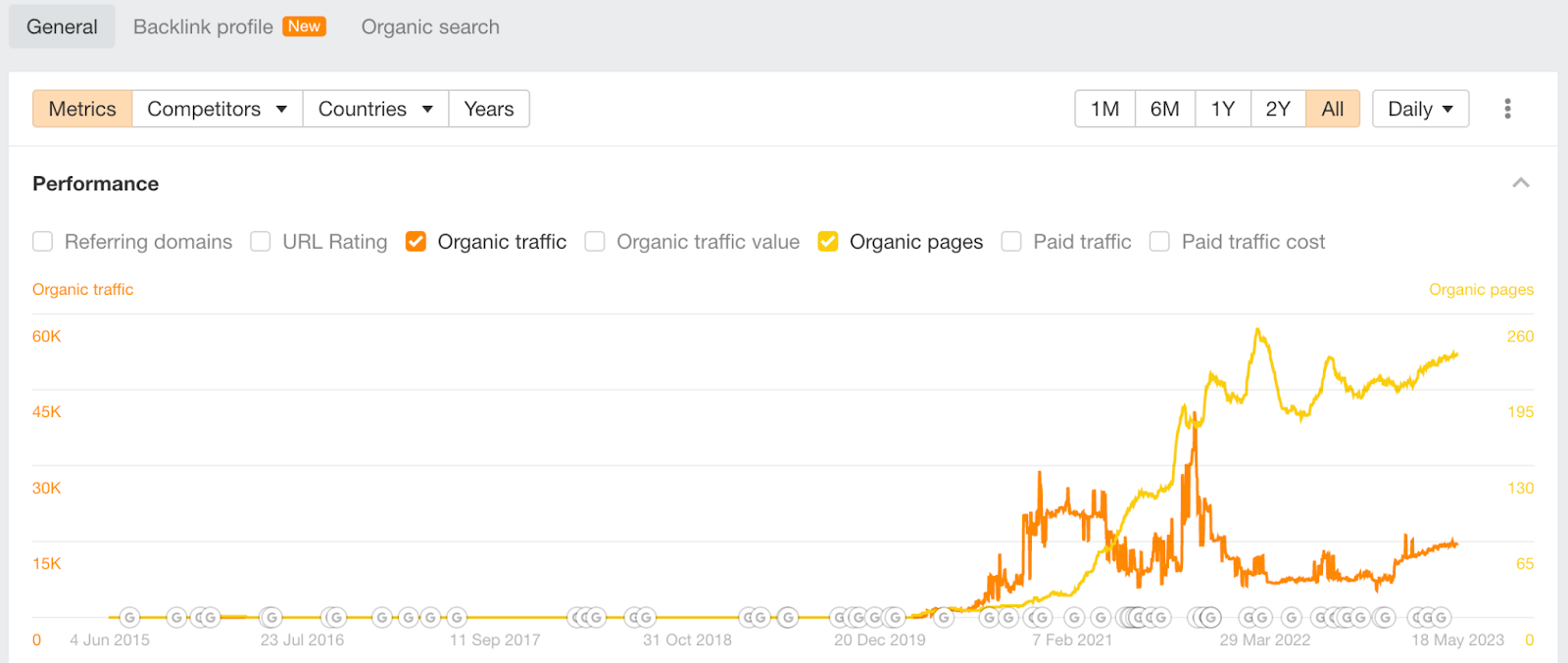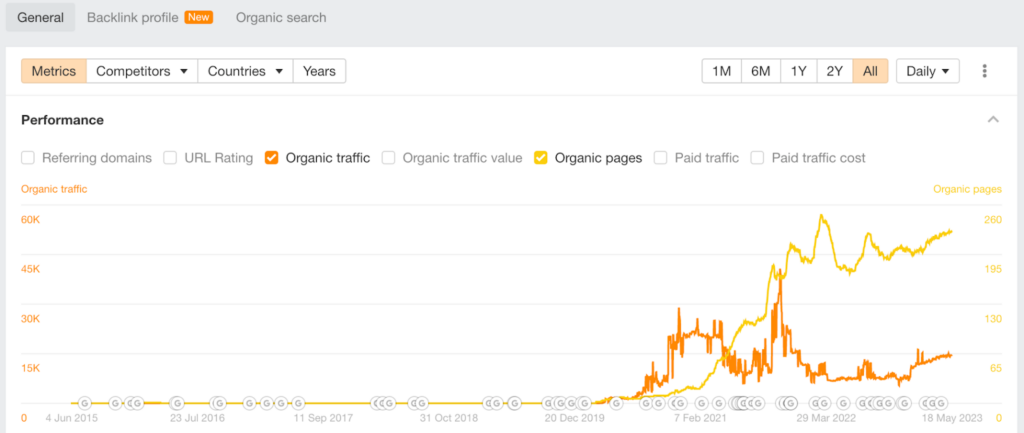 This traffic is starting to pick up, as they're constantly adding pages on fitness-related topics.
---
Recipe 10: How Nori Target Problem Aware/ Solution Unaware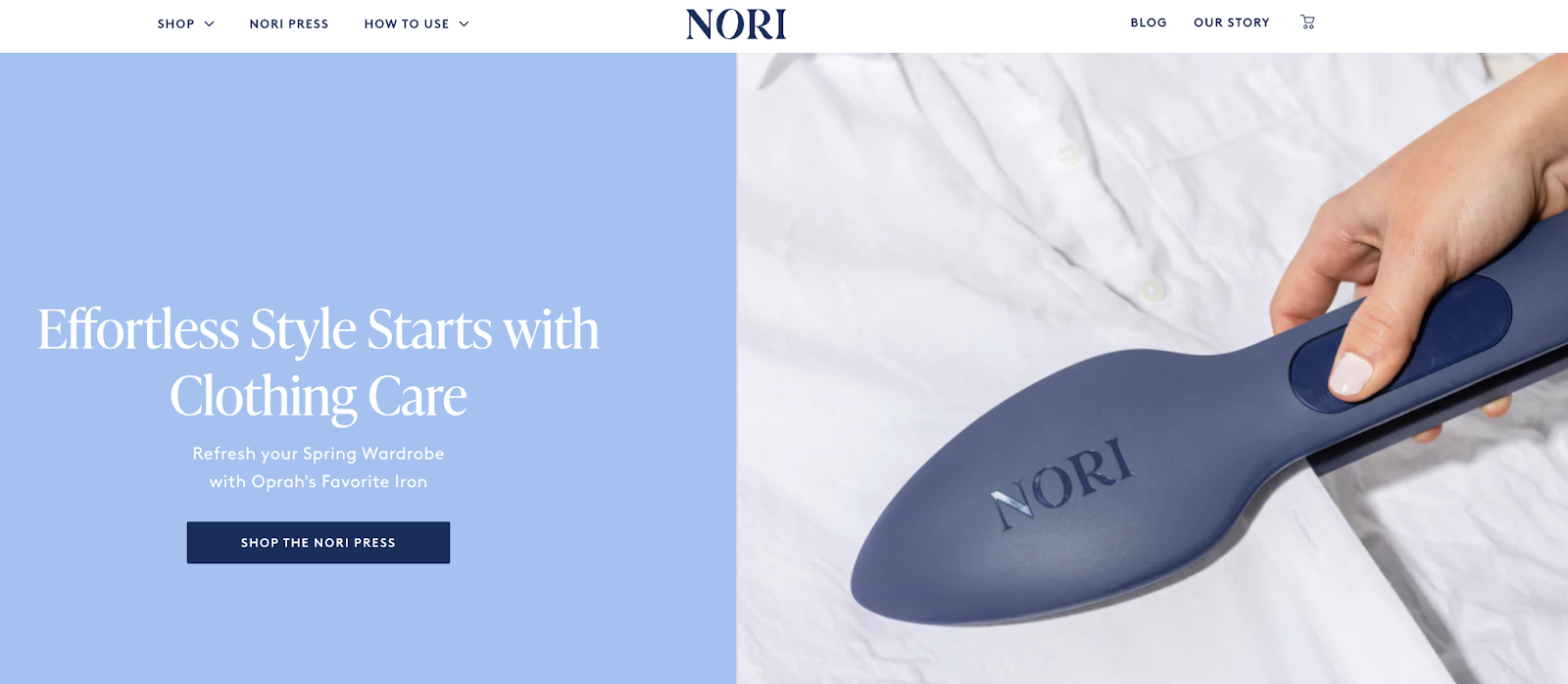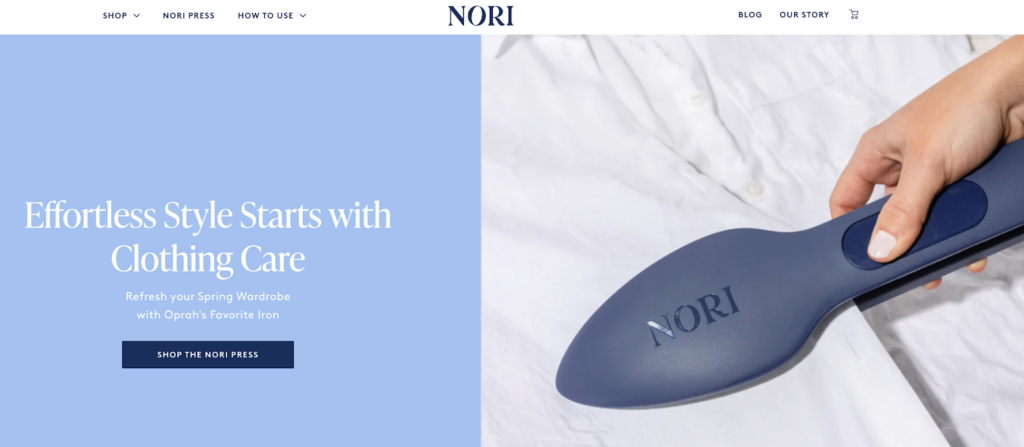 Nori is Oprah's favourite iron.
And while an endorsement by Oprah is business-changing, the Nori team haven't stopped there.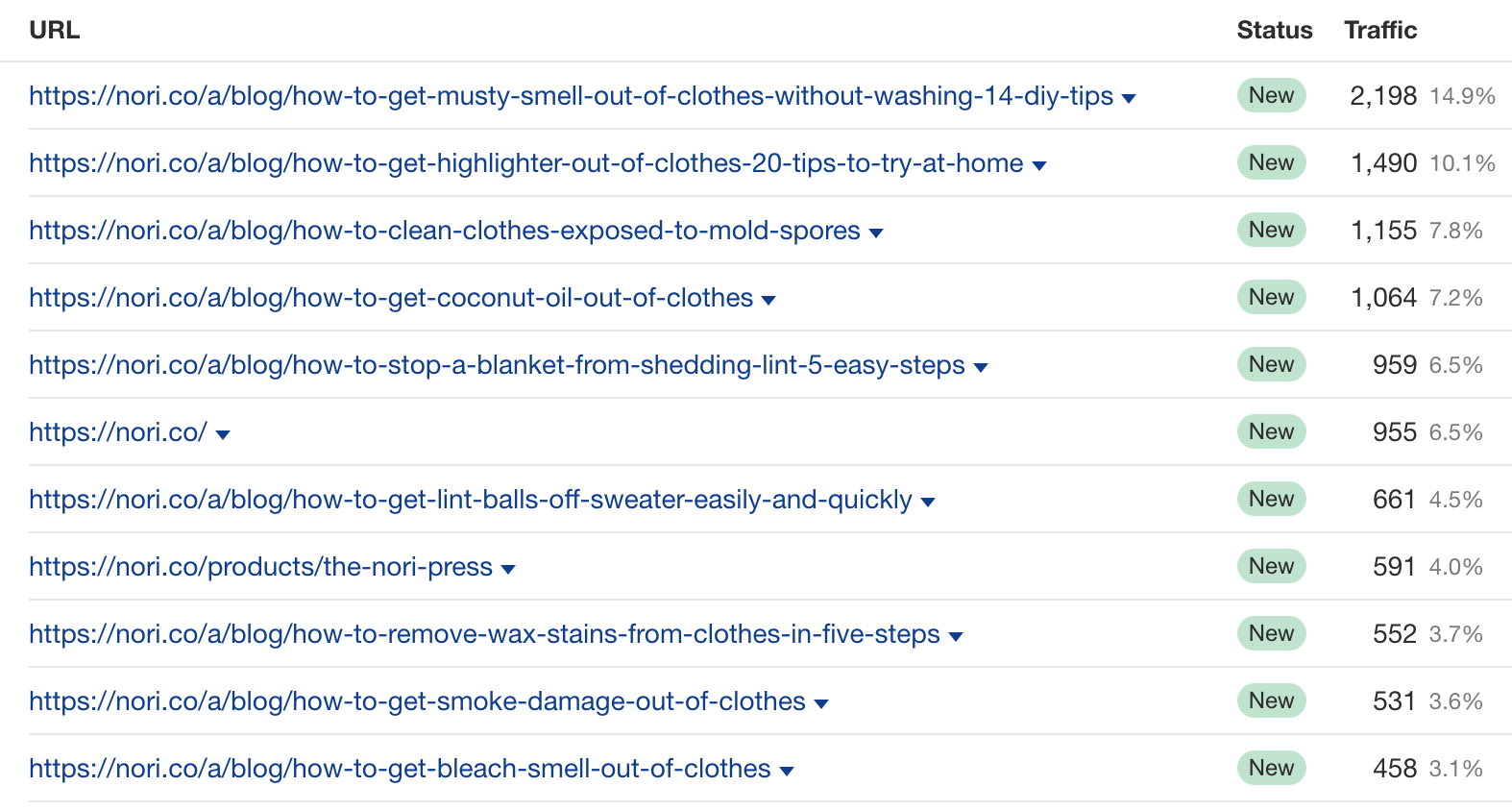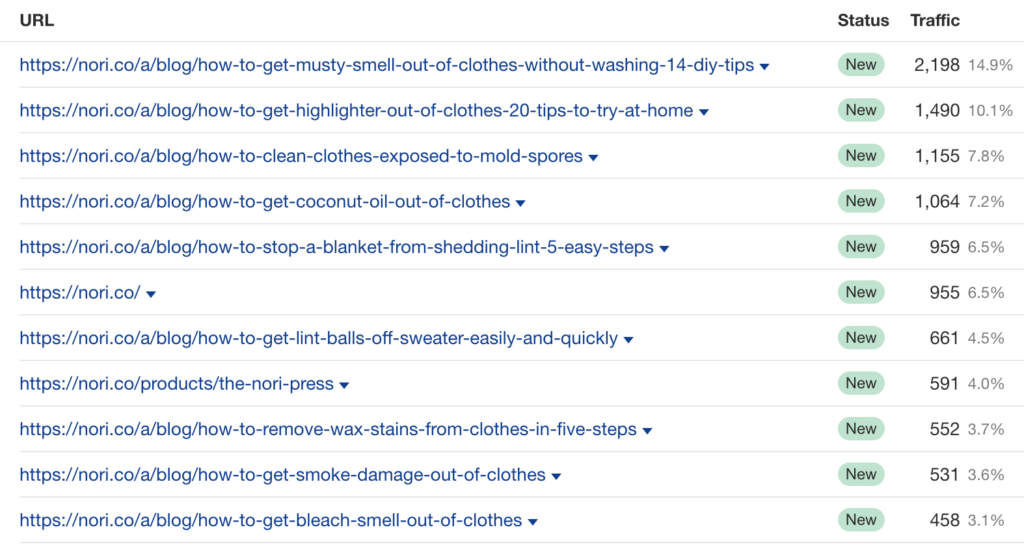 They are rapidly creating content that gives tips on dealing with clothing problems.
This is a great strategy because people will have problems but be unaware of the Nori iron, and as it stands out, they can advertise it in content: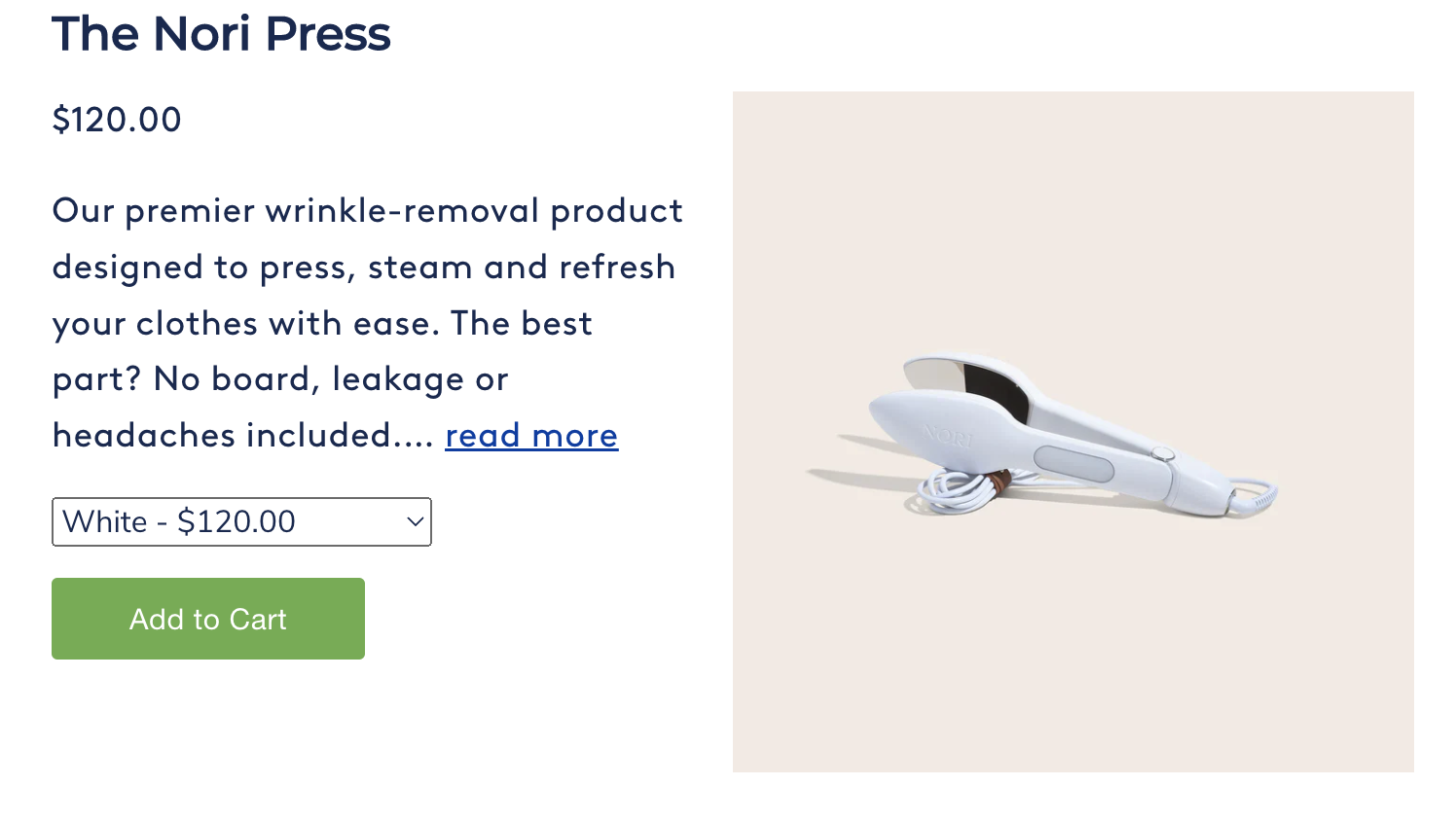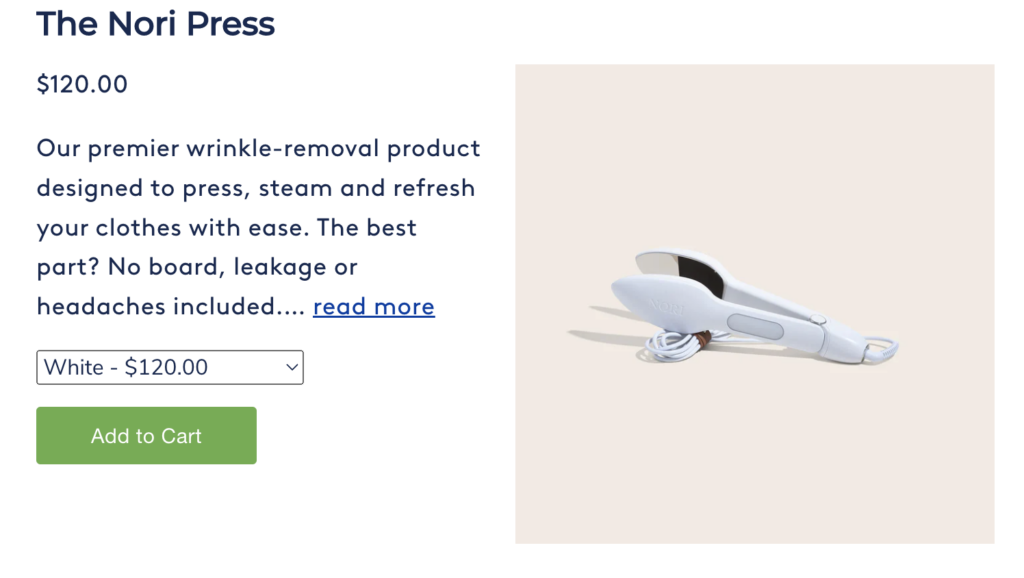 They are turning their one website into its own display advert platform, reaching people who aren't in the market to buy an iron right now.
But it's this exposure, followed by retargeting, that will lead to the sale.
---
Recipe 11: Tonal Teaches People to Tone Up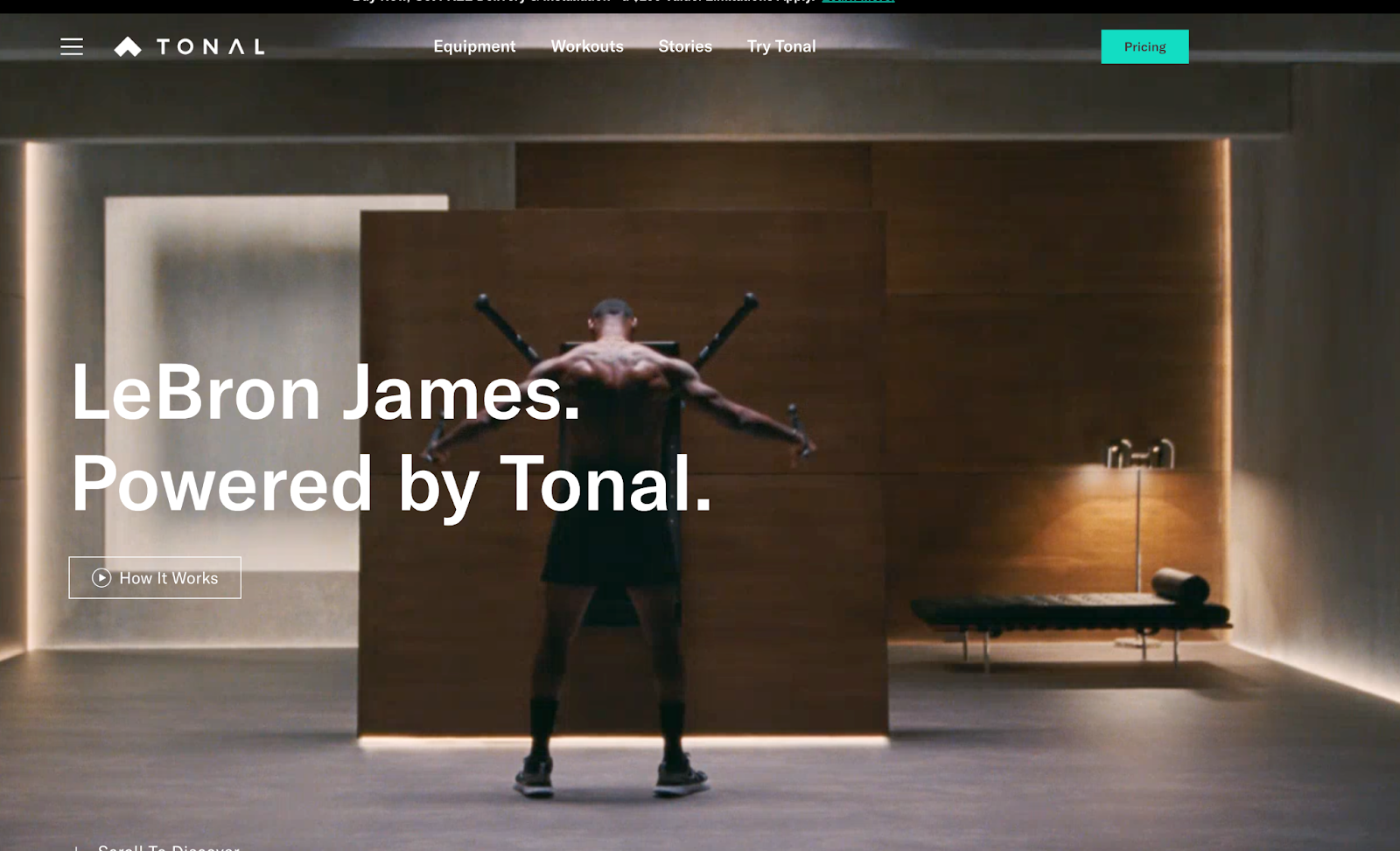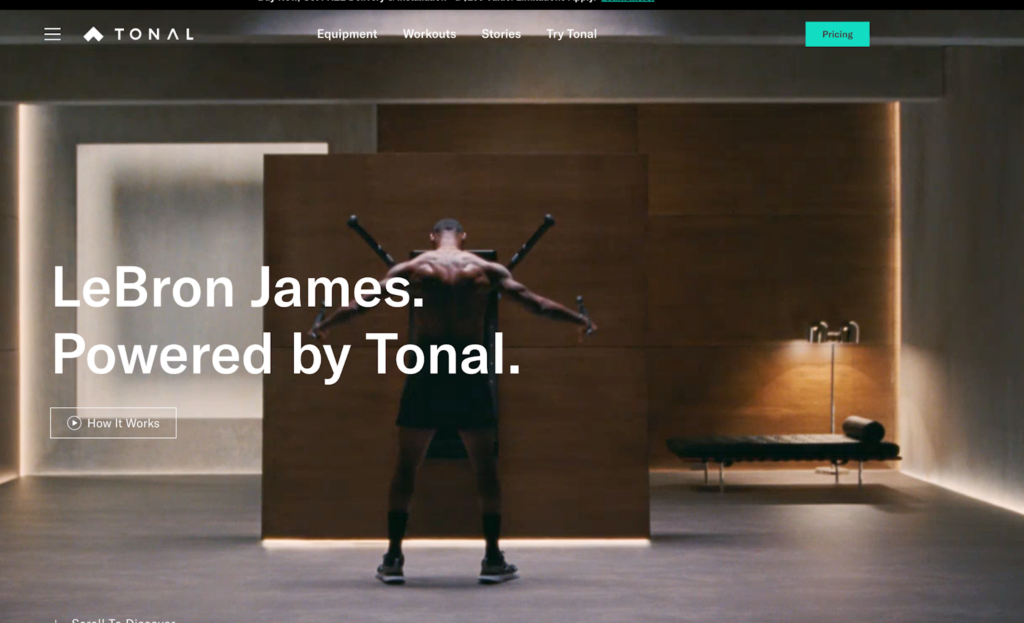 Tonal is what happens when you mix the idea behind Peloton with a home gym.
It uses digital weights to provide a workout like no other, all while not leaving your home.
But the fitness market is competitive, so how do you win?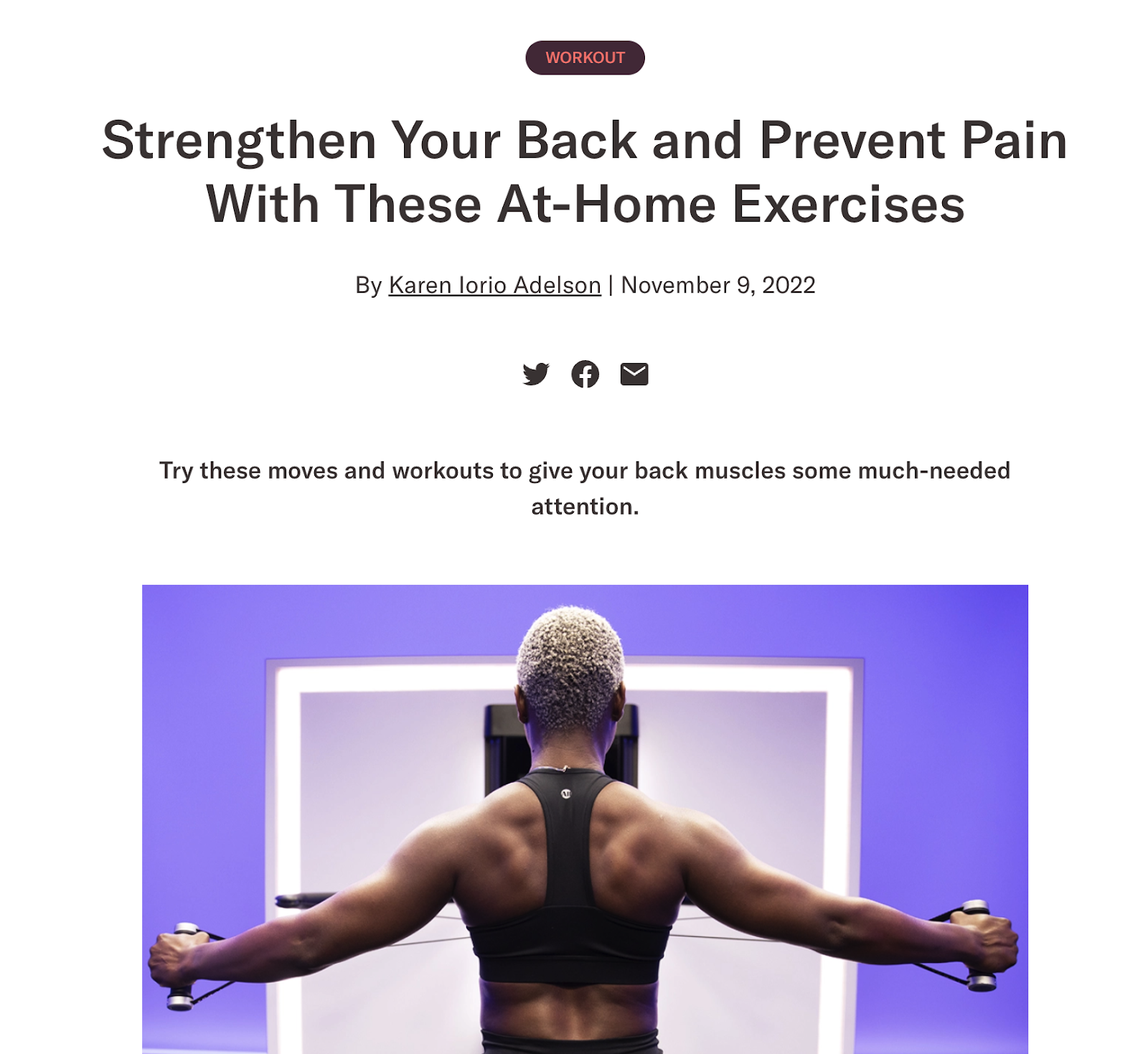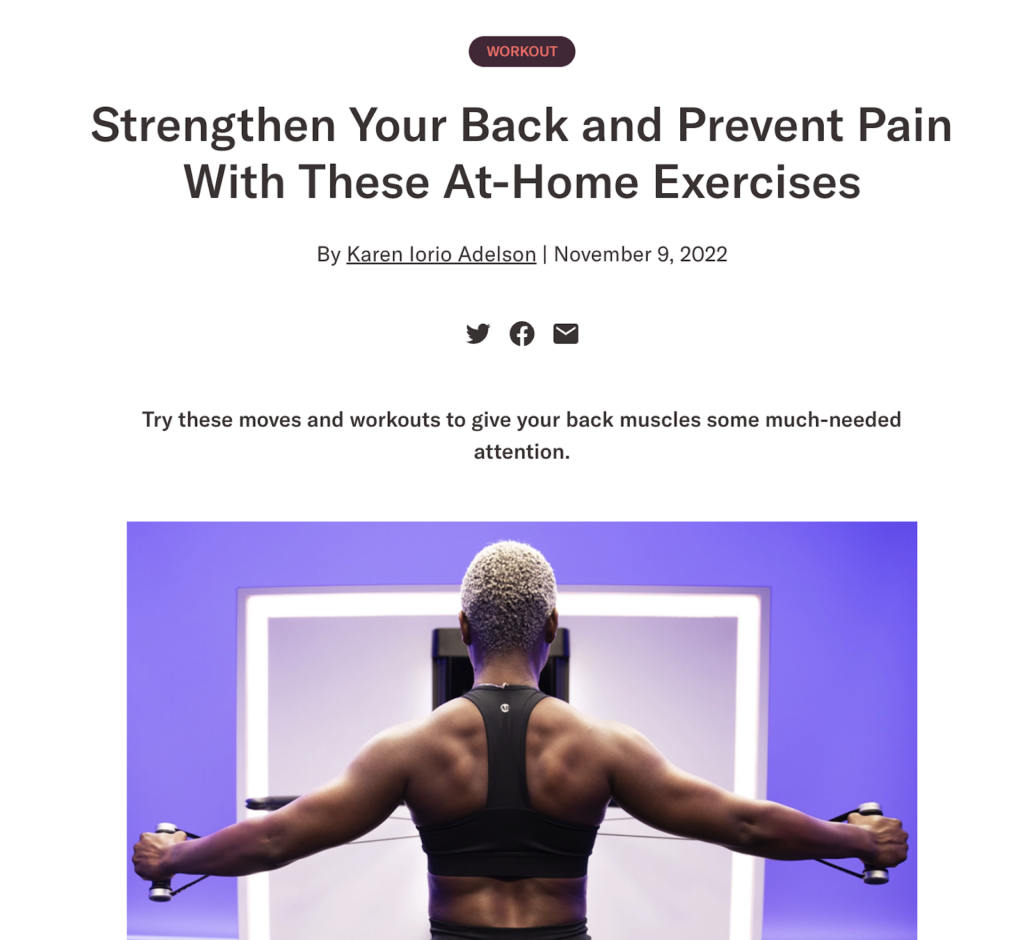 Tonal is using content to reach its desired audience by writing about fitness subjects.


And with 885 pages of content (and more coming) you can see how this is paying off by generating traffic at no cost.
---
Recipe 12: How Ice Barrel Warm Up Frosty Clients


It seems too simple.
A plastic barrel.
And yet, this brand is reportedly turning over $3.8 million.
However, what Ice Barrel has done is capitalise on a trend. The cold water therapy market is exploding, and Ice Barrel has created a simple yet, durable solution for those looking to jump onto the benefits.
But as all DTC businesses discover, trying to reach new customers cheaply.
Ice Barrel achieve this through blog content.


Adding this type of content is reaching those researching the category.
They might not be in the market to buy today, but by introducing the solution, they're in with a chance to buy.
And you can see how this growth approach is scaling their traffic.


The list of content they're creating is impressive.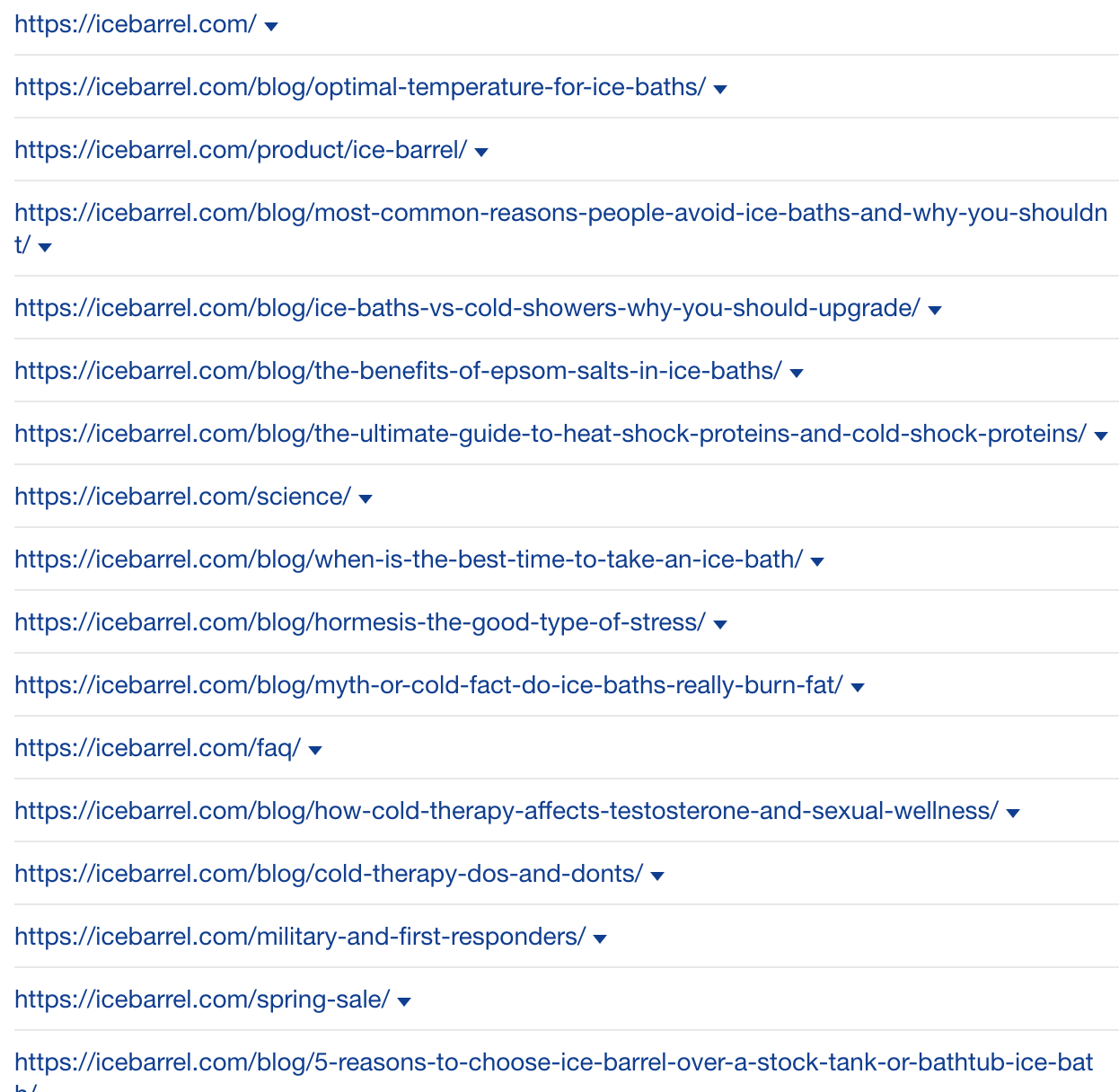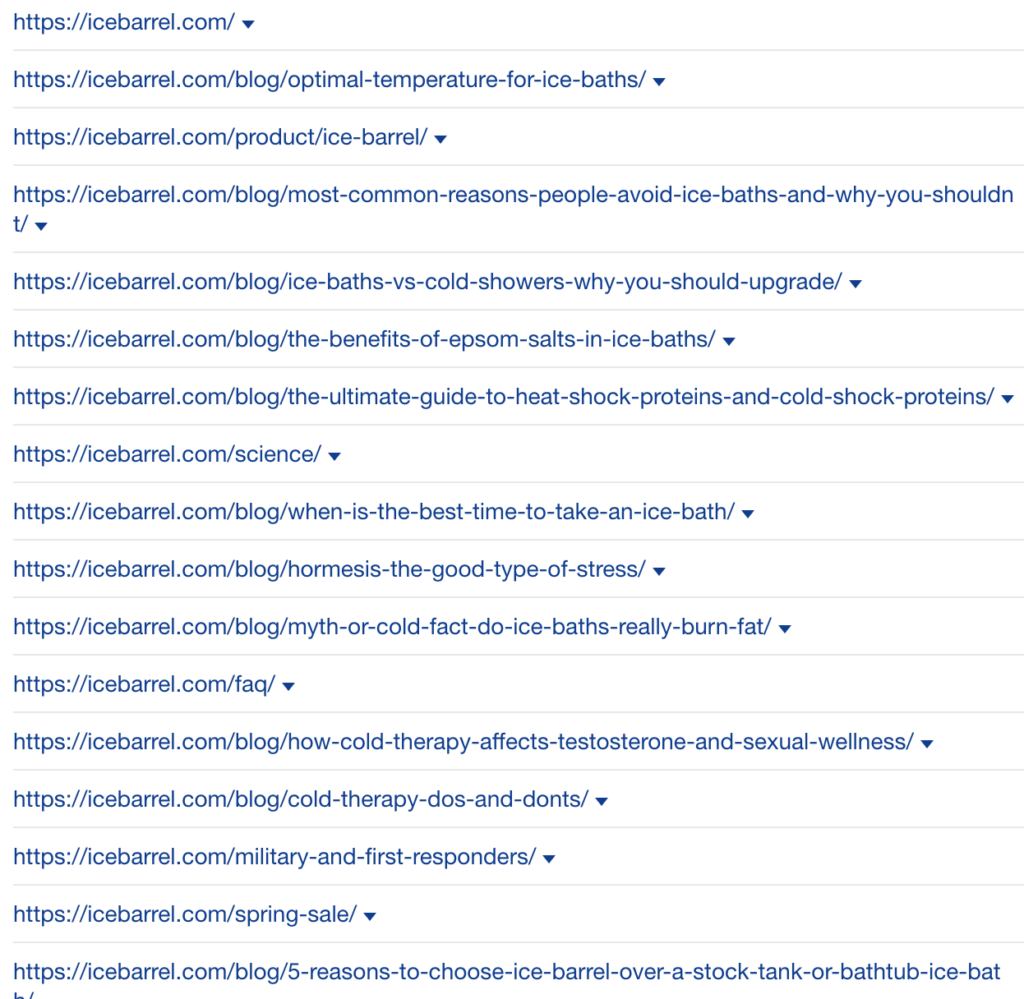 By creating content that reaches people considering ice water treatment, they'll find the brand and be exposed to it's offering.
Also, they serve as a guide to the activity and almost as evangelist of the approach.
---
It's Time to Invest in SEO
There you have it.
12 DTC SEO recipes that brands are using right now to increase their success.
Some of these might not be a great fit for your business.
But many of them are likely to be hugely successful if you activate them.
That's where we step in.
At JBH we're experts in growth-focused SEO.
And if you want to grow your brand in organic search, get in touch to book your free 30 minute SEO consultation.
Thanks for reading.