How long would it take you to read the small print for the most popular tech?
Research from Deloitte has shown over 90% of consumers fail to read the small print on documents like Terms of Service and Privacy Policies. It found that the vast majority of consumers simply click 'accept' without understanding exactly what they are agreeing to. 
And when you look at the results of our study, you can see why.  
Revealed – the length of time it ACTUALLY takes to read the small print of the most popular tech products
Taking 10 of the most sought after tech products, we timed how long it would take to read their privacy policies, terms and conditions or terms of service, with some surprising results: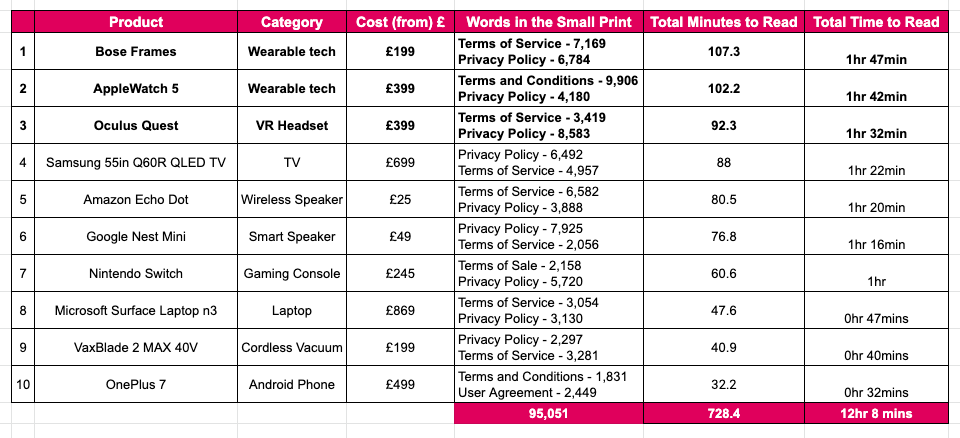 Wearable tech products were at the top of the list; Bose Frames and the Apple Watch 5 had the longest read-times for their Privacy Policies and Terms and Conditions. 
If you were lucky enough to receive these top-of-the-range gadgets for Christmas, you'd be spending 3 hours and 29 minutes reading all of the small print; that's nearly as long as the film The Irishman! 
Imagine if you received all 10 of these gadgets? Our study revealed that you'd spend 12 hours and 8 minutes reading – that's the same amount of time it'd take you to fly direct to Thailand! 
Bringing up the bottom of the list is the OnePlus 7 Android Smartphone. Their Terms and User Agreement would take just 32 minutes to read through – much more manageable.
Gadget Long-Reads Revealed
We've ranked the small print by the number of words: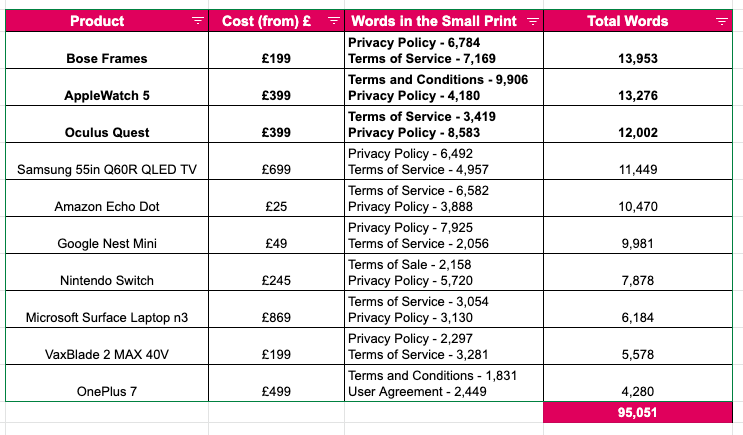 Time is Money
Based on the price of each gadget, we worked out how much each word in the small print is costing you to read. 
The 10 gadgets in the study clock up more than 95,000 words in the small print; that's over 9 university dissertations-worth of terms and conditions to read!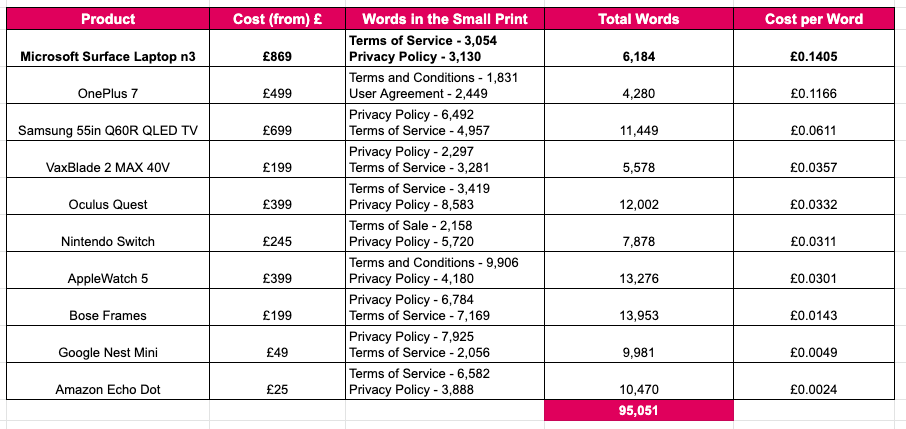 Per word, the Microsoft Surface Laptop n3 comes out on top, costing your 14p for every one of the 6,184 words in its terms of service and privacy policy. 
Do tech brands have a responsibility to make their user terms and privacy policy shorter?
It's easy to see why most of us don't take the time to read the small print when we rip open the box on our brand new tech. 
So, should more tech brands take Google's lead? 
Google One is their solution to the issue of long and complicated policies attached to their products. Our study has identified that the OnePlus 7 Smartphone had the shortest read-time for its small print (32 minutes), which could indicate that Google's 'keep it simple' attitude to their user terms is filtering down. 
Methodology & Sources
Using a combination of the Guardian and Mashable's top tech lists, we selected the most popular gadgets and sourced their user agreements, terms of service, terms and conditions and privacy policies (whichever applied). We collected the word counts for each, and determined the time taken to read to provide us with our top 10 list.