Link building is an important part of any SEO strategy. Backlinks are (still) a strong ranking signal and can push your rankings up. But are all links equal? The answer is: "No". Some links are better than others, some links will not have much impact on your SEO, some others could even harm your rankings. If you are wondering how to recognise good or bad, we understand. One thing we need to get out immediately is that there is no single figure you could look at to judge the quality of a link. There are multiple things to take into account such as the authority of the donor site, the topical relevance of the link, the way how the link is embedded in the content, the backlink profile of the donor site and so on… One metric link builders and outreach agencies that run digital PR campaigns like to refer to is DA, for others it is DR or TF – but what are those?
What DA, DR and TF mean
All three are measures for the authority of a website based on its backlink profile. The reason why they are called differently is simple: they come from different tools:
DA stands for Domain Authority and is a metric in Moz
DR stands for Domain Rating and is a metric from Ahrefs
TF stands for Trust Flow and is a metric from Majestic
All three tools are constantly crawling the web to discover new websites and links. They report on those links and update the numbers regularly. What is important to know is that none of these tools has crawled the whole web and their algorithms work differently. If you compare the referring domains they have listed for any given website, you will always notice some differences.
Moz highlights that DA is evaluated by multiple factors such as the referring domains and the total number of backlinks to a domain. They would not give it all away, of course. It is highlighted that DA is not a ranking signal nor a Google metric, but merely meant to compare websites to each other. You can see the DA by creating a (free) account on Moz and adding the toolbar to your browser extensions:

Ahref's DR looks similar if we look at how their documentation explains the calculations: " […] metric that shows the strength of a target website's total backlink profile (in terms of its size and quality)." To see the DR of a domain, you need to create a (paid) account in Ahrefs:

The TF in Majestic, however, is calculated differently: The tool has manually selected seed sites that were chosen on the web and are trusted by Majestic. The scores that you can see under TF are dependent on how far away a website is from a seed site through links. To see the TF in Majestic, you need to create a (paid) account: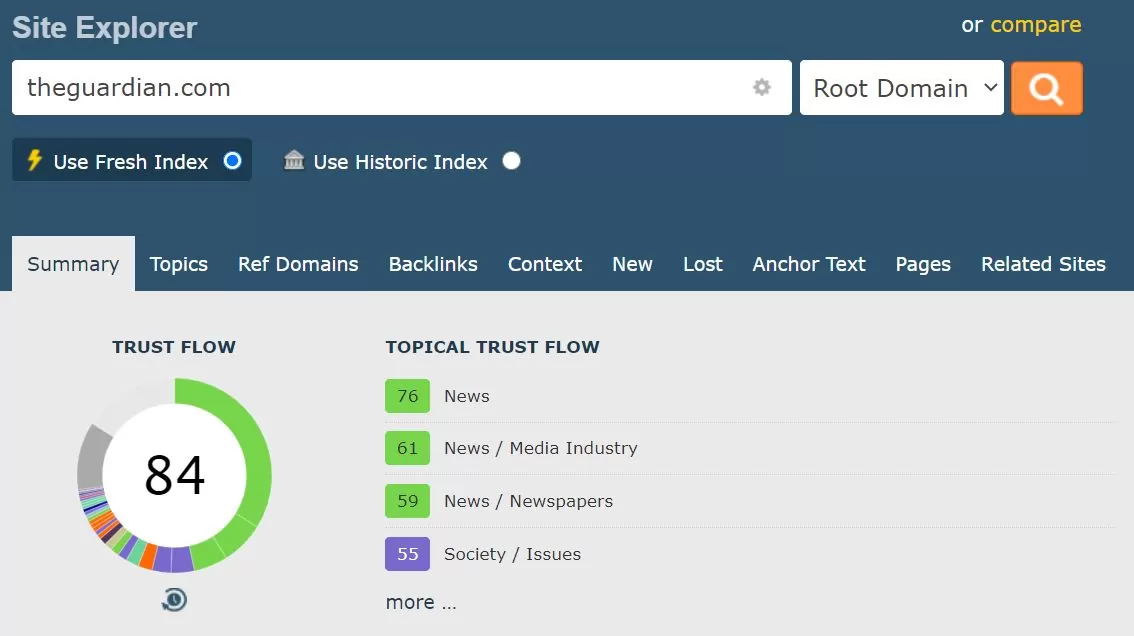 The figures are also accessible via a browser extension: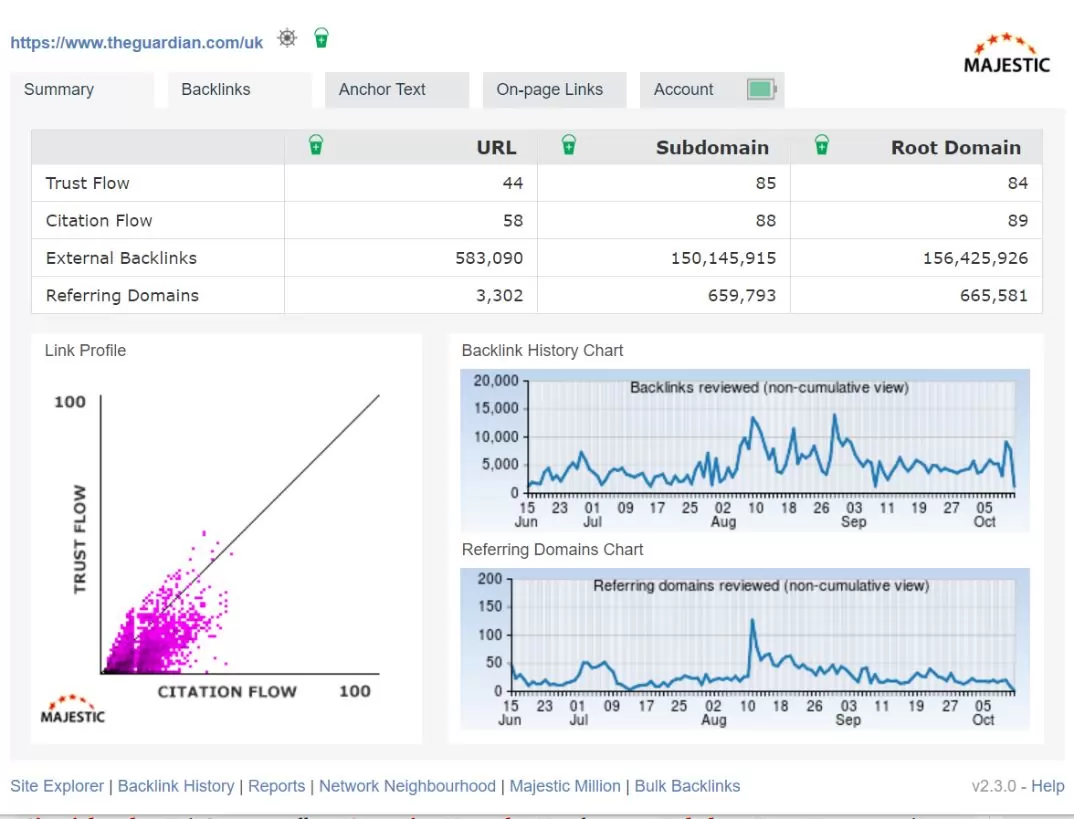 Comparing the numbers
Because of the different ways of calculation, those numbers are not meant to be compared to each other, but just for fun, here are some comparisons of popular websites:
| | | | |
| --- | --- | --- | --- |
| Domain | DA (Moz) | DR (Ahrefs) | TF (Majestic) |
| Theguardian.com | 95 | 93 | 84 |
| Bbc.com | 95 | 92 | 79 |
| Youtube.com | 100 | 98 | 99 |
| Foxnews.com | 94 | 91 | 83 |
| Asos.com | 90 | 87 | 78 |
| Amazon.co.uk | 94 | 93 | 83 |
| Gov.uk | 94 | 80 | 93 |
| Asda.com | 75 | 81 | 52 |
| Tesco.com | 91 | 86 | 70 |
| Sainsburys.co.uk | 73 | 82 | 60 |
If one thing has become evident by looking at those numbers, it is that the figures cannot be compared. DA and DR seem to be generally higher than TF (not for all of the above websites though), but there is no clear tendency that would make them comparable. The figures are close to each other amongst the top players, but for websites with less authority (and let's face, it most websites will not be able to compete with the above brands), the numbers are far apart from each other.
Interestingly, YouTube – the Google product, scored the highest possible with Moz, but not in Ahrefs and Majestic. For the Guardian and the BBC, the numbers are similar in Moz and Ahrefs, but noticeably different in Majestic. The UK government website forms the exception in our comparison by scoring higher in TF than in DR; for all other websites, TF is generally the lowest figure.
If you are looking at those numbers, do not try to compare them to each other, but rather choose one of those metrics that seems logical to you and compare that metric across different websites to decide which domain makes a good target for link building.