It's the first high profile tech scandal of 2018 and unless you have been living under a rock for the last week, you'll know that Facebook is in hot water after public outrage over the company's failure to protect the personal information of tens of millions of users. Today it's been announced that Facebook could face huge fines as the Federal Trade Commission confirms inquiry into whether the company engaged in 'unfair acts'.
Many users, like myself, use Facebook daily for work and sometimes even pleasure (dig), but what exactly do they have their eyes on and how can we stay protected? Well we can find out quite easily, below are the steps to take to bolster your security settings.
As a precursor to this I would like to add that I do believe it is also down to the user not just the platform to keep your data safe. However, Facebook has been particularly loose in this instance, I don't think it will be the last scandal of it's sort this year.
Why me?
I am using my own Facebook profile as an example – I fall into the category of a 'heavy user' due to the amount multiple apps I have had to link myself to, mostly for work purposes.
1. Locate Your settings menu via the arrow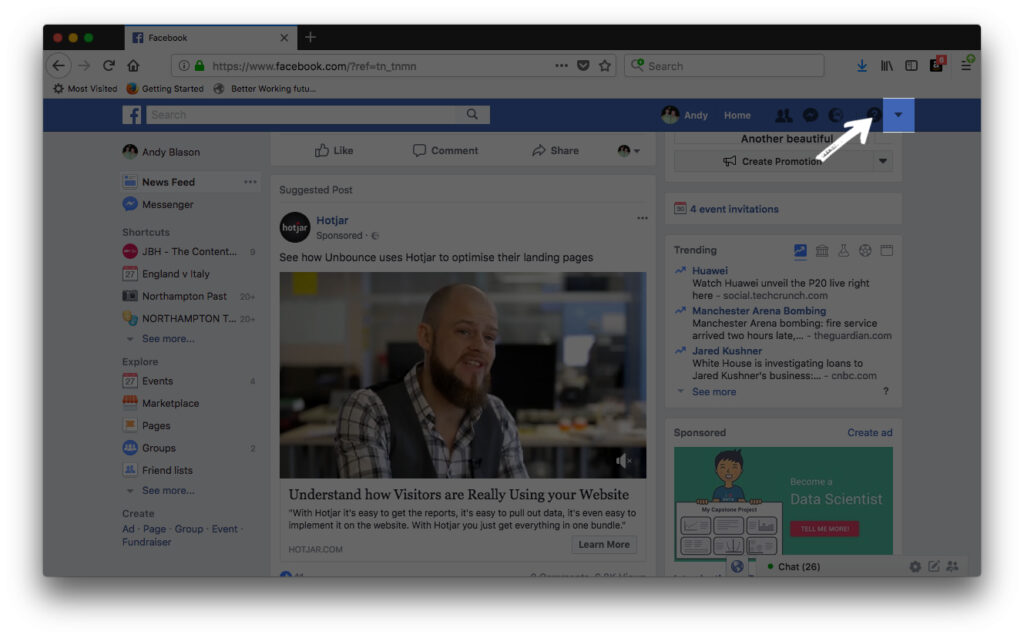 2. Navigate to the Settings menu and click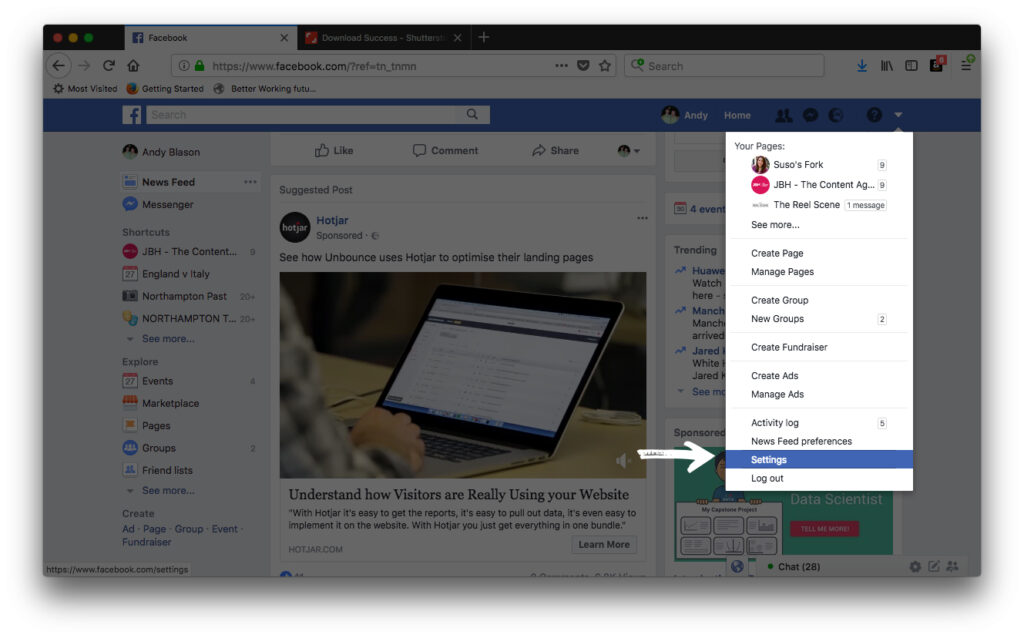 3. On the left hand side you will see Apps click this…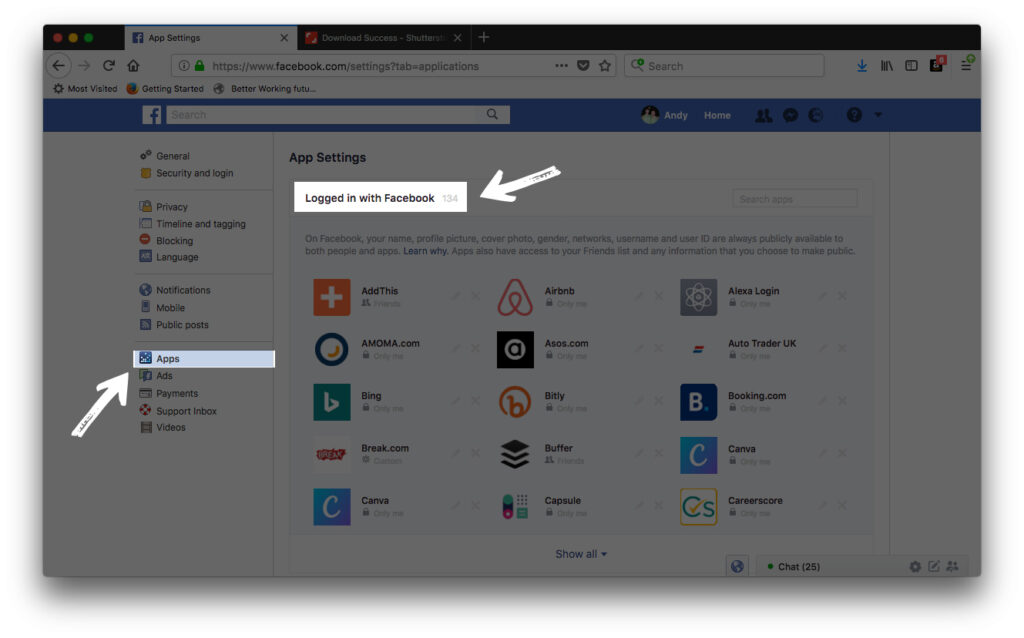 WOOOOOAH!
134 Apps are actively taking my data from my profile – some of these I recognise, some of these I'm dubious about but can't guarantee I haven't accepted the opt-in along the way somewhere when hastily working on client projects.
Now even for me, this was a bit of a shock. These can be removed by navigating over the X next to the App name – my recommendation is that if you don't recognise the App, remove your association with it. These are an annoyance but you probably did agree to the terms of the App, even if you don't remember!
But it doesn't end there…
4. Scroll down the page to the section named 'Apps others use'…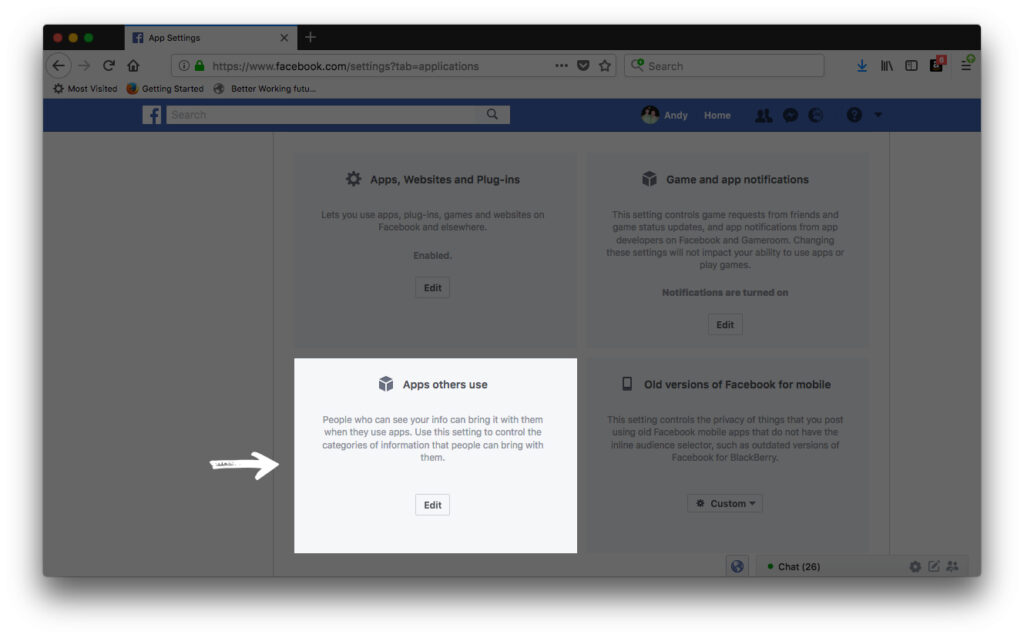 It would be very easy to overlook this section. This is vitally important towards your privacy and something I would monitor regularly. Your data can still be retrieved by Apps that your friends use – this means ANY app connected to you in ANY way, can STILL access your data.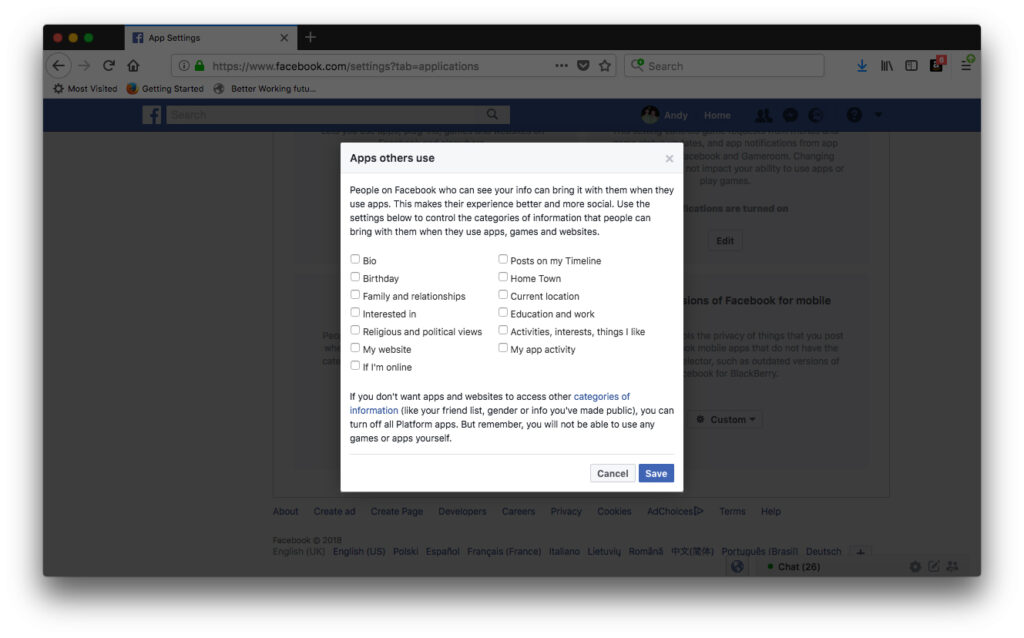 You can restrict this back heavily – I have opted to uncheck all the options here to be safe. Facebook will let me know if it can't process/run something without this information and I can consider re-cheecking these boxes. At least then I will be aware of why I am letting Facebook have this access and can approve on a case by case basis.
Post published on Sunday March 25, 2018
[addthis tool="addthis_inline_share_toolbox_w9a9"]