What's at the centre of your digital and social activity? Chances are its content, which bridges the gap between brand and customer like no other media or medium could do previously.
Content marketing has come a long way since the early days of publishing multiple (and mostly mediocre) blogs each week on your website in the vain hope of getting noticed or ranking for a couple of obscure, long tail search queries.
These days, content marketing is a multi-channel, cross-platform behemoth, consisting of everything from landing pages and infographics to podcasts and videos.
The increasingly competitive space in which content sits has also changed dramatically, with things like featured snippets and voice search making any marketing objective even more difficult to achieve.
But that doesn't mean to say boosting your brand identity, increasing online awareness and engaging with customers through content marketing is impossible…
Here's the content that performs best in 2019:
Long-form authoritative content
So, if regular blogging doesn't cut it anymore, what does?
The answer is long-form authoritative content.
This means going into great detail about a particular theme or topic and updating it regularly with fresh insight, imagery and video.
After analysing 912 million blog posts to better understand the world of content marketing, Brian Dean from Backlinko discovered that long-form content gets an average of 77.2% more links than shorter articles. It also generates significantly more social shares, especially within the 'sweet spot' of 1,000-2,000 words.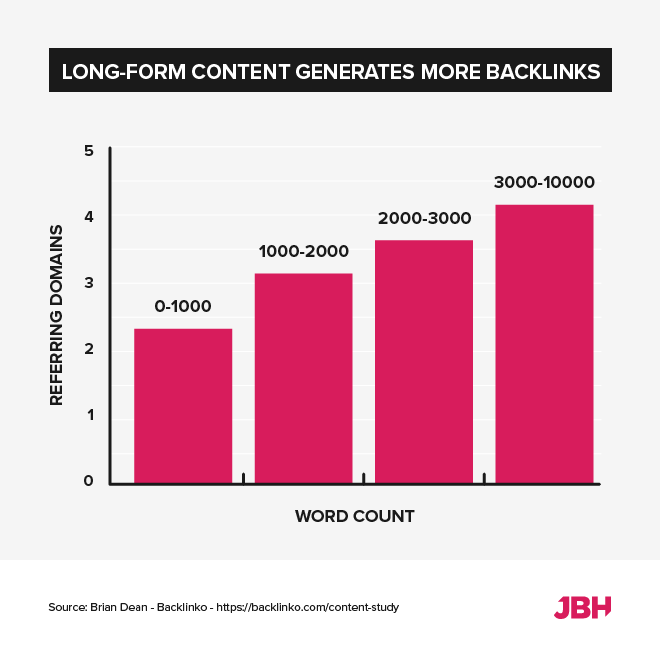 Other industry studies have also found a direct correlation between long-form content and first page Google rankings. This is because long-form content stands a better chance of satisfying intent and maintaining engagement by demonstrating in-depth knowledge of a particular subject.
Best practice: Identify topics or themes that strongly correlate with your brand's products, services, or industry. Think about how you could demonstrate your authority with long-form content that meets your customer's wants and needs.
Short-form video
Every year, the importance of video content continues to grow – you only have to look at the success and influence of platforms like Instagram to realise that its here to stay for the long haul.
According to a recent study by Altimeter, short-form video (less than two minutes) is the best performing content in terms of engagement across every industry and every geography. By contrast, long-form video (greater than two minutes) was said to be 20% less effective.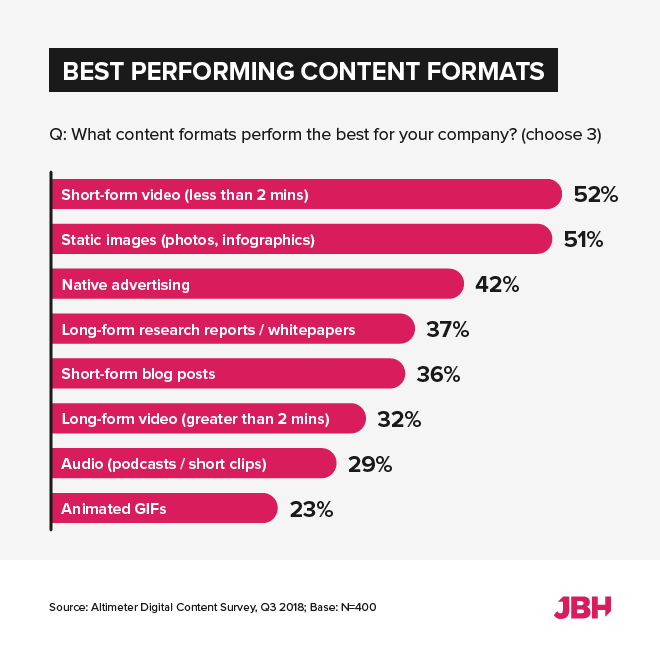 In addition to greater engagement, short-form video can also improve your SEO, make content more accessible to a wider audience, generate a strong emotional connection with customers and lead to more conversions.
Best practice: Generate ideas for short-term video content that will resonate with your audience. Remember to optimise for mobile viewing (where most video is watched), create captions, include a CTA and keep it short!
Influencer marketing
Despite the exponential rise of social media influencers in recent years, this marketing trend is nothing new. However, several brands are reluctant to explore the idea of influencer marketing due to misconceptions that you need to spend thousands (or even millions) getting high-profile celebrities on board.
More often than not, brands have the most success with influencer marketing when they choose people directly related to their industry or niche. Better yet, they collaborate with influencers throughout the content ideation and creation process.
The following influencer marketing statistics speak volumes about its effectiveness:
Influencer Marketing Campaigns Earn $6.50 for Every Dollar Spent

67% of Marketers Promote Content With the Help of Influencers

Influencer Marketing Is the Fastest-Growing Online Customer-Acquisition Method
Best practice: Think of influencers as an ad-hoc extension of your own content team. Take advantage of their creativity and audience, relieve some pressure from in-house efforts and add credibility to your brand in the eyes of followers.
Voice search
Voice search is slowly but surely becoming a daily fixture for many, especially given the increasingly popularity of Google Home, Amazon Alexa and other voice assistants. Estimates suggest there are over one billion voice searches per month, while 50% of all searches will be voice searches by 2020.
So with more and more text-based digital tasks moving over to voice thanks to the speed and convenience it affords, every marketer should adjust their content strategy accordingly.
Unfortunately, each device seems to pull data from different sources and offer completely different results. But by creating pieces of content that deliver quick answers to quick questions, you should be able to position yourself ahead of the competition.
Best practice: Think about the words people say, not just what they're likely to type. Also, most voice-activated searches take place on mobile, so make sure your website is responsive and optimised for smartphones.
Storytelling and Digital PR
There's a reason why storytelling remains one of the most popular approaches to content marketing – it works, and will continue to work for many years to come. By conveying facts through narrative, you'll create a connection with your audience and encourage action thanks to the number of decisions people make based on emotion.
One excellent example comes from National Geographic and its content marketing activity that engages with 350 million combined global followers on social media. As Nadine Heggie, VP of Brand Partnership, explains: "Staying true to your brand, being timely with content, using the power of wow and wonder, and embracing new technologies to tell stories."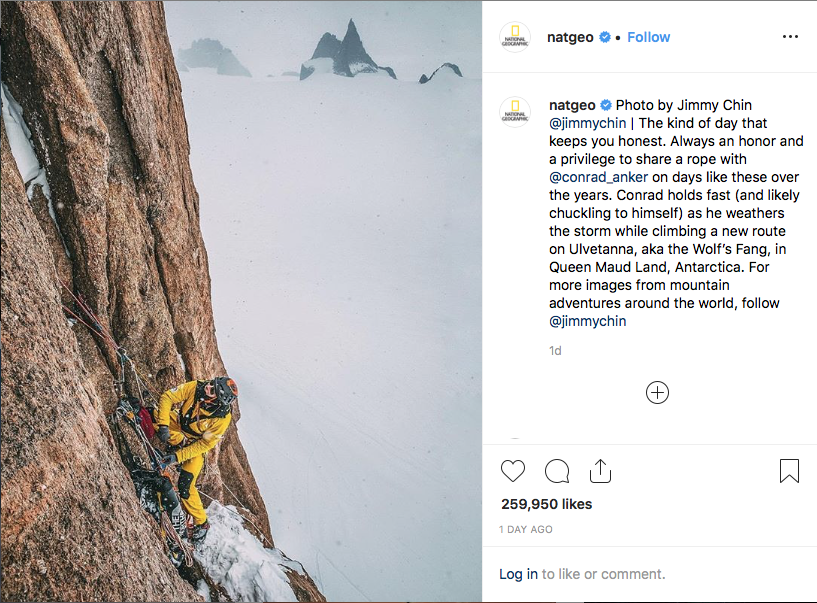 Key ingredients to any story include a main character/hero, a conflict/journey, and an ending/resolution. Don't forget to make it easy-to-follow, relatable and memorable. Support your stories with visuals and data to drive the message home.
Next steps: Try to gain an in-depth understanding of your audience – their needs, pains, hopes and aspirations. Know exactly what you want to say and what you want your audience to do before launching any storytelling campaign.
Post published on Tuesday June 4, 2019