From the fire that nearly destroyed Notre-Dame Cathedral to millions protesting the Hong Kong extradition bill, the birth of Archie Harrison Mountbatten-Windsor to the start of an impeachment inquiry against Donald Trump, 2019 has delivered an assorted ensemble of news and events. 
But of all the stories that have grabbed the headlines this year, which ones have encouraged the public to jump onto Google to find out more? And perhaps most importantly, what lessons can we learn from these trending topics and queries to better inform future content marketing efforts?
Here we go…
Topic – European Parliament Election

Google classified 'European Parliament Election' as a 'Breakout' topic in 2019 due to a tremendous increase in popularity during the third week of May. With the dark cloud of Brexit still looming large over the UK, voters used this opportunity to exercise their opinion of European politics along with the rest of the continent.
Content Example
The Financial Times did a superb job summarising the European election results with five visually-engaging charts that demonstrated the power balance in parliament as well as the historic turnout numbers.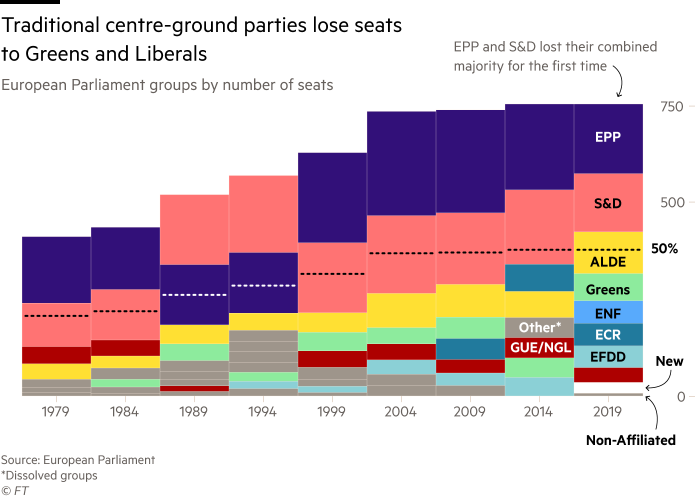 Lessons to Learn
Even though it's often hard to comment on politics when you've got brand identity and company values to consider, the public continues to consume content about the issues affecting them – for this election, the Green vote enjoyed a huge increase because of the ongoing climate emergency. 
Then again, the driver behind this trending topic could be one of confusion. Are people from the UK still eligible to vote? What does it matter if we're leaving the EU anyway? Google remains the go-to source for factual information among many, which is where content marketers may struggle to make an impact. 
Search Query – Register to Vote

Ever since Boris Johnson won the backing to hold a general election on 12th December, the popularity of the search query 'Register to Vote' kept increasing on Google. In the end, more than three million people registered to vote before the deadline.
Content Example
It might not have come from a brand, but Stormzy's social media posts on Instagram and Twitter, which urged "every single person" who saw his message to exercise their democratic right, caused an immediate spike of 351,000 registrations.
Lessons to Learn
Generation Z is an increasingly powerful demographic cohort. After all, today's teenagers are tomorrow's trendsetters. Content marketers should be putting in the hard yards to discover what Gen Z want to consume online in order to stay one step ahead of the game. 
In this example, they took their cues from one of the world's most popular grime artists while casually browsing social media. Sure, it wasn't a paid-for promotion, but that doesn't mean to say a similar tactic wouldn't work for a brand representing something equally significant or stirring.  
Sporting Events
Topic – 2019 FIFA Women's World Cup

"The Women's World Cup has been a tournament we will look back on as the point when all of our longstanding expectations of what women's football could be was realised," said English footballer Eni Aluko. "It's completely shattered the myth that people are not interested in women's football."
Content Example
Nike's Dream Further campaign was more than just publicising the players wearing its attire at the World Cup; it showed millions of young girls around the world what the women's game could look like in the future. Nike also released its first-ever football shirt made for girls featuring two custom patches conveying 'unity and confidence'.
Lessons to Learn
Gender equality is now essential when it comes to content marketing. You only have to look at popular ad campaigns of yesteryear (or watch Mad Men) to see a barrage of masculine cues, which totally overlook the wants and needs of women. 
Some will point to sales data to reinforce the idea that only a certain gender buys your product or service. But you should be asking yourself why only one gender is buying. Chances are it's because of an unconscious bias ingrained within your marketing content and copy. 
Search Query – Rugby World Cup Final

England's Rugby World Cup final defeat was the most-watched British TV event of the year, with a peak audience of 12.8 million tuning in to see Eddie Jones' side lose to South Africa 32-12. At one point, 79 per cent of the TV viewing audience across Britain was watching the match.
Content Example
The Rugby World Cup teamed up with TikTok to launch #RugbyFever, which encouraged fans to share their passion for the sport. Influencers flocked to the platform in their droves to share content using the hashtag, which accumulated a total of 186.1m views and was the number one performing TikTok trend in the sport globally during the tournament. 
Lessons to Learn
Traditional media and social media continue to battle it out for the public's attention. As marketers, it all comes down to who your target demographic is and where they're most likely to consume content. 
For example, 68 per cent of the Rugby World Cup Snapchat audience was between 13-24 years old, delivering 94.4m video views. The largest audience came from the USA, and its average video watch time nearly doubled from the start to the end of RWC 2019 (00:36 to 1:00 seconds).
Arts & Entertainment
Topic – Game of Thrones
After eight years on our televisions screens, Game of Thrones finally came to an end in 2019. Overall, the average gross audience per episode was 44.2 million across all platforms according to Nielsen. The budget for the eighth and final season was $90 million, and the top cast members were paid $500,000 per episode.
Content Example
Where do you begin? Mountain Dew launched 'A Can Has No Name' that only showed character names once chilled, the American Red Cross encouraged fans to donate blood with 'Bleed for the Throne', while Bud Light collaborated with HBO to promote the new season during a Super Bowl ad. But this incredible effort from Oreo should surely reign supreme on the iron throne. 
Lessons to Learn
Even if your brand has nothing to do with the subject in question – for example mythical kingdoms and fire-breathing dragons – you can still capitalise on popular culture to create stellar content marketing campaigns. 
Newsjacking can help you stay front of mind among audiences, especially if you can ride the buzz wave for as long as possible. Remember to be creative with campaigns that are both on-brand for your company and relevant to pop culture trends. 
People & Society
Topic – James Charles

James Charles, a YouTube personality and make-up artist, rose to prominence in May this year due to a feud with his long-time collaborator Tati Westbrook, who heavily criticised him in a 43-minute long video. Charles lost millions of subscribers as a result, and recently revealed that he has not mentally recovered from the ordeal with Westbrook. 
Content example
Before the controversy with Westbrook occurred, Charles was the first male spokesmodel for cosmetics brand CoverGirl, working alongside Katy Perry. This year, he appeared in a bullying prevention spot for Ad Council to highlight the backlash social media stars come under. 
Lessons to learn
"Influencer marketing is one of the most hyped marketing strategies today," says Anne Hunter, Executive Vice President, Strategy & Growth, Kantar. "However, in a world that rises and falls on public opinion, at the speed of digital, there are dangers in an influencer strategy."
Seeing as influencer marketing forces you to give up a fair amount of creative control, you should conduct thorough research on those you want to speak on behalf of your brand. Don't forget to clearly define your brand's messaging or the campaign's expectations either. 
Now that the end of 2019 is within sight, most content marketers will be focusing on next year. Unfortunately, we can't predict the trends that will make headlines in 2020, but we can help with all your content marketing needs.
Get in touch
for details. 
Post published on Thursday December 12, 2019