https://jbh.co.uk/wp-content/uploads/2017/10/shutterstock_472877842-1024x683.jpg
1024
683
Jane Hunt
Jane Hunt
https://jbh.co.uk/wp-content/uploads/2019/09/Jane-HS-ColourBIGcrop-150x150.jpg
Bagging the Perfect Influencer in 5 Easy Steps
The perfect influencer is a bit like a unicorn – hard to find but guaranteed to add a touch of magic to anything he or she touches.
According to Entrepreneur, influencer marketing:
Has an extremely high ROI ($6.50 for every $1 spent according to a recent Tomoson study)
Is growing faster than any other marketing channel
Provides quality customers likely to spend money with your brand over time
Despite report after glowing report listing its benefits, some marketers still have reservations about dipping a toe in the influencer marketing pool.
Those new to the idea might worry that influencer campaigns are expensive or difficult to manage. Factors like these are particularly relevant when you're a new brand, small business or nonprofit. In fact, influencer campaigns can get great results with next-to-no budget – provided you do your homework.
Why do some influencer campaigns fail?
While there's the occasional Kendall Jenner for Pepsi-style car crash, the most common reasons influencer marketing campaigns fail include:
Heavy-handed sales tactics (e.g. too many posts about the product)

Poor targeting (reaching out to people who are unlikely to be interested)

Disingenuousness (when the posts sit awkwardly on the influencer's social feed and it is clear they aren't genuinely interested in the product)
Posts and campaigns that snag on any of the above ultimately lead to the brand and the influencer losing credibility with the audience. This is why good influencers are choosy about who they work with.
For the right influencer, money and/or gifts will probably not be the deciding factor. They might already be a customer, or be on the lookout for a product like yours to solve a problem. They might be interested simply because they think their audience will benefit from hearing about your brand.
The best branded content or promotional posts blend seamlessly into the influencer's social feed. People won't think, "Zoella must be getting paid a lot to advertise those bedsheets" – they'll think "Her bedroom looks so cute, I wonder where that bedding is from?"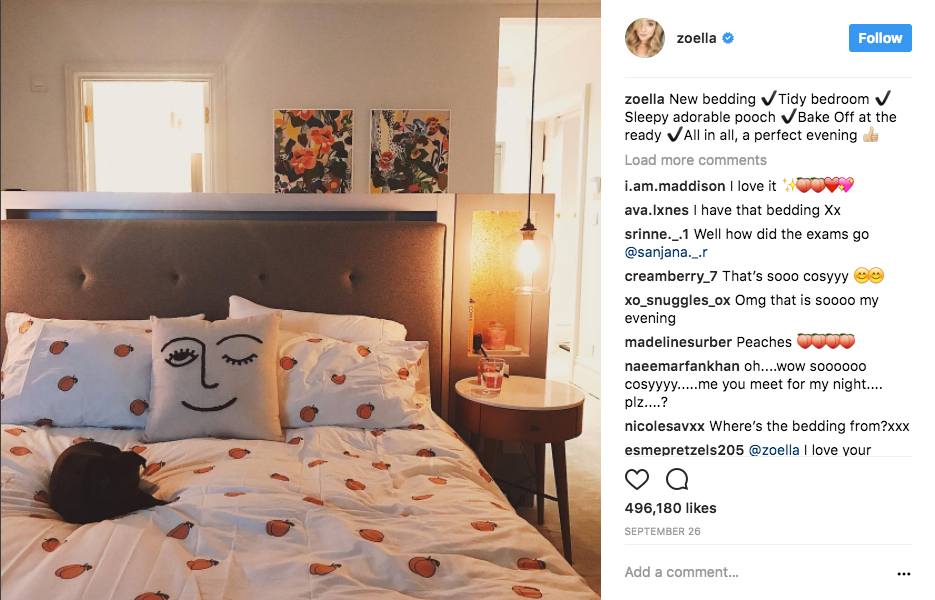 You might think that this is all well and good for brands selling fun or Instagram-friendly products but what about my charity/ software/ event?
We promise that there are unicorns out there for virtually every niche. Here are a few steps you can take to help you find yours.
1. Think Objective-ly
What are your objectives for the campaign? What are your overall business objectives? Chances are a good influencer strategy can help you meet all of them. It's cost effective, raises brand awareness and boosts SEO value – to name a few benefits.
Points to consider:
Context:

Zoella won't help you sell software. Jack Dorsey probably will – but remember that you can make waves with even the tiniest budget.

Reach:

Millions of followers aren't everything but make sure you're satisfied that the budget is in line with the number of people who are likely to see the content

Action: Is the fit so spot on that the influencer's audience is likely to take action and buy?
2. Does Size Matter?
Not always. According to Jay Baer: "True influence drives action, not just awareness."
We're starting to learn that the level of actual influence an influencer has is not necessarily relative to the size of his or her following.
Interestingly, according to a recent study, once an account grows past a certain point – the percentage of people engaging with influencer content actually takes a dip.
Lots of brands are realising the value of working with micro influencers – namely the potential for lower costs, more effective targeting and better results in the long-term.
That said, you will want to have a good grasp of their key metrics: reach, engagement, post frequency. These will help you make an informed decision about who you work with and how. Don't just look at unique visitors and blog DA – followings on Instagram, Facebook, Twitter, Snapchat and Pinterest vary wildly from influencer to influencer. The most important thing is that they are creating high-quality content in your niche – and delivering it to people likely to be interested.
3. Create Influencer Personas
Creating influencer personas is a great way to get a concrete idea of who you're looking for. You could even draw them to help you visualise.
Note down everything about who you're looking for. Think about their age, their following, where they shop, how they use the internet and anything else you think is relevant. All this information will help you when it comes to tracking down 'The One'.
4. Do your hashtag homework
Once you know who you're looking for, it's time to find someone who fits the bill. Spend your time searching platforms like YouTube to get an idea of who is leading in your niche but don't discount those with smaller followings. A search on Gethashtags.com for "vegan" reveals that popular hashtags include #vegan #vegansofig #veganism #veganfoodporn #plantbased #veganlife #crueltyfree and so on.
Google your desired hashtag e.g. #plantbased and you'll see who's talking about your niche. A good cheat tactic is to look at what accounts the really big influencers are following. Best of Vegan has 1.3million followers but only follows 893 accounts. Look through those and you'll see accounts with more manageable followings in the same niche.
Searching #plantbased on Instagram brings up millions of posts. Hovering over the posts shows the number of likes and comments per post – helpful if you're looking to find someone with a particular level of engagement.
5.Meeting your match 
Alternatively, you could Google "British vegan blogs" to get an idea of your options. Always consider your desired influencer in terms of how aligned they are with your messaging. Read their archived blog posts to get an idea of the kind of consumer they are. They might post vegan recipes but are they likely to be interested in a vegan meal delivery service? It might be that the nature of your service technically makes you a competitor. Don't ignore tone of voice either. Some bloggers and brands are edgier than others – to some extent you need to match.
Don't try and slide into their DMs either . Collaborating on a professional project warrants a phone call or at least a well-written email clearly outlining the terms of your proposal.
Lastly, make sure you're well aware of the legal requirements of working with influencers – every platform has its own rules. To find out more, check out our definitive guide to working with influencers.