Last Tuesday I collaborated with our friends at Meltwater for an event focusing on one of my absolute favourite subjects – Instagram Stories.
Meltwater were hosting the event at the gorgeous Courthouse Hotel in Shoreditch. I really enjoyed getting to know Perri and the team while planning the morning – Meltwater is a fantastic brand insight tool and it was interesting learning more about what it can do (spoiler alert – everything!)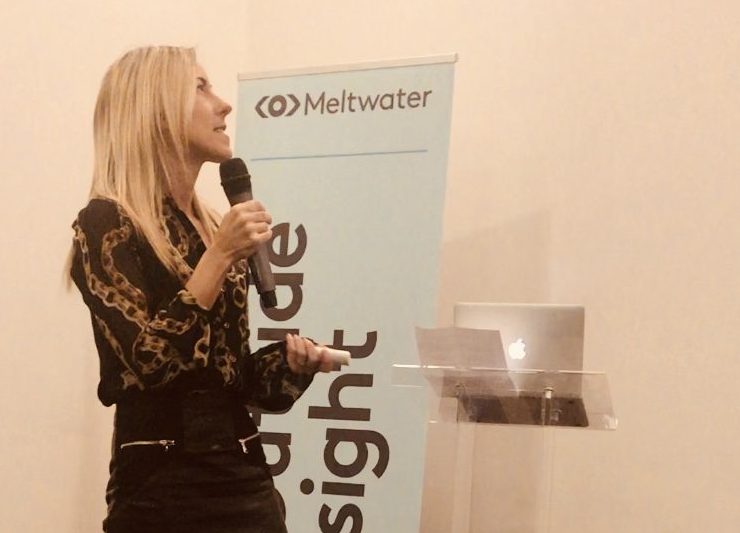 When giving a presentation I find that asking the audience a couple of basic questions is a great way to break the ice and get a better sense of who you are speaking to. I asked for a quick show of hands to find out who was currently using Instagram Stories and whether they were having success. It turned out that more than two thirds of the room were already loving Instagram Stories – making my job that bit easier.
My aims for the event were to cover some of the basics for those with limited knowledge, discuss ways brands can work with influencers and provide inspiration for those looking to get a bit more creative with their Instagram Stories.
It's no secret that I am an Instagram fanatic – when your hobbies include brands, fashion, interiors and the Kardashians, surely it's only natural? Armed with my passion, I wanted to inspire delegates to experiment with Stories features on a personal and professional level.
It's hard to believe Stories has only been on our radar for 18 months or so. With more than 400 million daily users, this relatively untapped platform presents huge opportunities for brands to get creative and win over audiences.  
On a basic level, Stories is great for showing people what goes on behind the scenes. We will be sharing lots more content on Instagram Stories in the coming weeks (or there are details on how you can get your hands on the full deck from the talk at the bottom of this post), but to get you started …
Why should brands use Instagram Stories given their 24 hour shelf life?
Instagram is life for marketers
With their 24h shelf life, Instagram Stories are what we call ephemeral content. The platform offers a happier, more intuitive user experience than Snapchat (sorry Snapchat). Reach is greater and messages tend to travel much further. People are used to interacting with brands on Instagram – as the platform has grown, beautiful branded content has become a cornerstone of the experience.
Perfect for capturing a moment in time
Stories give your audience a glimpse into your world without interrupting your beautifully curated Instagram feed. It lets you really be in the moment and is perfect for capturing a moment in time – whether it's a new product arriving, the launch of an event or competition or in a 24hr period.
It helps you smash your goals
Whatever your marketing goals are they will probably include some variation on brand awareness, traffic and conversions. IG Stories has given us another brilliant platform to make creative content to get users interested and ultimately drive to your goal, whether that's to raise brand awareness, have someone donate to a cause, buy clothes, sign up for an event, visit your blog or download a song.
The perfect fit for influencer marketing
Stories perfectly complements a wider influencer campaign or strategy. Influencers are out there using Stories every day, creating vibrant, compelling content that audiences can't get enough of and are handy with the "swipe up" feature which they use to drive traffic to their own websites, blogs and/or YouTube channels. The username mention feature makes it easy for influencers to send clickers through to brand accounts where your bio can then be used to drive traffic to your website or landing page.
So that's why it works from a technical perspective, but Stories is also light, fast and fun. It works for influencers for the same reason it works for brands – it gives them the chance to be creative without any of the pressure and doesn't detract from the impact of their beautiful 'real estate' or profile.
That's a wrap!
After wrapping up the morning speaking privately with attendees from a fascinating range of backgrounds, Lauren and I headed upstairs to check out the bar. Only recently renovated, the Courthouse hotel is (obviously) a former courthouse. The bar features the original prison cell blocks as VIP rooms – Perri told us that the Krays were trialled there and recommended that we check out the still-standing toilet in one of the cells!
All that was left to do was hit the Old Street Records Cafe across the road for some epic pancakes (don't judge us, it was Pancake Day).
Want to learn more about Stories and influencers? Email me jane@jbh.co.uk and I'll send you the full deck from the event. For bonus points read our Definitive Guide to Influencer Marketing – it gives a detailed overview of influencer marketing and is packed with tips and tricks.
Post published on Monday February 19, 2018