http://jbh.co.uk/wp-content/uploads/2018/04/Screen-Shot-2018-04-19-at-16.21.13-1024x530.png
1024
530
Lauren Harrison
Lauren Harrison
http://0.gravatar.com/avatar/cf9a2dcc5d001f242c2810618da46a24?s=96&d=mm&r=g
#ThrowbackThursday: JBH Vs. Food
It's #ThrowbackThursday and to kick off 15 weeks of our favourite ever campaigns I'll be discussing my personal favourite – a simple but gloriously satisfying interactive we created with BuyAGift back in the day.
Cast your mind back to 2014. It was a simpler time: Obama was still president, Ellen Degeneres was taking world-class selfies at the Oscars and Adam Richman was still on our screens, scarfing down mountains of oysters and 10lb breakfast burritos and inspiring my fave JBH infographic ever …
This BuyAGift.co.uk "Get Stuffed" infographic was the first campaign I ever worked on for JBH – and it was a copywriter's dream. The concept was simple: an interactive chalkboard filled with the UK's biggest (and often grossest) eating challenges.
The Brief
BuyaGift.com was looking to secure some top-tier links with an interactive infographic that would pass on value to their gifts for men page. Beyond that, the brief was quite open. As the focus was on man-friendly content we seized on the opportunity to create something fun and outrageous.
Our Eating Challenges interactive infographic took man culture to the extreme. With Man vs. Food-style American eating challenges trending across British TV, we thought we'd carry out an investigation into the eating challenges available across the UK. Research took us from trash can challenges to big daddy burgers and curries so hot they have earned nicknames like "The Widower".
The Interactive
The key to a good interactive is simplicity – I think the pared-back restaurant-style chalkboard design works really well. To make the infographic truly interactive we incorporated two sets of filters – one set based on the type of challenge: "Meat," "Heat," and "Compete," and the other relating to the the level of the challenge; "Noob," "Novice" or " Pro." Users were able to apply whichever filters they were interested in and navigate around the challenges – those which did not apply were "rubbed out" on the chalkboard so they were only half visible.
I loved being able to have fun with the copy – conceptual stuff is my favourite, even if I tend to get carried away with a theme …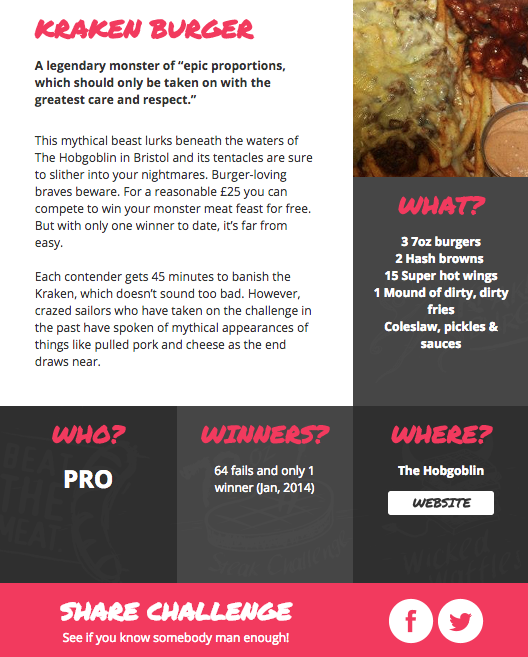 The client was really pleased with the finished outcome. We had a really positive response from journalists and the campaign was featured on HuffPpost. Zoo and the Daily Star. Most importantly, it helped the client hit their objectives, generating digital coverage and boosting the profile of the "Gifts for Men" page.
Ok, I'm starving now. See you next week, #ThrowbackThursday fans!
Interested in an interactive infographic? Send our design and digital teams a brief and let's get creative.